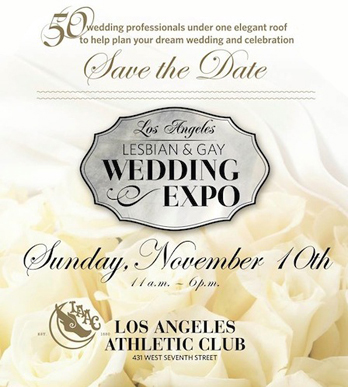 This week I talked with producer JD DiSalvatore about the first annual Los Angeles Lesbian and Gay Wedding Expo, which will be held Nov. 10 from 11 a.m. to 6 p.m. at the historic Los Angeles Athletic Club. More than just an expo, this event is a celebration of the U.S. Supreme Court rulings that forced the federal government to recognize legally married gay and lesbian couples and returned marriage equality to California, where it's expected to create a financial boom for the wedding industry. A study conducted by the Williams Institute at UCLA estimated that same-sex weddings would generate $290 billion in new spending in California.
I talked with JD about her idea to produce the expo in association with Frontiers Media, and about her spin on our LGBT issues. When asked about how the expo came about, DiSalvatore stated:
We decided that considering how much work we put into obtaining our marriage rights here in California, we thought it would be absolutely the thing to do to produce this giant wedding expo. So it's the opportunity for all the couples who are now ready to get married to come down and check out about 50 vendors that all service weddings -- everything from cakes to fashion, to invitations, to dance lessons, to venue and reception locations, to wedding planners sharing tips how to plan your wedding, and everything wedding. So, hopefully, if anyone is overwhelmed with the thought of planning their wedding, or they're really enjoying planning their wedding, they can come down and learn a little something and get some tips and get some expo-only discounts and help people plan their wedding.
LISTEN:
JD Disalvatore's tremendous contributions to both LGBT cinema and culture make her the perfect candidate to produce this event. She brings a wealth of experience and knowledge from her work as an activist for LGBT equality and as an accomplished, award-winning filmmaker. Her film credits include Eating Out 2, A Marine Story, Gay Propaganda, Elena Undone, and Shelter, for which she won the 2009 GLAAD Media Award for Best Feature Film in Limited Release.
For more information on the Los Angeles Lesbian and Gay Wedding Expo, visit frontiersla.com/weddingexpo.
Listen to more interviews with LGBTQ leaders, allies, and celebrities at OUTTAKE VOICES™.
Download interviews on iTunes.