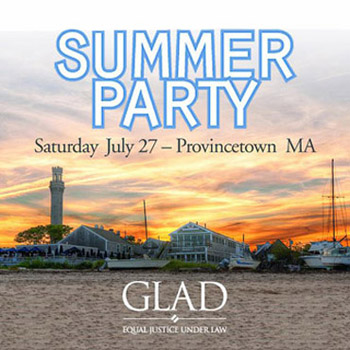 This week I talked with Jennifer L. Levi, Director of the Transgender Rights Project at GLAD (Gay & Lesbian Advocates & Defenders). GLAD is the organization that brought gay marriage to America by winning the historic Goodridge v. Dept. of Public Health decision in 2003. They also filed the first two DOMA challenges, though their cases were not heard before the U.S. Supreme Court. GLAD coordinated the amicus briefs and party briefs for United States v. Windsor, the DOMA case that did reach the Supreme Court. I talked to Jennifer about the court's marriage equality decisions, and about GLAD's Summer Party with special guest Edie Windsor, which takes place in Provincetown, Mass., on July 27.
When asked about her personal commitment to LGBT civil rights, Levi stated:
I've worked at Gay & Lesbian Advocates & Defenders for 15 years. I came to that work as an attorney from having been an advocate and activist on the grassroots level. I think that this work is, as many have said publicly, the civil rights movement of our time. I think that we're seeing family dynamics shifting across the country, and this work is really critical to ensuring equal treatment and dignity for all families. I also direct the Transgender Rights Project, and a focus of that work is to secure protections for transgender people, who remain among the most marginalized within our community. They're tremendously at high risk of discrimination in employment, in housing, and at risk of violence on the street, and that's really the focus of my work at this point.
LISTEN:
GLAD hosts its 31st annual Summer Party from 4 to 7 p.m. on Saturday, July 27, outdoors on the grounds of Pilgrim Monument and Provincetown Museum in the heart of Provincetown. The special guest will be Edie Windsor, the plaintiff in United States v. Windsor, the case that successfully brought down Section 3 of DOMA at the Supreme Court. The Summer Party is a fabulous time to mingle with other GLAD supporters, enjoy the view of the harbor, chat with GLAD attorneys and hear GLAD's executive director, Lee Swislow, talk about the exciting work ahead to create a just society that is free of discrimination based on gender identity and expression, HIV status, and sexual orientation. The event features complimentary summer fare by Above & Beyond Catering, Ben & Jerry's, Konditor Meister and ScottCakes. Cocktails will be provided by Bacardi, Barefoot Wines and Samuel Adams. Award-winning political humorist Kate Clinton will be returning as auctioneer extraordinaire and emcee of the event. The live auction will feature tickets to a taping of The Daily Show, a South African safari, a Costa Rican vacation, a Virgin Islands trip, 10 Kimpton travel packages, plus restaurants, massages and much more. The silent auction is now online, including a preview of live auction items, at biddingforgood.com/glad.
For more information, click here.
Listen to more interviews with LGBTQ leaders, allies, and celebrities at OUTTAKE VOICES™.
Download interviews on iTunes.