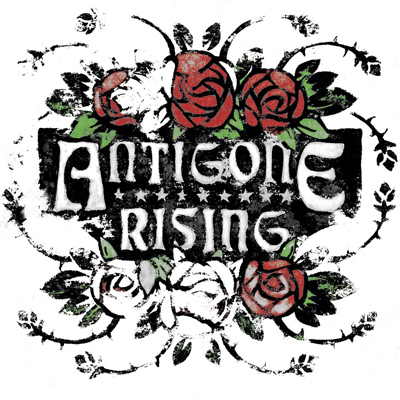 This week I talked with Kristen Ellis-Henderson and Cathy Henderson, co-founders of the all-female alternative country rock band Antigone Rising. After touring with acts such as The Rolling Stones, Aerosmith, The Allman Brothers Band, and The Bangles and traveling to Israel and the West Bank as cultural ambassadors for the United States Embassy, the band has introduced their latest single, "That Was the Whiskey." It's featured on the first of two five-song EPs, Whiskey and Wine (Vol. 1), set for release March 25. (The second volume will be out Oct. 28.) Earlier this month Antigone Rising appeared on Olivia Travel's Caribbean Equality and Leadership Cruise with Edie Windsor, Maya Angelou, Suzanne Westenhoefer, Meredith Baxter and Judy Gold, among others.
I talked to Kristen and Cathy about their music and their spin on LGBT issues. When asked about her personal commitment to LGBT civil rights, Kristen stated:
For me, you know, I've got family, and I've got kids, and I think it's really important to set the best example possible for them, obviously. It's also something that Sara, my wife, and I have naturally moved towards. Sara was Chairman of "Out at Time, Inc.," when she was working at a magazine called Real Simple, and so we often went out to events hosted by HRC or GLAAD, things like that, so we became part of the movement. Then we ended up writing a book, Sara and I, because we got pregnant on the exact same day, but that's a whole story in itself. With that we realized we've got a voice here and we can be part of this movement and we want to be. So we ended up working with GLAAD quite a bit and going out and being spokespeople during the marriage-equality movement here in New York, which is the state we live in. We've become involved in the movement and very passionate about it. My wife and I want to be sure that our kids see that you can be whoever you want to be, you can do whatever you want to do, and you should be proud of who you are, and so that's kind of our mission.
LISTEN:
Antigone Rising consists of Kristen Ellis-Henderson on bass guitar and vocals, Cathy Henderson on lead guitar and vocals, Dena Tauriello on drums and Nini Camps on rhythm guitar and lead vocals. Last spring Kristen and her wife, Sarah Kate Ellis, who was recently appointed President and CEO of GLAAD, were featured on the cover of Time's groundbreaking marriage-equality issue. Antigone Rising has also launched a fundraising campaign at pledgemusic.com to support their music and touring, with 5 percent of the proceeds to be donated to GLAAD. Next month they'll be appearing at Church of Boston, located at 69 Kilmarnock Street in Boston, Mass., on Friday, March 7, at 8 p.m., and at Iron Horse, located at 20 Center St. in Northampton, Mass., on Saturday, March 8, at 7 p.m.
For more information on Antigone Rising, visit antigonerising.com.
Listen to more interviews with LGBTQ leaders, allies, and celebrities at OUTTAKE VOICES™.
Download interviews on iTunes.