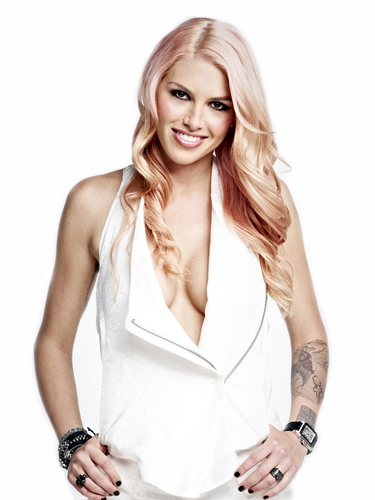 This week I talked with jewelry designer Lauren Bedford Russell, who starred in season 3 of Showtime's hit reality series The Real L Word. Last July, as her season was airing, Lauren was diagnosed with multiple sclerosis. This was a shocking and frightening diagnosis to receive at age 31, to say the least. The young reality TV star was in her prime, both professionally and personally, with a successful show and her relationship with fellow cast member Kiyomi McCloskey, lead singer of Hunter Valentine, blossoming. Lauren's first MS "episode" manifested as loss of vision in one eye, a phenomenon known as optic neuritis. When she was diagnosed, Kiyomi was at her side. She has now regained her vision, for the most part.
While Lauren was touring with Hunter Valentine, I talked with her via cellphone about LGBT issues and her MS diagnosis. When asked how this diagnosis has changed her life, Lauren stated:
Well, it certainly changed my life in a lot of ways. First, of course, is how I'm living from day to day by taking my medication, which is a Copaxone injection, and being an overall healthier person. It adjusts your whole kind of way of thinking, because with this disease, you really don't know what's going to happen. Every experience is different, and every single person who has it has a different story. You just have to think positive and know that will help you at the end. Everything you think will benefit your outcome. Just sort of shifting my attitude, shifting my day-to-day and shifting my outlook about what I want to accomplish in life.
Lauren strongly believes in the power of one person to make a difference. Hearing Jack Osbourne's MS story inspired her to see her doctor in the first place, because she realized that her symptoms were similar to his. Now she is committed to doing for others what Jack did for her by sharing her own story, and she plans to work with the National Multiple Sclerosis Society in every possible way. She's already designed a special bracelet for her Lyon Fine Jewelry line, called the "Positivity Bracelet," 15 percent of whose proceeds will be donated to the National Multiple Sclerosis Society.
LISTEN:
For more on Lauren's jewelry line, visit lyonfinejewelry.com.
Listen to more interviews with LGBTQ leaders, allies, and celebrities at OUTTAKE VOICES™.
Download interviews on iTunes.