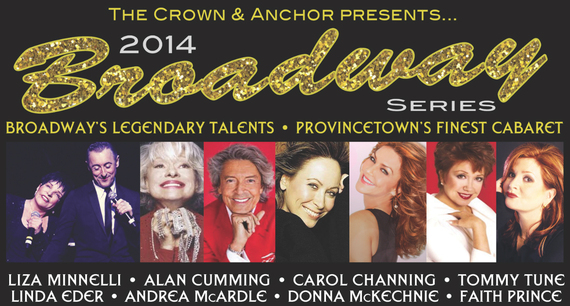 This week I talked with Rick Murray, the president and general manager of the Crown & Anchor in Provincetown, Massachusetts, which is an inn and restaurant and is unsurpassed for entertainment and nightlife in P-town. Over the years the Crown & Anchor has been host to legendary entertainers, and the 2014 season is over the top, with a new series called Turn Up the Volume, in addition to their Broadway series, with part of the proceeds of all the shows going to the Trevor Project. This summer the Crown is bringing 19 Tony winners to their venues and Town Hall, including a Daniel Nardicio production featuring Liza Minnelli and Alan Cumming at the Paramount Theatre, accompanied by Billy Stritch on the piano. Both shows sold out in 24 hours, but there are still tickets for the iconic Carol Channing and Tommy Tune, Broadway diva Linda Eder and a performance of The Leading Ladies of Broadway with Andrea McArdle from Annie, Donna McKechnie from A Chorus Line and Faith Prince from Guys and Dolls, accompanied by musical director John McDaniel.
I talked with Rick about the Crown's fabulous summer entertainment lineup and his spin on LGBT issues. When asked about his personal commitment to LGBT civil rights, he stated:
I was influenced by this one woman named Alice Foley, who was the town nurse here in Provincetown. My partner and I met her back in the 1980s when we bought our first property back in 1986. She was very active with the AIDS support group here in Provincetown. During the AIDS crisis my partner was on the board of AIDS Support Group of Provincetown when it was PASG, way back when, and we became very involved in Helping Our Women, going to all their auctions and supporting them as well. So we've been pretty much on the forefront here in P-town, supporting all the gay and lesbian organizations. This year especially we're basically partnering with the Trevor Project, with James Lecesne and his co-workers in L.A. and in New York, to raise funds for the Trevor Project. The events that are associated with that are Leslie Jordan concerts, Liza Minnelli and Alan Cumming. They're going to be donating a great portion of their fee to the Trevor Project in August, and the same with Carol Channing and Tommy Tune event at Town Hall on August 7: Part of all the proceeds will also go to the Trevor Project. Our goal is to try and raise anywhere between twenty and thirty thousand dollars for the Trevor Project throughout all of our shows this summer.
LISTEN:
Also appearing at the Crown & Anchor this summer are Kate Clinton, Sandra Bernhard, Miss Richfield 198, Dina Martina, Coco Peru, Jessica Kirson, Grammy award winner Matt Alber, Helen Reddy (July 21 and 22), and Armistead Maupin, the prolific author of Tales of the City. In the Central House Piano Bar, Tony nominee Sharon McNight, Bobby Wetherbee and the dynamic duo from Key West, Deborah and Patrick, will be performing throughout the summer. Then there's the Illusions Drag Revue; Gay Camp, featuring a new exciting young group of New York City actors, who will appear in July and August; and a brand new weekly variety show called Audition.
For more information, visit onlyatthecrown.com.
Listen to more interviews with LGBTQ leaders, allies, and celebrities at OUTTAKE VOICES™.
Download interviews on iTunes.