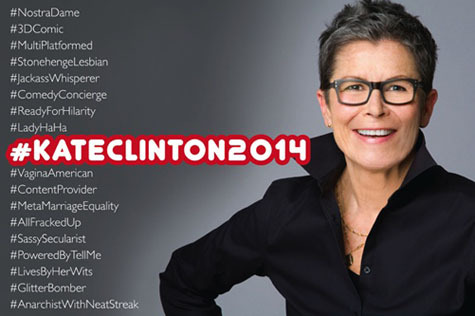 As we head into the new year, it's time to sit down with Kate Clinton, OUTTAKE VOICES' favorite lesbian political humorist, to reflect on 2013 and chat about what 2014 will bring the LGBT community. This has definitely been the year of marriage equality for our community, with the U.S. Supreme Court killing California's Proposition 8 and declaring a key section of the federal Defense of Marriage Act (DOMA) unconstitutional. Perhaps the state-by-state marriage equality strategy may be working faster than we thought, because within a few days of my conversation with Kate, New Mexico's Supreme Court ruled in favor of gay marriage, and in Utah a federal judge found the state's ban on gay and lesbian marriages unconstitutional. However, as we move forward on LGBT equality in America, countries like Russia, Uganda, India and even Australia have implemented anti-gay laws.
I talked with Kate about these tribulations and her spin on LGBT civil rights. When asked what she would like to see happen with regard to LGBT civil rights in 2014, she stated:
I think we really need to work and be more cognizant of trans issues, be they immigration issues, be they imprisonment issues. I think that in Obama's last years, we can really push agencies to just make changes, do executive orders to say that when a trans person is put in jail, if it's a woman, you don't put that trans person into jail with men. That's just a recipe for rape. I think that there are a lot of agencies throughout the government that are ready to have some really simple ideas that President Obama, through executive order or whatever, can just put into effect. That's the kind of thing that I would love to see. I know places like GLSEN and the National Gay & Lesbian Task Force have really been working hard with agencies throughout the government to make that kind of change. I hope they can do it before we lose the support of President Obama -- just because he's leaving office, not that he's changing his mind.
LISTEN:
Kate Clinton is also very involved with the Lesbian Political Action Committee (LPAC), which was conceptualized by her partner, Urvashi Vaid, and founded in July 2012 by committed activists and donors to positively influence the current political and social landscape in this country. LPAC's agenda is to give lesbians a real and meaningful seat at the political table. Currently Kate is working on a new book and has revealed the name of her 2014 national tour, #KATECLINTON2014, which will be coming to Houston, Boston, Boulder and Provincetown, with additional cities to be added soon.
For more Information, visit kateclinton.com.
Listen to more interviews with LGBTQ leaders, allies, and celebrities at OUTTAKE VOICES™.
Download interviews on iTunes.