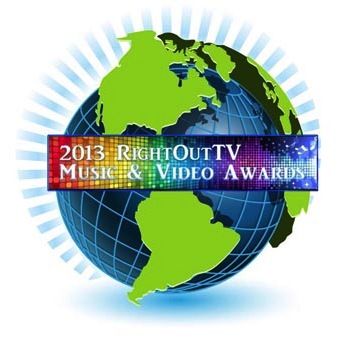 This week I talked with Marlee Walchuk about the third annual RightOutTV Music and Video Awards for lesbian, gay, bisexual, transgender and intersex artists. The 2013 RightOutTV Music and Video Awards team is accepting submissions worldwide for songs and videos to be evaluated by a prestigious panel of 37 entertainment industry judges. Openly queer singer-songwriters from around the globe may submit songs and music videos in a variety of indie-friendly categories. New this year for the competition are a "Best Non-English Video" category, part of an effort to expand the global reach, and a "Best Comedy Video" category is open to drag artists. Also new this year are submissions for episodes of Web series from LGBT writers and creators, as well as live and produced music videos.
Walchuk, who is Canadian, and her wife, Tully Callender, who is from Australia, launched the RightOutTV Music and Video Awards in 2011 after realizing that in their own music career -- Walchuk and Callender also comprise the musical duo Sugarbeach -- winning awards and nominations helped raise their profile more than any venue they played or anyone they played with.
I talked with Walchuk about the evolving RightOutTV Music and Video Awards as well as her spin on LGBT issues. When asked about her personal commitment to LGBT civil rights, she stated:
We start with being as open as possible -- and I say "we" as meaning my wife and I -- about our sexuality always and everywhere, no matter how uncomfortable it makes us or other people. Something as simple as introducing each other as "my wife" has a profound effect on people becoming used to us being around and accepting us. A good deal of our song lyrics deal with LGBT issues, and we never hide the fact that we're singing woman-to-woman. And because we enjoy a full range of LGBT rights in Canada, we do tend to focus on how we can help other countries. We are really incredibly concerned with how the LGBT people in Russia are being persecuted right now. It's shocking that this can happen in this time of history with no one of real power stepping in to help. We went to a "Love Russia, Hate Homophobia" rally in downtown Vancouver, and it was so moving to hear a letter written by an LGBT brother in Russia. I mean, we just have no idea, sitting in our safe communities, what these people are going through. We were encouraged to email our officials about how we feel they need to step up and take a stand, and for Natalie and me that's something that we're currently doing. We're just trying to get our opinion heard by as many people as possible that can actually do something about this.
LISTEN:
The deadline for submissions is Sept. 24, 2013. Nominees will be announced Oct. 10, 2013, and the popular "Fan Fave" voting, the only publicly voted award, begins Sept. 30, 2013. For more information, visit rightouttvawards.com.
Listen to more interviews with LGBTQ leaders, allies, and celebrities at OUTTAKE VOICES™.
Download interviews on iTunes.