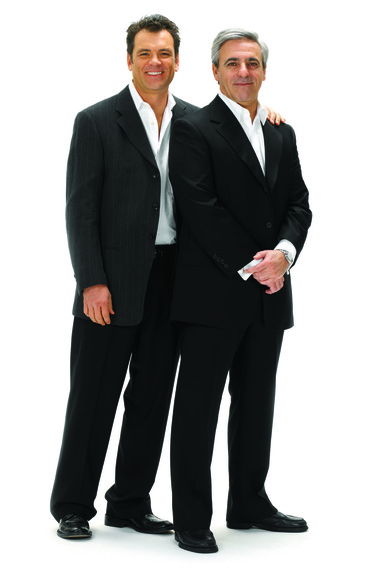 This week I talked with designers Mitchell Gold and Bob Williams about the 25th anniversary of their company. Twenty-five years ago they based their manufacturing in rural North Carolina, the "Buckle of the Bible Belt," where it remains today. For decades their bold ad campaigns have frequently included gay and lesbian couples, "alternative" families and sexy models. Though this has caused eyebrows to rise and jaws to drop, sales have gone up year after year. The company has been recognized for its innovative campaigns, including being honored with the Public Visibility Award at the first GLAAD Media Awards in Advertising. Gold and Williams are celebrating their brand's 25th year by giving back to 25 communities where their signature stores appear, and a new coffee-table book published by Assouline shares 25 of the company's mantras for success in design, business and life.
They also gave me their spin on LGBT issues. When asked about their personal commitment to LGBT civil rights, Gold stated:
Bob and I, living down South, starting the factory in 1989, by 1992, when President Clinton was elected, we really first started to see the backlash and the anti-LGBT, vitriolic talk, especially from religious leaders down South and throughout the country, and that really got us involved. When we saw progress on LGBT civil rights go backwards, we became involved with the Human Rights Campaign, in Equality North Carolina, and several different organizations, and we have been very active since then. About eight years ago I co-founded, with Rev. Jimmy Creech, Faith in America, which educates people about the harm of religious bigotry to the LGBT community, and Bob is on the board and very supportive. So we have a really deep commitment, and I would go out and say that of anybody going out to buy home furnishings, there is no company that is more on the forefront of not just supporting LGBT advocacy groups and having started one but also supporting candidates that vote for our equal rights.
LISTEN:
Mitchell Gold is also editor of the books Crisis: 40 Stories Revealing the Personal, Social and Religious Pain and Trauma of Growing Up Gay in America and Youth in Crisis: What Everyone Should Know About Growing Up Gay. He resides in North Carolina with his spouse, Tim Gold, whom he married in Des Moines, Iowa, in June 2010. Bob Williams lives in North Carolina with his partner, Stephen Heavner. Gold and Williams' next 25th-anniversary celebration will take place in Boston on April 25, to benefit the Pine Street Inn.
For more information on Mitchell Gold + Bob Williams, visit mgbwhome.com.
Listen to more interviews with LGBTQ leaders, allies, and celebrities at OUTTAKE VOICES™.
Download interviews on iTunes.