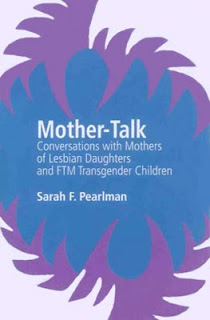 I talked with author Sarah Pearlman about her new book, Mother-Talk: Conversations With Mothers of Lesbian Daughters and FTM Transgender Children (Demeter Press, 2012). Sarah Pearlman is a well-known author on lesbian and transgender issues. Her book is a collection of stories of 24 mothers, 12 of whom learned that their daughters were lesbians and 12 of whom learned that their daughters intended to transition to male. This groundbreaking book takes the reader into the lives of these women as they express their struggle with coming to terms with their children's sexual orientations or gender identities. I talked with Sarah about her fascinating new book and crucial issues facing our LGBT community.
When asked if she wrote Mother-Talk as an educational tool, Pearlman stated:
How I thought about the book was really for parents. The focus is on mothers. I think that also for people that do family therapy programs, it would be helpful, because a lot of families go into counseling to understand. So the better clinicians understand what the issues are, the more really responsive and helpful they're going to be to parents. I think that my book can have training purposes for people in psychology, but I wrote it really with mothers in mind. Also, for daughters, it's helpful for lesbians and female-to-male transgenders to understand their own mothers and what they go through, because coming to terms with and accepting is not immediate. It takes time, and a lot has to do with fears for their children.
LISTEN:
Sarah Pearlman is a pioneer in this area of expertise and was selected by the American Psychological Association Society for the Psychological Study of Lesbian, Gay, Bisexual and Transgender Issues as the recipient of the 2011 Award for Distinguished Professional Contribution. Pearlman served for many years as an associate professor in the doctoral program in clinical psychology at the University of Hartford and is now an associate professor emeritus. Sarah lives in Boston and is active in LGBT elder organizations. Currently Sarah is on tour with her book. She will be speaking at Booksmith in Brookline, Mass., on Wednesday, Aug. 22 at 7 p.m.; at the Rotary Club in New Britain, Conn., on Thursday, Sept. 13 at 12 p.m.; at PFLAG in Worcester, Mass., on Wednesday, Sept. 19; and at Fayerweather Street School in Cambridge, Mass., on Thursday, Sept. 27.
For more information on the book, visit demeterpress.org/mothertalk.
Listen to more interviews with LGBTQ leaders, allies, and celebrities at OUTTAKE VOICES™.
Download interviews on iTunes.