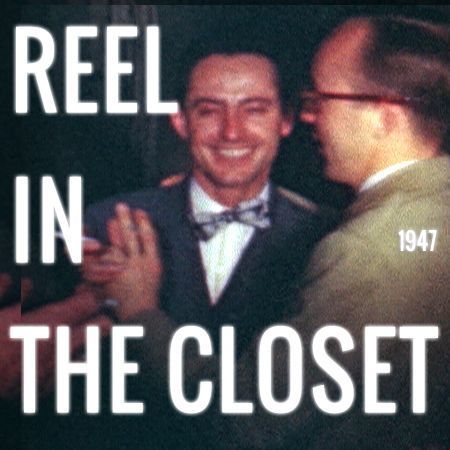 This week I talked with filmmaker Stu Maddux about his new documentary-in-progress, Reel in the Closet, the first film to take a look at LGBT home movies dating back to the 1930s. Tragically, these archival treasures are often thrown away by friends and family who aren't aware of the hidden history they hold. Maddux has launched a Kickstarter campaign to complete this important film. He's hoping that it ignites a movement to preserve our LGBT history.
I talked with Maddux about the significance of his film and his spin on LGBT issues. When asked about his personal commitment to LGBT civil rights, he stated:
You get handed opportunities, every once in a while, to become involved in things, and I was that person who always saw my gayness as secondary. I was the person who said, "This is not all of who I am," but then, you know, the rest of the world started really getting interested in that part of my life and started legislating about it and debating about it, and that's when I realized it was becoming a big personal commitment. The way that I could help that civil-rights movement was to do what I do, which is to make movies about things that are really important to the civil-rights movement, so it's a really personal commitment. It's about making your own life better. I'm just trying to make my own life better and those around me too.
LISTEN:
Stu Maddux is an award-winning producer and director of documentaries about LGBT aging and history. His last film, Gen Silent, puts a face on what experts in the film call an epidemic: LGBT seniors being so afraid of finding themselves subject to discrimination or worse in long-term health care that they go back into the closet. His interest in LGBT aging and history grew from his 2006 documentary, Bob and Jack's 52-Year Adventure, about an army sergeant who began an affair with his commanding officer in 1952. The two men came out to the soldiers in their unit and are still together 60 years later. Maddux has evolved into an outspoken activist for LGBT elders and honoring their experience. He has addressed several national conferences, including those of the American Psychological Association, the American Society on Aging and Out & Equal. His latest project, Reel in the Closet, is about the importance of saving and sharing the hidden history revealed in the home movies and personal photos of LGBT people dating back to the early 20th century. To complete his film in time for the 2015 film-festival season, he has launched a Kickstarter campaign to raise $15,000 by Oct. 31.
For more information, visit Maddux's personal website or the Kickstarter page.
Listen to more interviews with LGBTQ leaders, allies, and celebrities at OUTTAKE VOICES™.
Download interviews on iTunes.