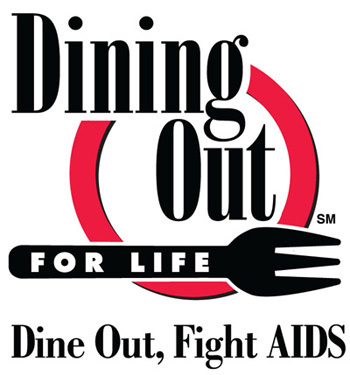 I talked with Ted Allen, television personality and host of the Food Network's Chopped, about Dining Out for Life, the HIV/AIDS fundraiser. Dining Out for Life, hosted by Subaru, takes place in 60 cities across North America on Thursday, April 24. The event was conceived 23 years ago in Philadelphia, and the concept is quite simple: More than 3,000 participating restaurants donate a generous percentage of that day's proceeds to HIV service providers in their region to fund care, prevention, education, testing, counseling and other essential HIV/AIDS services. An estimated $4 million will be raised in just one day of dining.
I talked to Ted about being a spokesperson for this fabulous event and his spin on LGBT issues. When asked about his personal commitment to LGBT civil rights, he stated:
I'm living this life. I'm a member of this team. I don't profess to be any sort of hero. I think there are a lot of activists who devote their whole lives and work a lot harder than I do, and I'm grateful for all of those folks. The one thing that all of us can do is just the fact of being out. That's one thing that the Queer Eye boys and I were able to do. Just that even today has an impact on young people. It's a nice first step.
LISTEN:
Chopped has received two James Beard Awards -- one for the show itself, and the other for Ted as host. Previously Ted was a judge on the first four seasons of Bravo's Top Chef and the Food Network's Iron Chef America. He first appeared on the reality TV scene as the food and wine specialist on the groundbreaking Bravo series Queer Eye for the Straight Guy, which was nominated twice for an Emmy Award and took the prize in 2004. 2014 will mark his seventh year as spokesperson for Dining Out for Life. He's joined by three other celebrity spokespeople for this fabulous fundraiser, including actor Pam Grier (Foxy Brown, The L Word), designer Mondo Guerra (the winner of Project Runway All-Stars) and chef Daisy Martinez (Food Network's ¡Viva Daisy!).
For more information on Dining Out for Live, visit diningoutforlife.com.
Listen to more interviews with LGBTQ leaders, allies, and celebrities at OUTTAKE VOICES™.
Download interviews on iTunes.