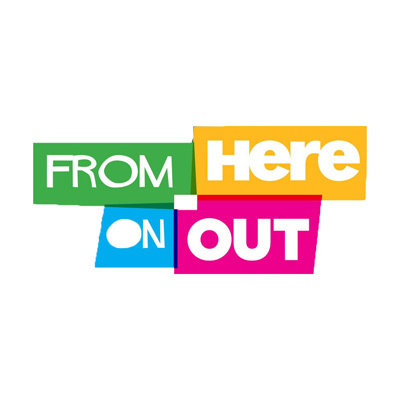 This week I talked with Terry Ray, an actor and writer, about his new sitcom From Here on OUT, which makes its television broadcast premiere on Friday, March 28, exclusively on Here TV, the LGBT premium cable network. Terry stars in the outrageous new comedy, which spoofs what goes on behind the scenes at Here TV. It centers on the adventures of aging gay writer Jimmy Randall (played by Terry) as he tries to get his dream project made into a television series. After years of failed attempts, Jimmy finally sells his show to the 18-year-old president of Here TV. However, Jimmy must hire an openly gay leading man or the series will not go forward. Jimmy casts the sexy, talented Sam Decker. But there's one problem: Sam is secretly straight. To keep their show on the air, Jimmy and Sam conspire to convince the network that they have become a gay couple. Directed by Sam Irvin, the six-episode series also stars Emmy winner Juliet Mills (QB VII, Nanny and the Professor, Passions), Suzanne Whang (House Hunters, Las Vegas), T.J. Hoban (It's Always Sunny in Philadelphia), Adrian Gonzalez (August), and newcomers Austin Robert Miller and Michael Lanham. Paul Colichman and Stephen P. Jarchow are the show's executive producers.
I also talked with Terry about his spin on LGBT issues. When asked about his personal commitment to LGBT civil rights, he stated:
I think it's extremely important to live openly as a gay person, and I've done that for a long time, even when it wasn't so easy to get a job, so I started to create my own. My commitment is to live openly, and to be involved and aware politically. I'm a political junkie, and I vote in every single election, no matter if there's just two people running for dogcatcher. I'm voting because I think it's super-important to vote. If everybody voted, even if you live in the red states, if you all voted, things would change drastically, and that is a privilege that we have, and that is a privilege, I think, that people are not utilizing, and I really wish that we would -- just everyone who is gay, everyone who is gay-conscious, to just vote. That's a huge thing that we can all easily do, and I think right now my big platform is "Everyone vote. Always vote."
LISTEN:
Terry Ray has appeared in over 80 plays, with stars such as Dixie Carter, Elaine Stritch, Patricia Heaton, and Matthew Perry. His first television role was on In Living Color in a sketch with Chris Rock. Terry also co-wrote and starred in the short film Gaydar, which appeared in over 120 film festivals around the world and won numerous awards. Terry is extremely proud and excited to be the creator, writer and star of From Here on OUT, Here TV's first sitcom. Guest stars appearing in the first season include Julie Brown, David Millbern, Sam Pancake, Jesse Pepe and Emrhys Cooper.
For more information on the show, visit heretv.com/here-out.
Listen to more interviews with LGBTQ leaders, allies, and celebrities at OUTTAKE VOICES™.
Download interviews on iTunes.