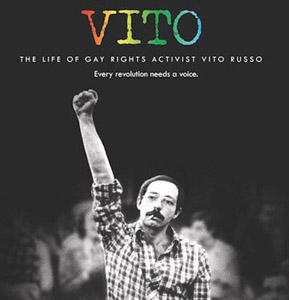 I met Vito Russo when I lived in New York City in the 1980s. He was a very courageous, no-nonsense, out gay man who influenced everyone he came in contact with. He was a founding member of three pivotal gay-rights groups: the Gay Activists Alliance in the early 1970s; ACT UP, the activist group credited with revolutionizing the federal approval process for new HIV/AIDS drugs; and the Gay & Lesbian Alliance Against Defamation (GLAAD), the influential media watchdog. Each year the GLAAD Media Awards honor an openly gay or lesbian member of the media with the Vito Russo Award for outstanding contributions to combating homophobia. In 1981 Russo wrote the groundbreaking book The Celluloid Closet, which brought attention to the film industry's history of censoring LGBT people and resorting to unacceptable, cruel stereotypes to portray us. The book was later turned into a documentary of the same name. In 1990 Russo, then just 44 years old, died from AIDS-related complications.
I talked with director Jeffrey Schwarz about his brilliant new HBO documentary Vito, which truly honors Russo's memory, his sacrifice, and his dedication to LGBT equality. When asked about his own personal commitment to LGBT civil rights, Schwarz stated:
Well, Vito was inspiring to me because his main issue was visibility and being out and showing the world who we are. I think the number-one thing that you can do for the gay and lesbian civil rights struggle is to be out, because if you're out, they can't stereotype you, and they can't defame you, and that's always been his issue, whether it was visibility during the gay liberation movement, encouraging people to come out to their families, to their coworkers. And his struggle was also to show gay and lesbian lives on the screen, to make our lives visible in movies, in television, and in the media in general. ... So I think his whole life was about visibility, and for me, I think that is the number-one issue. I think as time goes on, history is definitely going to be on our side, because as more and more people are out, people will know who we are. I mean, it's hard to discriminate against someone who's standing right next to you and saying this is a gay person, this is a lesbian standing right next to you.
Vito is an important documentary that everyone, LGBT or not, should see. It's currently playing the film festival circuit and will premiere on HBO in July 2012.
LISTEN:
For more information on the film, visit vitorussomovie.com.
Listen to more interviews with LGBTQ leaders, allies, and celebrities at OUTTAKE VOICES™.
Download interviews on iTunes.