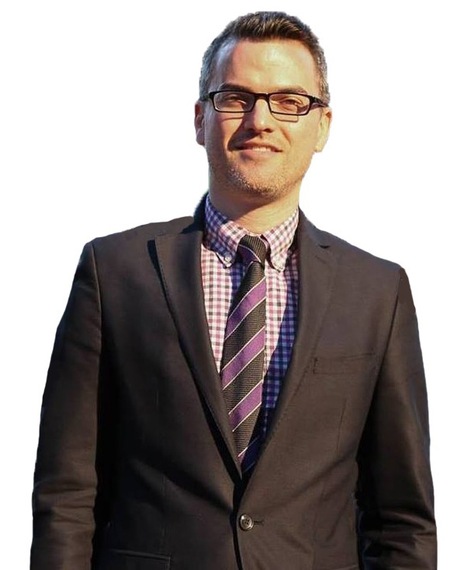 This week I talked with Zeke Stokes about his new line of men's ties made in small batches and handcrafted in the U.S.A. just in time for Christmas. Inspired by the high-quality, handmade items of a bygone era, each piece is constructed with the most discerning tastes in mind. A lifelong lover of fine clothing, Zeke's inspiration for his line of ties came when his partner's grandfather passed away unexpectedly and left a treasure trove of vintage menswear behind. The ties were well-crafted and timeless and inspired the collection. A number of them contained three buttonholes on the end to keep them fixed in place on your shirt. Zeke decided to make this a signature feature of the new line.
I talked to Zeke about his passion for fashion and his spin on LGBT issues. When asked what he would like to see happen for LGBT equality in the next few years, he stated:
If you look at national polling, seven out of 10 people in this country say they know someone personally who is L, G, B, or T, and we know that knowing someone personally is the thing that brings about acceptance and inclusion. We need to get that number to 10 out of 10 people. In the South that number is more like six out of 10 people, so we have a little more work to do in the South than we do in other places in this country. We know that knowing someone personally, having someone in your personal life, either at work, at school, at home, in your family, that's what makes a difference and brings people through the journey of acceptance and inclusion, and that's what I would love to see. This means that we need people coming out and speaking publicly about their authentic lives. I was so excited to see Ty Herndon, the very popular country artist, come out publicly and be quite a groundbreaker in the national community. Very quickly he was followed by Billy Gilman, who sold millions of country albums, who came out and said Ty Herndon inspired him to do that. We need these kinds of voices. We need voices from the world of athletics -- Michael Sam, Jason Collins, such pioneers. We need more of those, and we need more allies. We can't do this alone. There aren't enough of us to move the needle for everyone. So we need allies to tell their stories of moving from a place of non-acceptance to a place of acceptance, inclusion and understanding. I think that's where our work needs to be focused right now.
LISTEN:
Currently Zeke Stokes is Vice President of Programs at GLAAD (Gay & Lesbian Alliance Against Defamation). He leads a staff of media professionals in both Los Angeles and New York City in GLAAD's Entertainment Media, News Media, and Spanish-Language Departments, as well as the organization's transgender, sports, international and youth initiatives. Previously he was Director of Communications for Servicemembers Legal Defense Network and then Director of External Relations at OutServe-SLDN, where he played a key role in advancing LGBT military equality, repealing "don't ask, don't tell" (DADT) and defeating the so-called Defense of Marriage Act (DOMA). In addition to his new tie line and his work at GLAAD, Zeke is currently a co-producer of the upcoming docu-reality series TransMilitary.
For more information on Zeke Stokes, visit zekestokes.com.
Listen to more interviews with LGBTQ leaders, allies, and celebrities at OUTTAKE VOICES™.
Download interviews on iTunes.