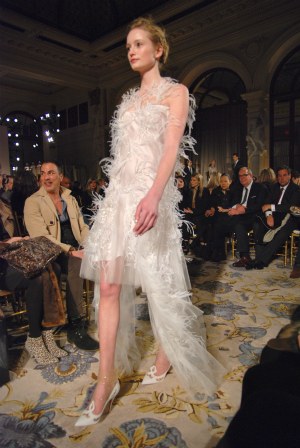 All photos by Charlotte Wilder unless otherwise noted
Gauzy tulle and weighty draped gold fabric played against the models' bodies at the Marchesa Fall 2012 Show. Red embroidery shaped their torsos and luminous brocades cascaded down their backs. The models glided down the runway of the Plaza's hall, their faces glowing, their hair just messy enough to conjure up images of nymphs emerging from a wood.
Great design and hard work came together at Marchesa to create an illusion of easy glamor. The duck (or swan, in this case) skims the surface, while underneath, its webbed (or high-heeled) feet paddle furiously. Moda Operandi's CEO Aslaug Magnusdottir is fashion's ultimate swan.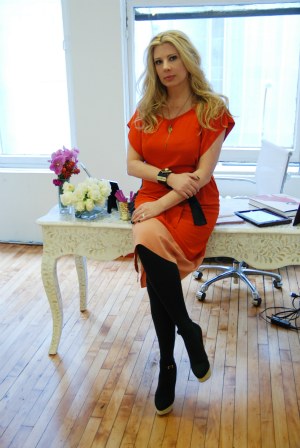 I met Aslaug in November, interviewed her for my blog in January, and spent a day with her during Fashion Week, when I got to see how fast she and the Moda Operandi team paddles. The four highly publicized fashion icons at the top of the company, and at the top of the fashion industry -- Aslaug, Lauren Santo Domingo, Taylor Tomasi Hill, and Roopal Patel -- work tirelessly with a dedicated team of twenty-five employees to make the site the most exciting retail destination online.
Launched last year, Moda Operandi allows customers to pre-order runway looks a day or two after a designer's collection is shown. The beauty of the model is that it's risk-free to designers; they don't have to play the traditional retail model guessing game of what pieces will sell. They just have to make what the customer orders.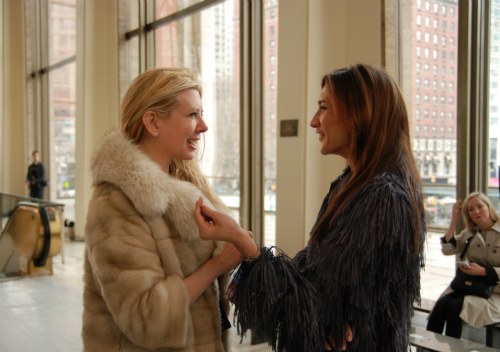 My day with the Moda maven started at Lincoln Center with the Philosophy di Alberta Ferretti show. Aslaug chatted with front-row regulars such as jewelry designer and model Zani Gugelmann while I developed a crush on the socialite's purple coat. Aslaug had just arrived back from Philadelphia, where she gave a speech at the Wharton School of the University of Pennsylvania, one of the country's top business schools. "It went really well," she told me, "there were a lot of academics in attendance." That business school professors go to hear her speak is not surprising; Aslaug is, first and foremost, a businesswoman. She seems to collect degrees the way some women collect handbags; an undergraduate law degree from The University of Iceland, an MBA from Harvard, and a law degree from Duke. She has worked for Deloitte, McKinsey, started her own investment firm with retail legend Martin Traub, and before founding Moda Operandi she was a Vice President at Gilt Groupe.
Aslaug understood the importance of building a good team when she started Moda Operandi. While much of the press surrounding the company has been concerned with the high-profile names involved, Aslaug knows that if she wants to build a lasting business, it won't be that way forever. "Yes, the press loves writing about us because of who works here, but if we want the company to be around in a hundred years, we're going to have to phase that out eventually," she told me. "We're going to have to build something that can stand on its own."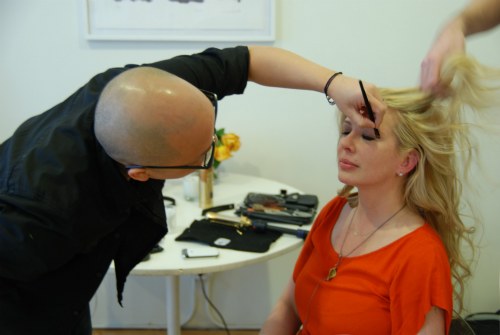 Aslaug also knows how important image is. She had her hair and makeup done in the afternoon and changed into a Marc Jacobs suit for the Marchesa show and her interview with Forbes magazine directly after. "I've gotten more into suits lately, because when going into meetings with investors you really want them to take you seriously as a business person," she said as her driver whisked us away from Lincoln Center. "But that doesn't mean I put on typical boring black ones," she said, making a face. "I like feminine suits with unexpected details."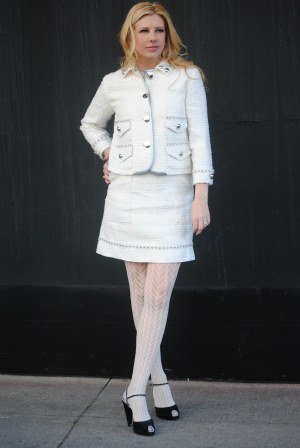 Photo by Bettina Santo Domingo
When we got to the office, a large room with hardwood floors and natural light on Madison Avenue, it was abuzz. New York Magazine's fashion blog The Cut had just posted a satirical video the Moda Operandi team made about getting ready for fashion month, a takeoff on a video that the editors at GQ had posted the week before. Everyone crowded around monitors to watch, laughing when Lauren smeared lipstick across her cheek and Hayley Bloomindale, Associate Editor and Social Media Manager, sat with curlers in her hair.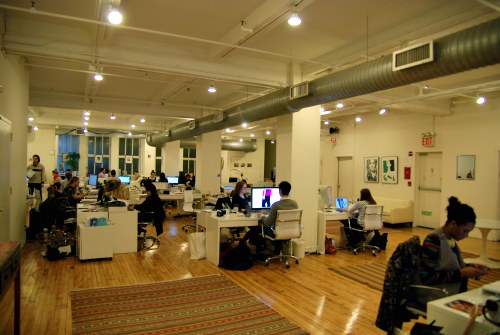 I twirled around in a desk chair at the Moda offices while Lauren made puns on my last name. Artistic Director Taylor Tomasi Hill leaned over Art Director Annie Sterenberg's desk and complimented the Prabal Gurung banner Annie was putting together. For a business at the top of a famously cutthroat industry, the executives don't fit the stereotype. "In the video [on The Cut], they make me play this horrible, bitchy CEO, and it was fun to do because that's not who I am," Aslaug said. Indeed it is not; she treats her employees with great respect, greeting everyone whose desk she passed and stopping to chat with people she hadn't touched base with in a while.
Aslaug transitioned seamlessly from boss to public persona when we got to the Marchesa show where Bar Refaeli and Stacy Keibler posed on the red carpet. We found our seats, the lights dimmed and the music started. As the models swept down the runways in their delicate, intricate, princess dresses, I couldn't help smiling as I imagined the furious commotion that must have been going on behind the curtain. But, of course, it would never show.