Nik Wallenda is a 7th generation member of the legendary Wallenda family. Known world-wide for his incredible feats upon the high wire and beyond, Nik is the holder of 10 world records, among these the highest 4-level 8-person pyramid on the wire, the highest and longest bicycle ride on a wire and hanging from a helicopter by his teeth. His career began at the age of 2, learning to walk the wire while holding his mother's hand, and from there has lead to record breaking performances across the United States and around the world. In 2012, he fulfilled his life-long dream to become the only person to walk directly over the precipice of Niagara Falls, covered live by ABC. In 2013, he became the first person to walk a wire across the Grand Canyon, an epic event aired live by Discovery Channel in 178 countries, breaking network rating and social media records in the process. His 2014 Discovery Channel tv special saw him set 2 Guinness World Records for the highest incline and blindfolded wire walks in the city ofChicago. In April 2015, he set his latest Guinness World Record, walking atop the 400ft tall Orlando Eye live on the Today Show. Nik's motto is never give up, and he carries this positive message with him in every walk with the purpose of "inspiring people around the world to follow their dreams."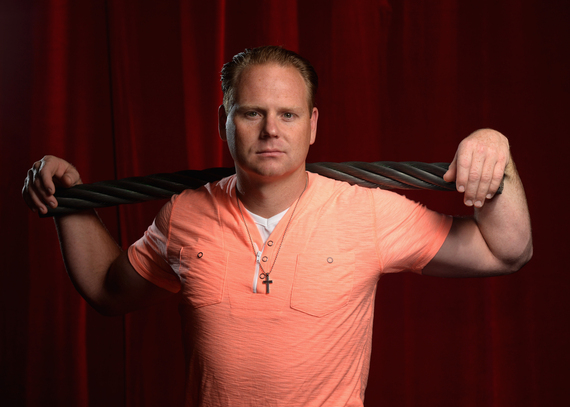 Nik Wallenda (Photo credit: Tim Boyles)
Q: Tell us about an instance where you had to go against the flow to realize your goal.
Nik: I think the best example of this was during the process of seeking permission to walk across Niagara Falls. From the outset, I was told it would never happen and permission would never be granted. In short, I was told it was impossible. However, this walk was a dream of mine that I was not going to give up on. We provided economic data that indicated the impact my walk would have on the region. We extensively researched and engineered my rigging to have minimal environmental impact. Most important, in all my dealings, whether with politicians or media, I maintained a positive outlook and attitude. I think in the end, that played a huge part in winning them over, and I was able to fulfill that dream and become the only person to walk directly over the falls.
Q: What are you most proud of in your professional career?
Nik: I am extremely proud to carry on a family legacy of over 200 years. This is my heritage, and to be able to bring world wide recognition to the family name again is very important to me. I've often said that the most meaningful walk of my career was in San Juan, Puerto Rico, where my mom and I recreated the skyscraper walk that took my great grandfather Karl's life. He has always been an inspiration to me, so to be able to perform these dynamic walks is, in many ways, a tribute to his innovation and daring that made my family famous. However, above everything professionally, I think I am most proud that first and foremost, I am a husband and father, who happens to have a very unique career.
Q: If you could do something over in your life, what would it be?
Nik: Ironically, I just fulfilled the answer to this in January of this year. When my wife and I got married, we did not have the money to do a full wedding. We were married on the courthouse steps at home in Sarasota, with plans to have a full wedding ceremony later that year. It took a little longer than a year, but on our 15th wedding anniversary, we renewed our vows in a full wedding ceremony with friends and family to celebrate. I was thrilled that Erendira and I were able to have the wedding that we had always dreamed of.
Q: Please answer a question of your choice here. Something specific to your background or industry.
Nik: I am often asked why I do these wire walks, particularly at heights of 1500 feet over the Grand Canyon or blindfolded over the City of Chicago. I touched on part of the answer when I spoke about my family heritage. This is a legacy that I feel like I am carrying on. In particular, my goal has been to take what my family has done for these 200 years, and bring it to new generations. Another one of my favorite stunts was inspired by my grandmother. I saw a photo in her living room of her hanging by her teeth under a bicycle on the high wire. My thought was to both honor my grandmother's artistry, but also bring it to this generation in a new and exciting way, so I broke a world record while hanging by my teeth 250 ft above the ground beneath a helicopter. I always attempt to pay tribute to my family heritage, while incorporating today's cutting end technology to take this to a new and exciting level.
Q: LinkedIn style -- If you were to give advice to your 22 old self, what would it be?
Nik: Never Give Up. It sounds simple, but it sums up all that has transpired in my career over these last 15 years. At the age of 22, with my wife and I only a couple years into our newly established entertainment business, I had no idea of the different challenges that we would face. Knowing all that was built in me in regards to character as I went through through those challenges and knowing the triumphs and great dreams that would be fulfilled, I'd want my 22 year old self to know to stay the course, stay determined and never give up, because it's going to be worth it.
Follow Nik Wallenda at @NikWallenda, and check out the other interviews in Going Against the Flow series at http://www.huffingtonpost.com/charu-sharma/.