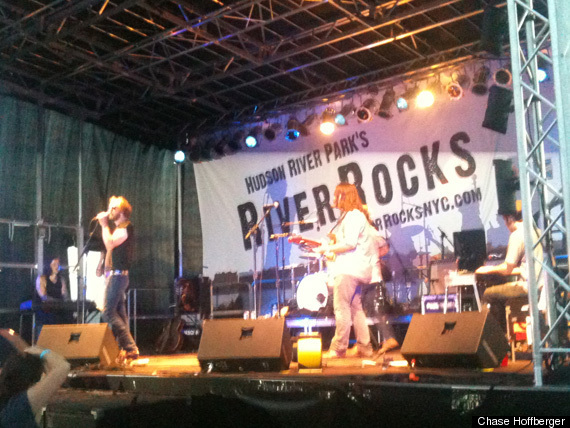 Matthew Houck's always been a wailer; with his Williamsburg-based band Phosphorescent now a six piece thanks to the addition of Austin pedal steel aficionado Ricky Ray Jackson, the Alabama native's sprawling narratives now have the freedom to float in and out of comprehension without facing much consequence. Which is nice, because sometimes it's just straight up difficult to understand what Houck is saying.
The lanky lead singer moseyed on stage done up like a cowboy, frizzy haired and with a set of aviators covering his eyes, to "It's Hard to Be Humble (When You're From Alabama)", the lazily infectious lead track from this year's full-bodied Here's to Taking It Easy. The rest of his Phosphorescent crew -- pianist Scott Stapleton, bassist Jeff Bailey, drummer Chris Maine, guitarist Jesse Ainslie, and relative newcomer Jackson -- strummed and swayed along while Houck banged on a tambourine through album follow-ups "Nothing Was Stolen (Love Me Foolishly)" and "We'll Be Here Soon". And by the time "Nothing Was Stolen" bled into "The Mermaid Parade", it wouldn't have been far fetched to believe that Williamsburg's answer to (Seattle's) Band of Horses might just rip through every song from this year's fourth LP in succession.
Houck proved the prediction untrue with "A Picture of Our Torn Up Praise", the first track from Phosphorescent's 2007 breakout Pride, one that found Houck pulling off leads on his acoustic guitar that would have impressed even Dawes front man and ever-improving guitarist, Taylor Goldsmith. Three more songs -- Pride's "Wolves"; "Joe Tex, These Taming Blues" off of 2005's sophomore release Aw Come Aw Wry; and the Willie Nelson-penned "Reason To Quit", which Phosphorescent covered on 2009's To Lefty From Willie-inspired To Willie -- closed out the set, but the herds along the Hudson had already dissipated by the time Houck came back out for an acoustic encore of Leonard Cohen's "Hey, That's No Way To Say Goodbye" and "Endless, Pt. 1". His band rejoined him for evening closer, "Los Angeles", but by then they were primarily playing to backs as the crowd walked back toward the city.
Given a better time slot and, with that, a far better ambiance with the setting sun, Los Angeles upstarters Dawes ripped through a fifty-minute set of their blend of alt-country rock and indie-folk with their usual displays of graciousness and stage presence. Behind Taylor Goldsmith's soaring vocals, deeply personal lyrics, and rock solid Telecaster work -- that which is in the vein of the Band's Robbie Robertson -- Dawes found their groove and mid-set behind bassist Wylie Gelber on the flowing charge of "When You Call My Name," a highlight from last year's sophisticated debut, North Hills. (Goldsmith and Gelber released several records together in an earlier iteration, Simon Dawes) They didn't look back from there, banging their way through "That Western Skyline" and new addition "If I Wanted Someone."
Much of the energy showing up in their live shows is the result of Goldsmith's younger brother Griffin, the group's Animal-esque drummer, whose constant fills provide a tempo and fervor absent on the rather back-porchy North Hills. To see it, one needed look no further than set closers "When My Time Comes", augmented by an inspired Fender Rhodes solo from turn-of-the-year addition Alex Casnoff, and "Peace In the Valley", a closer that really turned into something epic once the elder Goldsmith shook-off mic troubles that may have left us longing for one more verse. A gracious thank you to the crowd and they were off, leaving some awfully big shoes to be filled by the hometown heroes who followed.