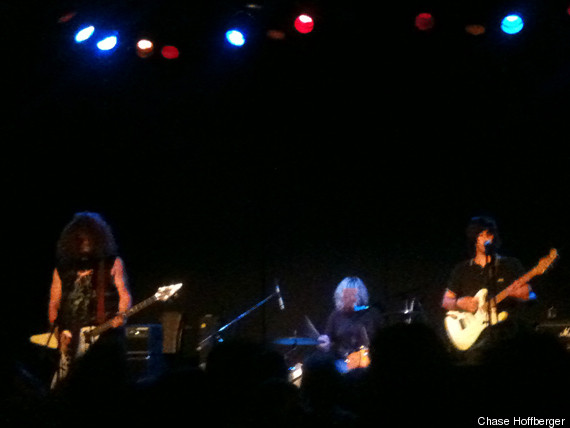 Wavves' Nathan Williams hit the musical exacta this summer when he released his sun-soaked third LP King of the Beach. Cleaner and more focused than his previous two albums -- Wavves and Wavvves (get it?) -- Beach succeeded in becoming the rare album that critics adored for its sincerity and teenagers gobbled up as post-Blink 182 slacker punk pop.
The teens won out last night, as the Bowery Ballroom filled to near capacity with throngs of Beach Demons too young to wear booze-permitting bracelets. So they did what any school of hormone-heavy concertgoers would be expected to do: they moshed.
By the time Williams and his current Wavves lineup of ex-Jay Reatard backers Billy Hayes (drums) and bassist/Dimebag Darrel look-a-like (even down to the flying V axe) Stephen Pope broke into "King of the Beach", the chaos had already started in front of the stage. A mass of roughly 40 people elbowed and bounced from left to right, heads bobbing up and down at a pace almost faster than Hayes' charging snare hits. Four kids -- one of whom had the audacity to wear a Wavves t-shirt to a Wavves concert -- tried their hand at stage diving, and one ballsy enough to stay on stage a bit and sing a few lines of "To the Dregs" with Williams.
Wavves was fit to play along. They took their time in between songs, telling bad jokes and slugging pulls off a bottle of Maker's Mark that made its way into the hands of one lucky spectator. At one point Williams tried to coerce a trash-talker into trying his own hand on the microphone.
They also played some music. Raging their way through King of the Beach -- "Green Eyes", "Super Soaker", "Take On the World" and "Idiot" all ripped in less than three minutes apiece -- Wavves did their best to ward off any pessimism stemming from their much-publicized onstage meltdowns in 2009.
Instead, Williams fought valiantly through technical difficulties on "Linus Spacehead" and "Post Acid" and explained his most recent legal troubles -- Disney wasn't so happy about his sample use on "Mickey Mouse" and are requiring that he pull the song from the album -- with a smile on his face.
It was all very fitting; Williams can't help but have a sense of humor about what he's accomplished in the past four months. He teeters so close to corny, to unbelievable and forced, but comes out on the right side of convincing. He's authentic, and with Hayes and Pope he's got an engine for making serious noise. Because of that, the critics will follow. Williams can only hope that he doesn't outgrow the mosh pit.