Day 10
Two dear pals take me to lunch. Kale salad and the knowledge that no matter how old I get, these gals will be older? Priceless.

Dinner: Italian fare with my Italian love, Lee. Glass of chardonnay results in agita and anaphylaxis, not in that order. Day ends with Benadryl and seltzer.

Day 9
I try again, starting day with oatmeal, almond butter, nutritional yeast, almond milk, protein powder and decaf green tea. I gave up coffee years ago, because it made me evil.

Go to work to talk to about 51 about-to-be-married prospective clients about the most important day of their lives. Must remain firmly NOT evil.

Evening workout at the swank gym Lee and I joined. I always loved dive gyms, but after a month of private saunas and a working fireplace in the middle of the gym, I am ruined for Funkytown.
Day 8
Up early to do yoga, but lose time in Facebook pose. Namaste.

Prospective clients call me a "charming role model." They used to say, "You're so wild!"
Courtney Love is a role model to some... Isn't she?

Dinner in Brooklyn with my BFF, her daughter (my goddaughter), her daughter's friend and daughter's boyfriend. Who knew 17-year-old boys could be so polite?! I am not polite. When we all cram into a taxi, I scream, "You are sitting on my vagina!" Can't take me anywhere.

Day 7
I do the damn yoga. What is so relaxing about shoving your leg into your armpit?!

Cook for my thousandth wedding. Or two thousandth. Jalapeño vegan slider sauce would make you cry. In a good way!
Meet Lee for organic, vegan, gluten-free salads. Yes, kale.
Home to watch True Blood reruns. Put vampires in an infomercial about patio furniture and I will watch the hell out of it.

Day 6
Good cooking day, then home for a bubble bath and to watch Transcendence with Johnny Depp. Someone should have warned me that this movie would make you think.

Day 5
Another wedding, but first, I plank. Is it called that because you look like a plank, or because they carry you out on one afterward?

On to wedding in hipster French Riviera: Gowanus, Brooklyn. One groom is a horror movie director, so ceremony is in Greenwood cemetery.
Signature drink at reception is "vampire's kiss" -- pomegranate juice, vodka, simple syrup, club soda and lime. We use a blowtorch to get a little extra crust on the salmon tandoori.
Feed 142 wedding guests filet mignon in balsamic glaze, salmon tandoori, barbecued summer vegetables, baby greens in honey lime dressing, wild rice and hearts of palm salad, then home to eat split-pea soup with kasha from the Polish diner. That's how caterers roll.

Day 4
After a super busy wedding season, Lee and I hop plane for my whirlwind 50th birthday trip!

Arrive in Seattle at 11:30 NY time. Lee's luggage does not.

Day 3
Up early to call airline for Lee's luggage.
We go shopping. Poor girl doesn't even have a toothbrush.
Walk to the Pike Street Market and check out all the fish stalls and cherry stands. Summer cherries in Washington = sex.
Visit Seattle gum wall. EWW.
Hop ferry to Bainbridge island for a salmon salad lunch. No kale.
Nearly fall asleep on ride back.
"I used to go out dancing and drinking all night!" Lee said.
"Uh huh."
Fall asleep watching TV.

Day 2
No luggage.
We walk up Capital Hill. They are not kidding. Shins on fire.
Lunch is kale salad and veggie juice.
Walking down the hill is no better.

Back on flat land in time for happy hour at Asian fusion joint called Flying Fish. Tuna poke and Jamaican chicken wings.
We head back to room, and also back is Lee's luggage! Never so happy to see that lump of burgundy canvas.

Day 1
Last day of being 49
Leave Seattle at 10 a.m. to fly to Vancouver, then catch a bus to Whistler. Scenery is magic: mountains, valleys and lakes open before us like a National Geographic special. Lee is speechless. This makes me speechless.
Arrive in Whistler at 6:30 p.m. Check in and eat dinner - more salad! A little after 10, I realize I'm 50 in NY, 49 at Whistler.

D-Day My 50th Birthday
Killer breakfast of the reddest smoked salmon I have even seen and a kale juice.
Trek to Lost Lake, a glacier lake. Scenery feels so ancient I expect to see a caveman. Instead see slew of tattooed guys on dirtbikes. Swim is COLD!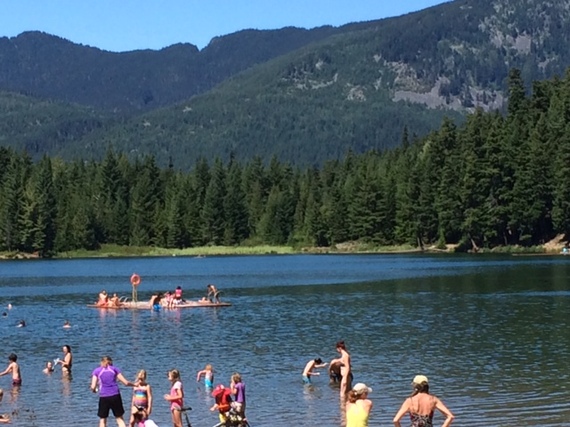 Birthday dinner at Barefoot Bistro. Young woman escorts us into wine cellar, tells us how to saber off top of a bottle of champagne, a surprise arranged by my pal Heath! Nail it on the first try and must fight urge to saber everyone's champagne.
Highlight of dinner is from our neighbors' table, who thankfully shared with us: Tahitian vanilla mixture with liquid nitrogen that creates a foaming witches brew that turned into super yummy ice cream.
Come home to so much Facebook love, I nearly cry.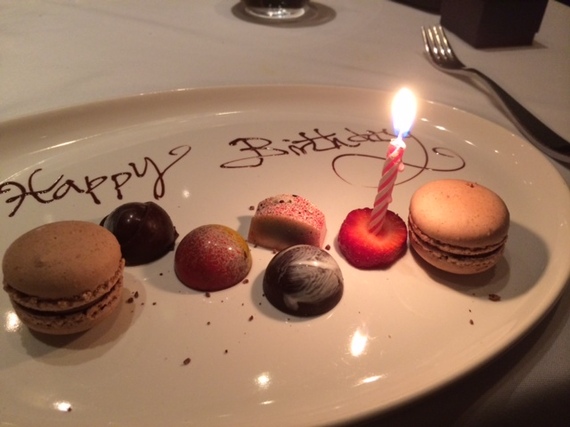 So here I am, 50.
In the mountains in Canada, preparing to face my fear of heights by taking a gondola ride from Blackcomb Mountain to Whistler Mountain.
My jeans from 10 years ago still fit.
I may be a role model, but I can also plank!
My 17-year-old goddaughter thinks I'm so cool, she wanted her boyfriend to meet me!
I got a lot of sage advice from my older pals, but the one that sticks in my head at this moment is from my good pal who left Broadway to teach dance in Westchester and hit the big 5-0 a few years back.

"Honey, when you get your AARP card in the mail, don't throw it out! I got 30% off at our hotel! The discounts are fabulous!"

Wonder if it gets you a discount on kale.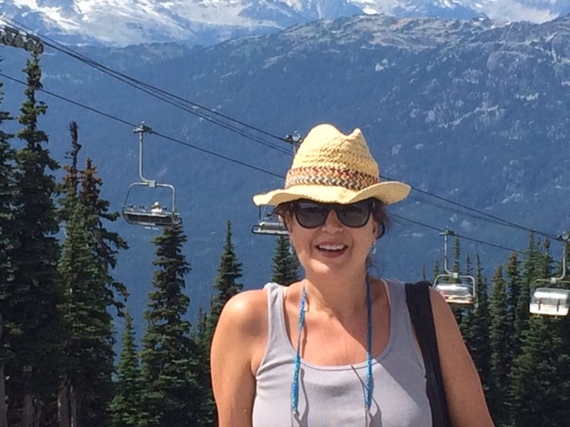 Lee on the Mountain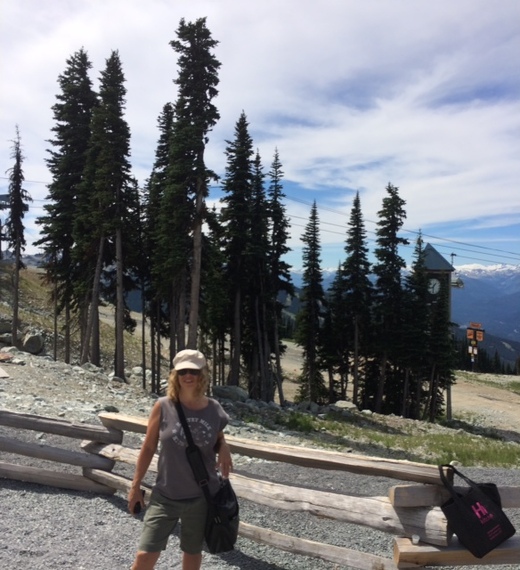 50 and Rocking Rossi on the Mountain