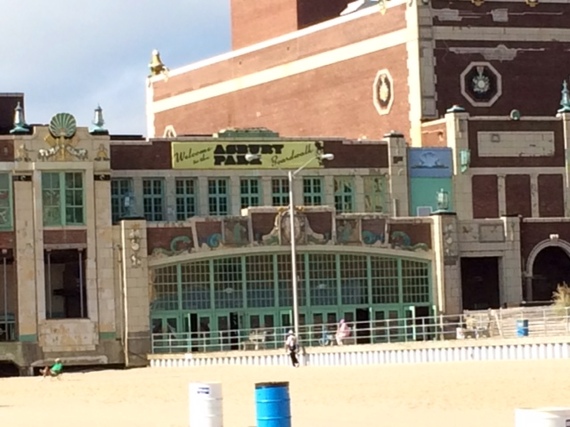 They tore down the part of the old Palace casino on the Asbury Park Boardwalk that jutted out over the beach. It used to be an ice skating rink, but had been neglected for decades, so much so that trees grew inside the broken but beautiful structure. I'd heard homeless people and feral cats slept there.

I'd held a secret desire to go inside the old rink, especially after they filmed shots for "City by the Sea" there, James Franco hiding from Robert De Niro.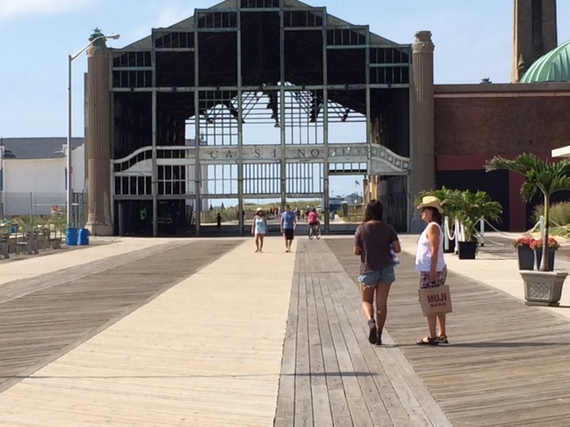 I closed my eyes and remembered the casino of my childhood, with hundreds of tranced-out old ladies playing poker machines and round after round of Keno. The cherries floating in their drinks made me want to play, too.

I thought back to the Palace with its Mad Magazine-looking smiley-face boy on the side. Locals called him Tilly. Decades later, they bulldozed the Palace, and with it, a lot of hearts, my own included. Locals put Tilly's face on T-shirts and postcards in homage, and Wonderbar, the beachside hangout, has his face proudly painted on its wall.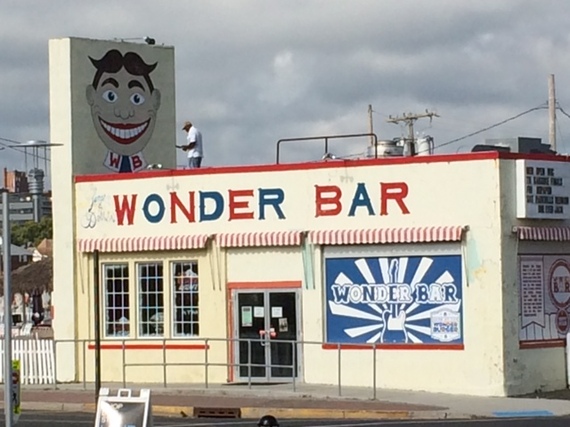 Growing up in nearby Bradley Beach, the Palace had been my shrine. I played Skee-ball until it felt as though my arm were going to fall off, just to get enough coupons to redeem a James Bond figurine at the sacred prize counter.

When my parents said we were going to the city, we weren't going to Manhattan. "The city" was Asbury.

Asbury meant many things to me then. On Wednesday nights, my sister, brother and I would go to the YMCA, where we'd play at basketball or mess around in the gym until my dad was done with racquetball. Then we'd all dunk in the massive pool. Heaven.

Shopping meant a trip to the cavernous Steinbach's. To me, Steinbach's was Macy's and Gimbel's rolled into one. It seemed like the most glamorous place in the world. We would ride the escalator, while old women in too much facial powder tried to spray my mom with perfume. There was counter after counter of every imaginable face product, high-fashion clothing, jewelry, hats, glitter ... it seemed like a store for millionaires. We never bought much at Steinbach's -- Mom would find a small scarf on sale -- but the experience was priceless.

Summers in Asbury meant the rides; bumper cars were my favorite, then there was an assortment of kiddy rides, and after we'd ridden all of them, there was miniature golf.

We went to Howard Johnson, where we always got the same thing, grilled cheese sandwiches. I've never tasted anything better than an early '70s grilled cheese at Howard Johnson.
It all seemed so magical that I didn't understand that Asbury was deteriorating. Peeling paint grew like cancer. Businesses started to close. Rough-looking people filled the streets. On one of our treks down Cookman Avenue toward Steinbach's, several drunks harassed my mother for loose change. We never went back.

In 1975, my parents decided to move to Rumson. I think it was specter of their kids attending high school in Asbury. By the time I entered Rumson-Fairhaven High, I'd begun to break out. By sophomore year, I'd put pink highlights in my hair and embraced punk rock.

On the Jersey Shore in 1979, just knowing who the B52's were was enough to classify you as, well, edgy.

I found my people in community theater, my saviors from a life as the orange crayon in a sea of beige. Matthew, Magdalena, Annie and Lauren performed at the M&K club in Asbury Park as Punk Light Opera, lip-synching everything from Bowie to punk opera singer Klaus Nomi.

At the grand age of 15, Asbury was once again my Disneyland. Loaded into Magdalena's car, we drove past the drunks, the druggies and the scattered dealers along Cookman and parked in front of the Odyssey, my first disco. I was never asked for ID. I looked too jaded to be underage.
In the late '80s around the time, South Beach started to turn-around, investors thought Asbury could too. I heard Johnny Cash lost his life savings
in a real estate investment in Asbury. It was too soon. But little by little, it started to pick up. It was hard to see at first, but by the birth of the new century Asbury had its rebirth too. Abandoned buildings turned into condos. The rag-tag boardwalk was brought back to its glory days (pun intended Bruce).

New Yorkers and born-again New Yorkers love Asbury. We recognize its roughness and embrace it as character. We cherish the old industrial brick buildings and Victorian houses and love to see them brought back to life.

Walking past a once-ruined Victorian mansion now lovingly restored and painted lavender makes my heart smile.

The paddle boat swans are back in the pond by the casino now. For 20 bucks you can paddle a giant bird around and take selfies.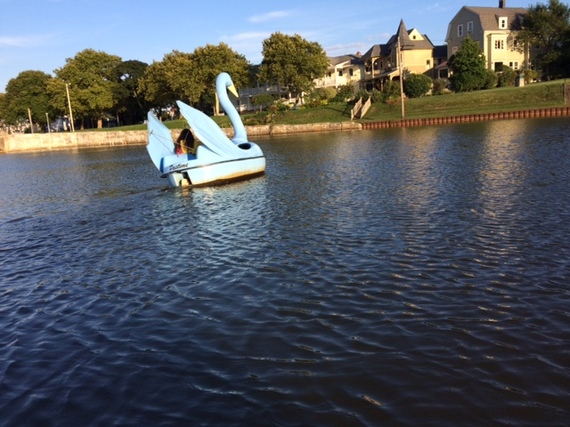 Snazzy restaurants line the boardwalk. Last time I tried to eat at one there was a half-hour wait. A half-hour wait to eat in Asbury!
The old Howard Johnson has been converted a really decent jazz club and restaurant that sadly does not serve grilled cheese.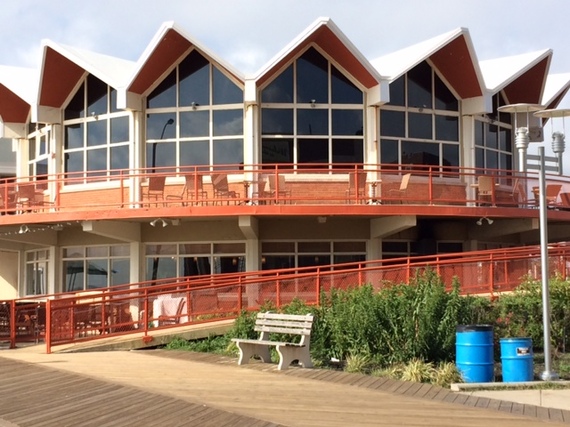 Cookman Avenue is filled with rainbow flags and boutiques. The beach is raked clean and tourist-friendly and, naturally, no longer free. It's $5 to walk to onto the beach on a Monday!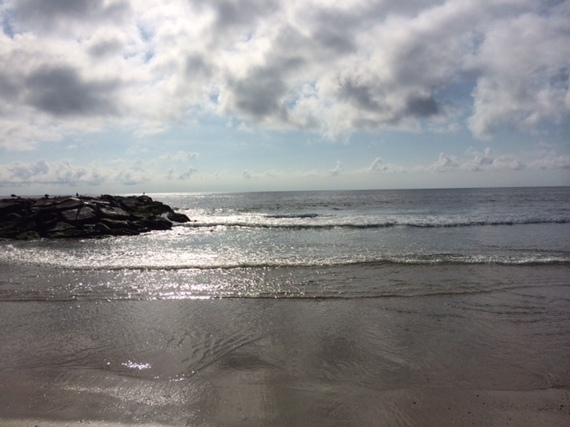 The rides and the casino have not returned, but the miniature golf has, as they've added a museum dedicated to pinball.

Through it all, the ageless and endless "Stone Pony," New Jersey's most famous rock club keeps on rocking. You never know when local darling Bruce Springsteen might walk in for a jam.

When I look at Asbury, I am 4 years old again on the kiddy rides. I am 7, training to become Skee-ball champion at the Palace. I am 10 and finally big enough to catch the ring on the carousel, wondering why all of Jersey hasn't gathered to applaud. I am 14, going to professional wrestling matches at Convention Hall, or watching Devo in concert. I am 15, dancing the night away at the Odyssey. I am 24, playing pool at the Key West hotel with Anne Marie, and I am 50 taking my 17-year-old goddaughter to the pool at the Empress hotel and explaining to her what a bear is.

"It's like a cute, cuddly gay man with body hair and probably a beer belly."

"So they don't bite?" she said sipping her virgin margarita.

"I didn't say that," I said smiling.

Looking at her happy face I wonder many of my smiles are etched into the fabric of this transitioning little city by the sea.

I look up at the man in the Asbury T-shirt and see Tilly smiling back at me.