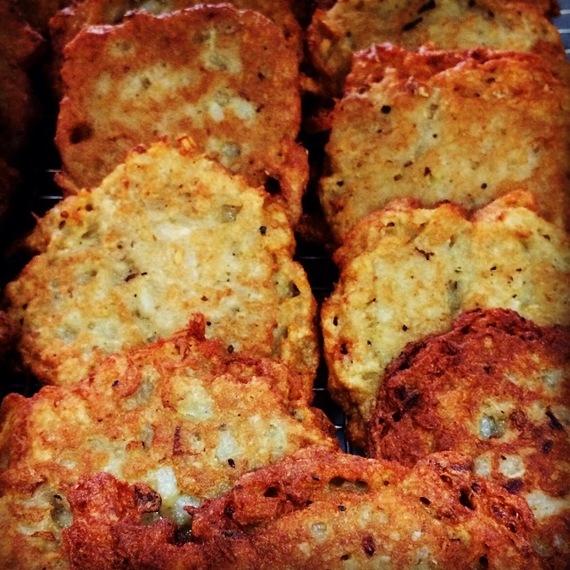 I never saw my mother grate a potato, I don't even recall seeing a grater around the house. But every Chanukah, for all 8 nights, we would gather around the kitchen dinette set and feast on latkes (potato pancakes) covered in applesauce from a jar.

We were honored that Mom had prepared our special holiday snack by cooking "from scratch." This meant dumping the contents of the Streit's or Manischewitz kosher-for-Passover latke mix into a bowl and mixing in water and egg.

Chanukah and Passover, Mom dolloped the batter into hot vegetable oil and fried until the latkes were golden brown.

We were supposed to wait for the obligatory lighting of the menorah and blessings before we dug into our treat, but my younger brother and I would grab a latke every time Mom looked away.

"Hey, Mom! I hear the toilet running!" I'd yell. When she went to check, you guessed it; three latkes down the chute!

One year we went out to a kosher deli for Chanukah supper and were given crispy golden brown latkes made out of REAL grated potatoes with onion!

There were delicious smelling, but we didn't quite know what to do with the large fried potato pancake on our plates. Not only was it filled with noticeable golden ribbons of actual potato, but it also was a good four times bigger than the silver-dollar-size ones Mom made.

My sister, who was more concerned with what her gift would be than what we ate while waiting for it, shrugged her shoulders and gave her latke a nibble.

"It's better then French fries," she announced. So as we did with all fried potato dishes, we covered our latkes with ketchup. It sure was good.

After I left home, I lived out the tail end of my teen years in Crown Heights, Brooklyn, in a Lubavitch Chasidic neighborhood. One night for Shabbos (the Sabbath) a Hasidic woman invited me over for dinner. I think she felt sorry for me when she saw me zigzagging through the sea of Chasids on the main drag wearing zebra pants and a black leather jacket.

After the blessing on the Challah and wine, she served latkes with applesauce as a dinner course. I looked around the table. Her 8 kids of varying ages were digging in; her long-bearded husband had finished his and asking for seconds.
It was February! Nowhere near Passover or Chanukah! The Jewish police did not come. No one was arrested for off-holiday latke eating. And thus I made the magical discovery that latkes can be eaten all year long!

I've made good use of the information. When I catered the excesses of the '80s, money-to-burn yuppies wanted caviar on everything. Potato pancakes with crème fraiche and caviar became one of my most popular hors d'oeuvres.

As the '90s recession came in, folks got depressed. I've noticed that in down economies, I always get way more calls for comfort food. Latkes with sour cream and applesauce became one of my best selling hors d'oeuvres. I don't have to tell you that they came back big time after 2008.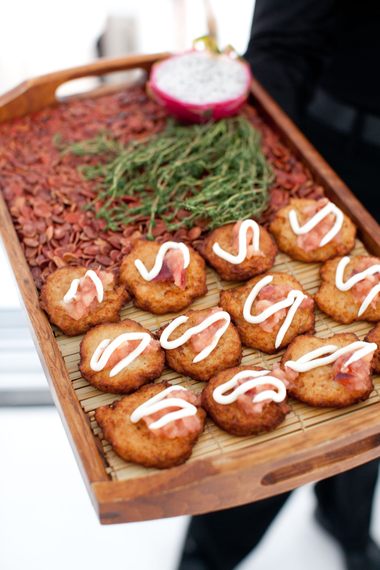 In the fall, we started serving sweet potato latkes with sour cream and my signature home-style, extra-chunky, peel-on applesauce. We realized that it was just as easy to bind with gluten-free flour, so they have become one of our best-loved gluten-free treats.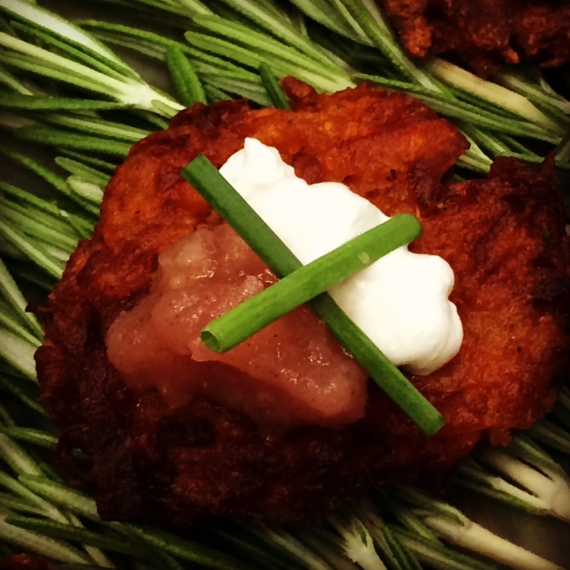 I've served shredded jerk chicken on latkes with apple chutney for a Jamaican bride and a Jewish groom. Latkes don't even have to be in the potato family; we have served endless zucchini latkes to prove it.

But to me Chanukah means latkes, and the more old-fashioned, the better.

I didn't even know doughnuts were a Chanukah thing until my Israeli chef told me a few years back. I was dumbfounded.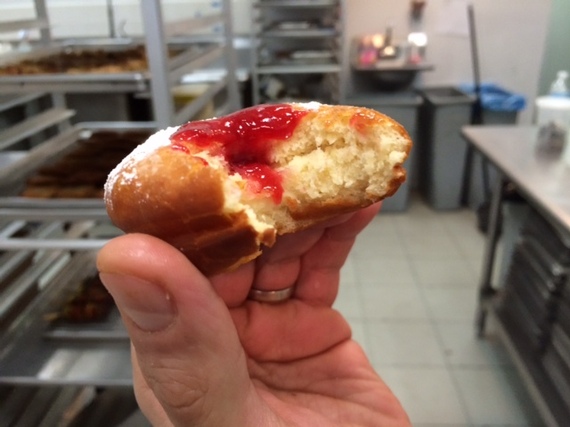 Doughnuts for Chanukah?

Okay, I get it! Chanukah is a celebration of the oil that lasted for 8 nights, so frying is, you know, a good thing, hence the fried doughnut, but for me, the latke can never take second place to the doughnut or any other fried thing on Chanukah.

I am Team LATKE!