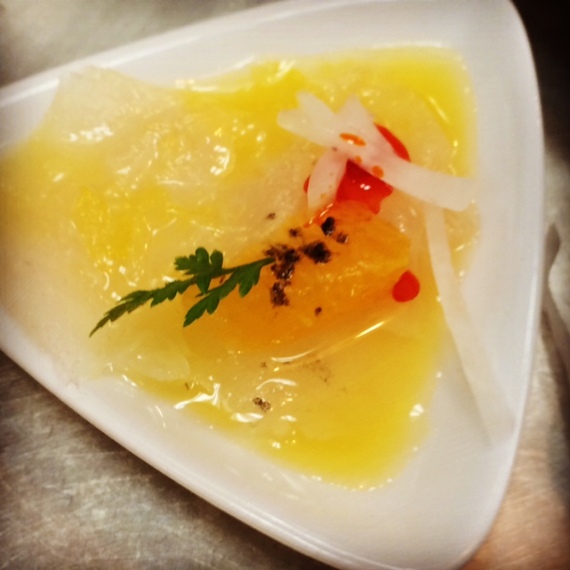 Ceviche can have endless spins to it depending on what kind of fish you use and what kind of dressing you cook it with. That last part is what makes ceviche, ceviche. You never cook the raw fish with heat; you cook it with citrus juice. After marinating the fish it is no longer raw, but it's no longer exactly cooked either. It's in the middle in the land we call ceviche! YEH BABY!
I'm partial to mahi mahi, sea bass, snapper and fluke for my ceviche but endless varieties of fish and shellfish will do.
I like to start with my fave citrus base.
I call it Chef Rossi's holy trio of ceviche juice:
Fresh lime, lemon and orange juice.
For one pound to a pound and a half of fish, lets say the juice of one lemon, one lime and one orange. Yes you will wind up with more orange, but that's just fine.
Then I give it zing.
ZING LIST
Take one de-seeded jalapeno sliced, one clove of garlic cut in half and an inch of fresh peeled ginger sliced and plunk into the juice. This part I do overnight so the flavors seep into the juice but if you don't have overnight then zing it up a few hours ahead. If you don't have a few hours then skip it. It will still be fabulous.
For the fish you will to start with a filet, no skin and no bones and dice it. Quarter inch cubes is nice or smaller if it's for an hors d'oeuvre.
Fine dice a half red onion.
Mince a spoonful of jalapeno.
Fine slice a handful of chives.
Strain the juice of your chunky veges.
Depending on how cooked you want your fish, an hour for cooked, a half-hour for just cooked or 15 minutes for brave. Some folks will marinate two hours ahead, and they are probably in my family and don't want anything less cooked then canned tuna.
Mix the fish up in the juice, mix in the onion and jalapeño and chives and season well with salt and ground white pepper.
To this I give it a spin, depending on my mood and my menu. I throw in a good drizzle of ponzu (found in Asian markets) for an Asian twist and serve on a miso spoon. For an Asian fusion dinner recently I garnished with Korean radish. For a Caribbean Island wedding I added a good drizzle of fresh passion fruit juice and served on fried plantain crisps. YUM! For a Mexican fiesta, I mixed in a handful of diced tomato and bell pepper and fresh chopped cilantro and serve with tortilla chips and avocado slices (and of course a boatload of margaritas).
For a high-end supper, I thin-slice fluke instead of dicing it -- think sashimi style -- marinate it, then serve it on small plates garnished with orange segments, smoked paprika oil and fresh chervil. Oh, so elegant.
When I make shrimp ceviche I usually follow the Mexican fiesta version, but like to submerge my shrimp in boiling water for a minute, drain, cool, slice and then marinate. So it's half ceviche and half poached. If you go full ceviche then marinate longer maybe two hours. I love to add a dash of Tabasco too! Cause I'm a spicy girl.
Now darlings, ceviche doesn't kill bacteria the way heat cooking does, so it's important to use super fresh fish and eat quickly after serving. So ceviche is not a great choice for the picnic in the park where it will be sitting in the sun for hours.
But for an awesome first course, a great hors d'oeuvre or a fun idea for a do-it-yourself party station, come on over to ceviche land!