I spent my first 20 years in New York City pretending that I was from some mysterious place south of Manhattan. Someplace, anyplace more exotic than New Jersey.

The teenager who escaped into the open arms of New York 33 years ago is now grown up enough to realize that a whole lot of what she likes about herself came from those roots.

I grew up on the Jersey Shore, south of Sandyhook State Park. Living near the beach meant living in towns that came alive in May and went into a coma by October. A good 99 percent of the really great things thing to do revolved around the shore. So when winter trickled in, so did a host of leisure activities a city kid could never fathom. Like spending Sunday nights sitting in a van outside the closed-for-the-season water slide in Long Branch New Jersey, drinking beer and eating pizza with a gang of kids from my high school band. When we got wasted, we'd hop the fence and shimmy up and down the water slides. Turns out, this leaves quite a burn when there's no water.

But summer, oh, the summer in Jersey! No need to elaborate further on the long stretch of beaches, but there are also state parks filled with great places to camp and barbecue. Years after moving away, I was amazed to find myself coming back to vacation in, gasp, New Jersey! I stayed in an adorable bed and breakfast in Ocean Grove with a pal of mine who couldn't stop exclaiming, "It's so pretty here!"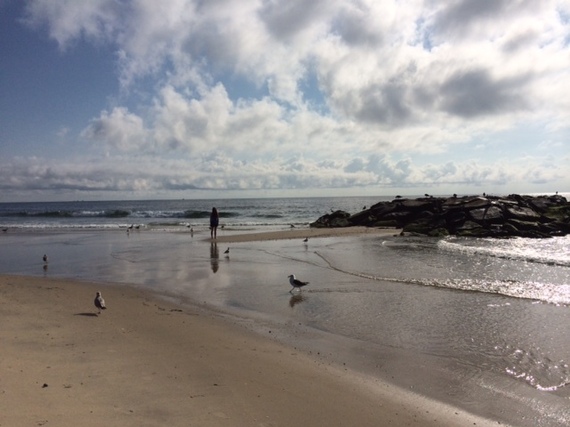 But pretty wasn't what I needed when I left home at 16. I needed indifference. I had pink hair, dated women, listened to the Sex Pistols and wanted to paint like Andy Warhol ... on acid, though who am I to say he wasn't? I needed to live somewhere that was so filled with action that folks would be too busy to pay attention to whether or not my jeans had the right label on them. You could walk down the street in a burlap sack, and New Yorkers wouldn't bat an eye. If you were lucky, they might throw you a quarter.

But this is not about New York. This is about Jersey.

Let's start with Asbury Park. Asbury's heyday had ended by the time I was 7. I recall the great shops and magnificent amusements, the casino on the beach where old ladies sipped cocktails with cherries in them and played a game called fascination. My parents had honeymooned in Bradley Beach, something of an Asbury suburb. Taken with its '50s small-town beauty, they never left. They didn't seem to notice when the neighborhood changed from Mayberry to Mayhem.

When I was 10, my parents moved us to ritzy Rumson, New Jersey, a town so posh that Bruce Springsteen later had no problem sending his kids to public school. My folks bought a middle-class house a block from the school with a backyard and a basketball hoop nailed to a tree. When my dad bought a camper and parked it on concrete blocks in our back yard, it may as well have come with a neon sign that blinked, "TRASHY NEIGHBORS! TRASHY NEIGHBORS!"

These days, Rumson is an expatriate Manhattan town. You can take a boat from Manhattan to Atlantic Highlands, so loads of Wall-Streeters have made Rumson their home. It includes one of the only, if not the only, 4-star restaurants in Jersey.
It's also a stone's throw away from Red Bank which has turned into mini Manhattan with gourmet cheese and spice shops and chic boutiques but is still home to two of the gastronomical highlights of my youth; Elsie's Sub Shop (best tuna sub in the universe) and Mr. Pizza Slice which thank god doesn't give a hoot about being farm-to-table or nouvelle. Old school all the way Mr. Slice!

As a teen at the tail end of the '70s, I discovered a new side of Asbury Park. The rides were gone, casino gone, but what had replaced them were the only gay clubs in the area, where a glamorous 15-year-old like me could dance with adoring drag queens all night long.

Our next-door neighbor in Rumson was an old man we called Mr. T. He seemed lonely, so I visited him. In return, he made sure to have beer, cigarettes and Snickers bars on hand. My oblivious parents thought he was a good chaperone.

He also had an aircraft carrier of an Oldsmobile. I'd pile my sister and some pals into the car, and off we'd go.

I took Mr. T to a midnight showing of "The Rocky Horror Picture Show" and to a Devo concert, but his favorite was professional wrestling. My sister and I would come aboard the Oldsmobile and ride to Convention Hall in Asbury to see the matches. This was many years before Hulk Hogan and the glamorous WWF. There were more fights in the audience than in the ring.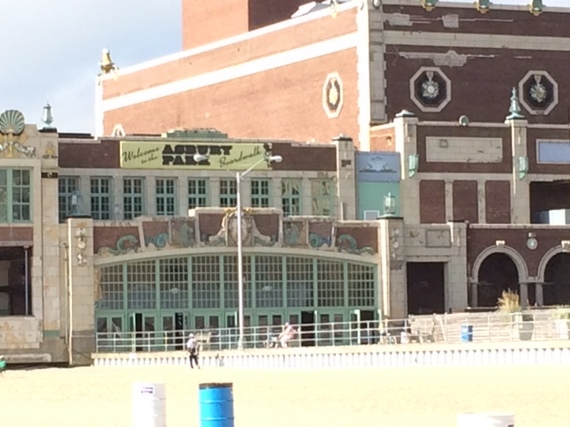 The wrestlers were right out of the 1950s: either platinum-blond longhaired guys who looked like they were in drag, or masked villains. As the new generation of name wrestlers began to arrive, I watched Andre the Giant dwarf everyone else in the ring.

After pro wrestling, we'd drive along the ocean and hit the Sail Inn in Seabright for Kahlua and crèmes. We were sophisticated 15 and 16 year old ladies darling. The Sail Inn didn't ask for ID.
We spent a whole lotta time there playing pool and talking rednecks into buying us drinks, until one night when my parents recognized their red Volaré in the parking lot. My mom marched in and threatened to close the place down for serving underage girls. That was the end of that, until I learned to park on side streets.

About the biggest thrill in Jersey for me then was the Long Branch amusement pier. The famous haunted mansion was there and all kinds of games and wheels of chance. My first real summer job was running the coin toss. You know, if you get the quarter in the dot you win a stuffed animal. Then I got promoted to running the squirt the water in the clown's mouth game and whoever's balloon pops first wins. But my cushiest gig came the summer when I landed the coveted cigarette wheel game. I'd call folks in, get them to place quarters up and down the line. Hey cigarettes, were less then a buck a pack then. The winner might win a carton of smokes.

My big kick was barking into the microphone. I still remember my rap. "Hey come on in, and spin to win. Just grab your girl, and give it a whirl! There's nothing to it, you can do it."

The best beach then was Double Vision Beach. It was the first of six or seven beaches in Sandy Hook State Park. Families and strait-laced folks took one look at the Harleys and hippie vans and kept driving past beach number one. Double Vision was reserved for party animals and chicks like me who thought a bathing suit was a tube top, Levi's cut-offs and a pair of California hiking boots.

When it wasn't summer, and we'd been barred from the Sail Inn and my folks wouldn't let us go to Asbury, since I kept coming back reeking of perfume and vodka, and there wasn't an away game for the band, then there really were only two things left to do in South Jersey: go to the Monmouth Mall or the Eatontown Roller Skating Rink. I'd already been to every store in the mall so many times, I could recite their inventory by heart, and so Sis and I started hanging at the rink. Neither one of us could skate any better then a first-grader, but we liked to flirt with the boys, smoke cigarettes and drink beer from Coca-Cola cups. I wore a DISCO SUCKS T-shirt, so I wasn't super-popular in the rink ... which mainly played disco.

A great treat to growing up on the shore was the rock 'n' roll. Bands littered the beach bars, completely unappreciated, largely playing for beer money. They just loved to rock. Most were cover bands, but they still hated it when people screamed, "FREE BIRD!" throughout their shows. Some bands put up posters that said, "We don't play 'Freebird'!" Even bands playing hellhole beach bars for beer money have to draw a line somewhere.

I've been back to my old stomping grounds more times than I can count. One night I met up with my old high school gang and my sister to see the Blondie 30th anniversary concert in Red Bank. Most of the audience had gray hair. The highlight was when a lady with a walker tried to rush the stage.

I've never regretted leaving Jersey. Even in the years when I lived in Crown Heights, Brooklyn, and had to run an obstacle course around drug dealers and feral dogs to get home, I always said I was born to live in New York City. But now that I have a little perspective, I'm glad I grew up in a place where you knew your neighbors' names and could knock on their door and ask them if they wanted to come over and help you break in the new volleyball net. In some of the joints where I've lived since then, knocking on someone's door uninvited might mean hearing a gun cock.

I just spent a Saturday in Red Bank with awesome gal pals rocking the night away with Joan Jett and the Blackhearts at the Count Basie Theatre. After the concert a group of men pushed past me, one of them bumped into me accidentally. He looked back and said, "Excuse me."
Could have knocked this New York mama over with a feather.