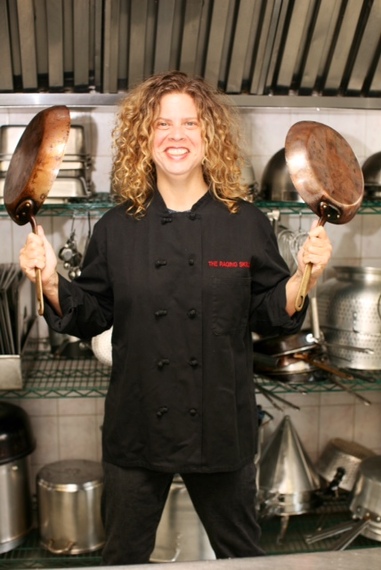 Well biscuits, sadly summer is over. Can I just take a moment to say:
WAAAAAAAAA!
Okay I'm over it.
Fall is here. The leaves are changing. There's a briskness in the air. It's time to think about rib-sticking, soul-filling food!
I don't know about you all but sometimes making a dinner can mean washing 6 pots, 3 skillets and a sauté pan or two! That's enough to have this lady reaching for the Chinese take-out menu!
So how bout we give ourselves a break and think about washing just one pot. Yesindeedee what follows are a slew of one-pot supper recipes perfect for autumn.
You can use all that time you saved washing pots and pans to write rap songs!
Here's mine.
MY name is chef Rossi and I'm kinda neat, my rapping is crapola but my chili can't be beat.
Hmm that one needs more work.
Big Ol Pot Of Beef Stew
Buy stew meat, which should come already cut up. Might as well buy 2 pounds worth 'cause stew gets better every day you reheat it, within reason of course. Like a few days later is great; a few weeks later is NOT. Get a big deep skillet or pot with a thick bottom. Throw in a shot of vegetable or olive oil and crank up the heat, then brown the beef. Toss in 2 heaping handfuls each of chopped white onion, chopped carrots, chopped celery and diced potato of any kind and sauté for a few minutes. At this point I like to pour in a 16 oz. can of tomatoes, any kind, with the juice and a glass of red wine.
* You'll need two glasses of red wine, one for the stew and one for the chef.
Then I love to throw in some nice herbs too, a handful of fresh chopped thyme is nice, but if you don't have any fresh herbs, a nice pinch of dried thyme or oregano is great too. Add your seasonings, salt, fresh ground pepper to your liking.
Cover the pot, lower your heat to a simmer and cook for about an hour or until the beef is nice and soft. Adjust your seasoning with some more salt and pepper if you like and you're good to go.
Just a big hunk of crusty bread and you've got a feast or a big old hunk of gluten-free bread and you've got a gluten-free feast!
Oh and by the way, all of today's recipes are GLUTEN FREE!
Vegi-licious stew
Just in case you vegetarians were feeling left out.
Sauté two heaping handfuls of chopped white onion in olive oil. Then throw in a heaping handful each of diced celery, diced bell pepper, peeled and sliced or diced carrots and a smidgen of minced garlic. Sauté this for a few minutes then add some faster cooking veggies, like a heaping handful or so of any of these: fresh peas, cut up broccoli, sliced or diced zucchini or cauliflower florets. Sauté for a minute or two then pour in a couple coffee cups of boiling vegetable stock and season well with salt, pepper, paprika and dry or fresh thyme. Just cook till the veggies are all soft. This may only be another 10 minutes. Some folks like to throw fresh chopped tomato or canned tomato into this and that is also pretty darn tasty.
At this point, you've got a nice veggie meal, but you can always make it even more filling by throwing in some starch like diced up potatoes or yams. I'd put them in early with the carrots.
I do a variation on this I call clean-out-the-freezer-vege-stew.
In which I use all the leftover frozen veges I have on hand and toss them in but of course fresh vegetables will always be better.
--
Saucy Rossi's Chili
Sauté two heaping handfuls of chopped white onion in a couple shots of veggie or olive oil, then add two pounds of chopped beef (fancy talk for hamburger meat) and cook until beef is just turning brown. Season well with salt, pepper, chili powder, dry oregano and a nice pinch each of ground cumin and coriander. Then throw in an 8 oz. can of tomatoes any kind and the juice. Add a shot of your favorite hot sauce, a good plop of minced garlic and your endless love.
Lower the heat to a simmer and cover your pot. You'll want to cook this for about a little under an hour over low heat, adding water as needed if anything gets sticky.
If you like beans in your chili, (and don't have a hot date) add a can of red beans in the last 20 minutes of cooking or dry beans that you have soaked overnight and then cooked. The latter is better of course dears, but no one complains about canned beans in a great chili.
I like to serve my chili in crocks with grated cheddar on top. I shove the whole shebang in the broiler till the cheddar melts then serve with a big bowl of tortilla chips and some sour cream on the side. Yummy-honey!
If you want to kick things up, top with pickled jalapeno peppers too. Yeh baby!