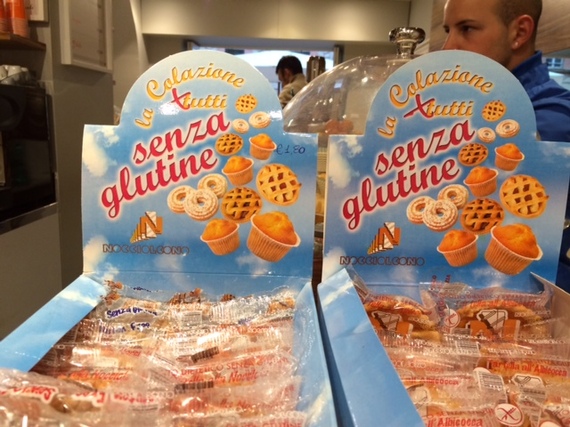 Going to Italy as a gluten-free babe 7 years ago wasn't easy. It was heartbreaking passing all that fantastic pizza and pasta, so I satiated myself with red wine, and lots of it. With gluten-free eating more common, surely it would be easier.

Day 1 - March 17, 2015
Rome
Our wonderful friend Maurizio, married to my pal Brenda, picked up my girlfriend Lydia and me at the airport.

First stop in Rome ... a bar?
In Italy, a bar does not mean shots of whiskey, but shots of coffee. Which is how they drink coffee, well, espresso. If you ask, they will give you what we think of as a cup of coffee -- espresso and a side of boiling water "to ruin it."

Later, we walked to the famous Spanish Steps. Gorgeous and a great place to people watch, but also a good place to get harassed by street vendors and, oh yeah, pickpockets. I started to get a cramp from clamping my bag so tightly.

We walked to the Pantheon (spectacular circular building, with the tip of its dome ceiling open to the sky, one of the best preserved remnants of ancient Rome).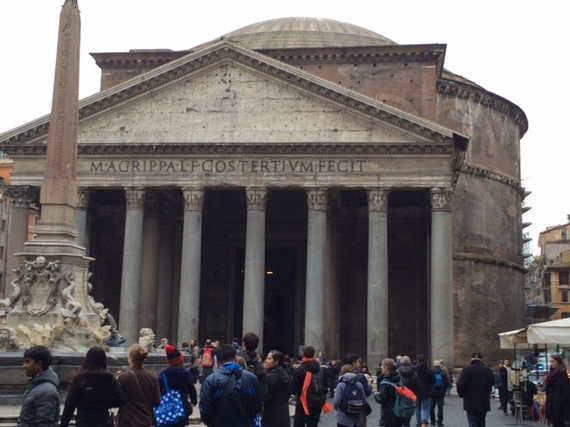 We had supper in the Trastevere section of Rome with Maurizio and feisty foodie Brenda. "The Spanish steps are like the Upper East Side. The Pantheon is like Times Square and Trastevere is like Greenwich Village," she explained.

The owner of the restaurant, called DOT, knew Brenda and showered our table with calamari in tomato sauce, arugula in anchovy sauce, pasta with shrimp, sea bass in tomato olive caper sauce and chickpea fritters! Gluten-free heaven.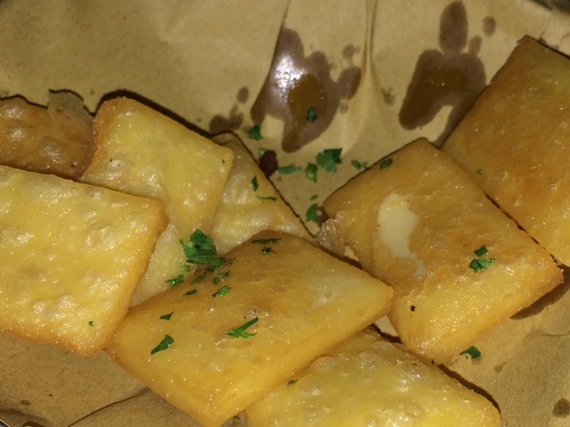 Day 2
Sucked into a vortex known as killer jet lag, we overslept.
Lyd and I had breakfast at 2 p.m. in a café down the street: insalata mixta, arugula salad with corn (they love corn in salads), grated carrot, about a half-pound of mozzarella and tomatoes. Nobody makes salad dressing here. They just give you a bottle of really good olive oil and balsamic, and you do your own thing.

We wound up having dinner at a restaurant near our apartment. When Lyd said, "NO GLUTEN," they pulled out the "senza glutine" menu.
We had hot, crusty gluten-free bread to dip in delicious green olive oil, insalata mixta again ... I ordered beef with sublime Italian radicchio and escarole with pine nuts and raisins. We topped it off with hazelnut gelato. Delicioso. Not all gelato is gluten-free, so you have to ask.

Day 3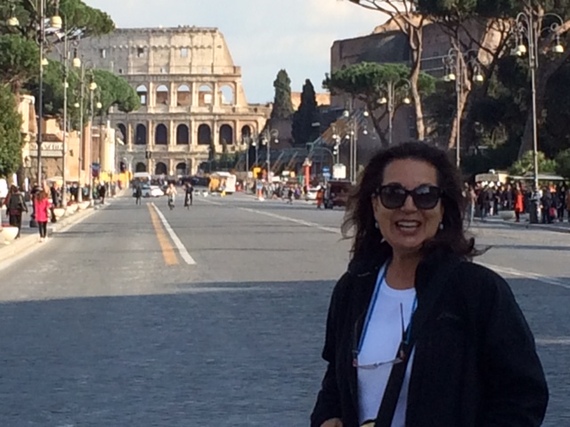 Today we visited the Coliseum, followed by fields of Roman ruins called The Forum.

The Colosseum or Coliseum, was built in 80 A.D. We were told that 20,000 people and 9,000 animals were killed in public spectacles, and that seating held 50,000 spectators, seated based on status, with the last and lousiest rows doled out to women. I'm pretty sure my big mouth would have landed me as a lion's lunch, anyway.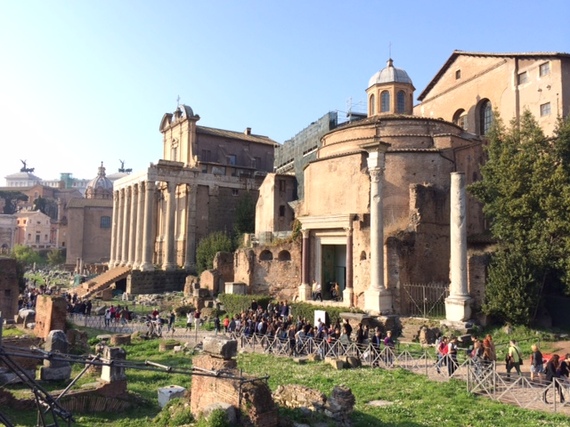 I found a fantastic restaurant that offered their entire menu gluten free!
Il Viaggio!
Gnocchi with pears and pecorino cheese, fettuccini with bacalou,
Gluten Free Tiramisu!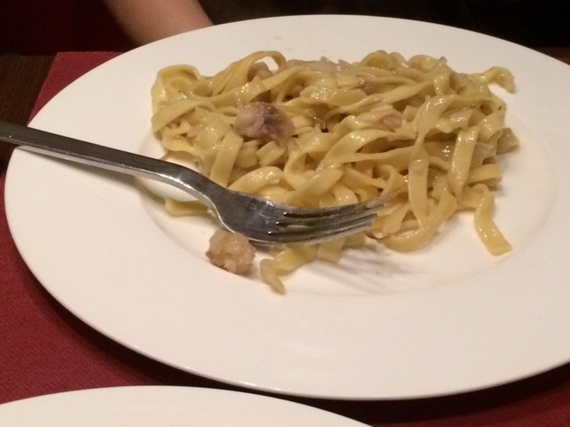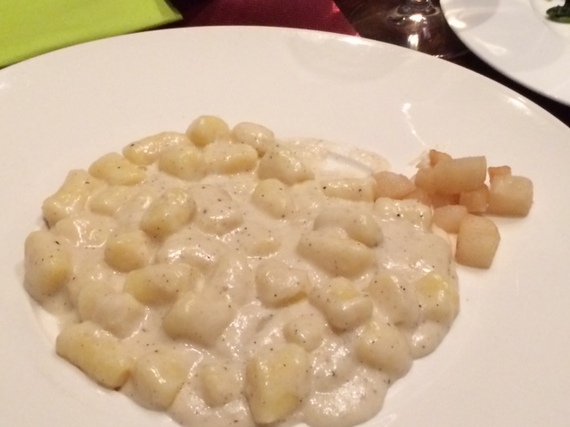 Day 4
Weekend in Tuscany with Brenda and Maurizio!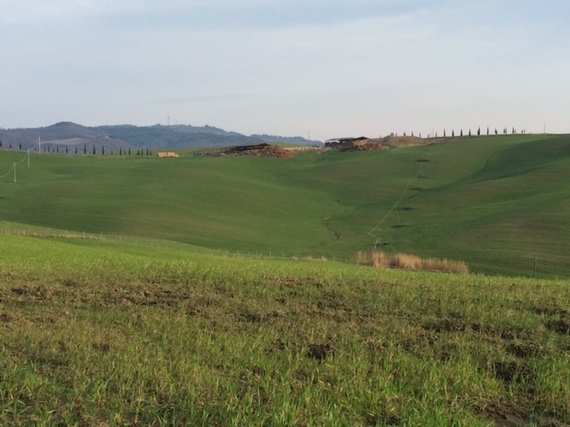 Tuscany's rolling hills were a shade of green I'd never seen. As was I. On the winding roads leading into Galina, I made an unscheduled stop for carsickness. (Note to self, pack Dramamine.)

I recuperated by dinnertime, and we were taken to an adorable restaurant called 13 Gobbi, which means "13 Hunchbacks," in Montefollonico.
The owners were a hardworking wife who does the cooking, and her husband, the host, who serves the specialty of the house. In a scooped out wheel of pecorino romano, he tosses hot tagliatelle.
I had a fantastic ribollita, a traditional Tuscan white bean soup, normally with bread in it, but our hosts prepared mine special. That and a dozen glasses of sparkling water settled my tummy nicely.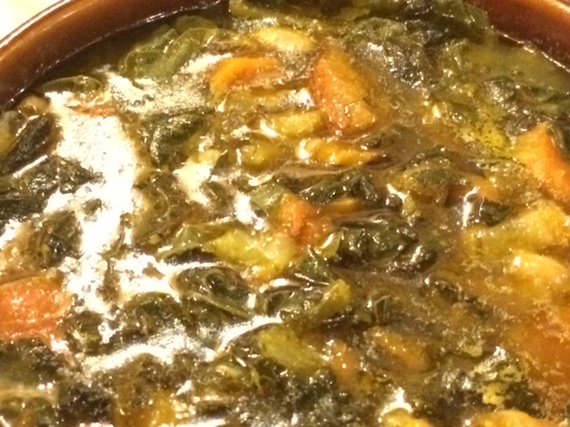 Day 5
In a little town in part of Tuscany called Pienza, we found a market that sold prune Activia, which goes well with the pound-of-mozzarella-a-day diet.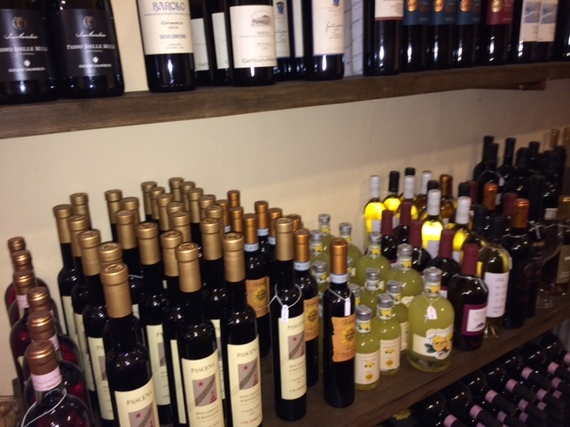 We went shopping in Montepulciano, a gorgeous village of winding streets filled with wine cellars and shops. I was told scenes from the
Twilight
movie
New Moon
were filmed here. We loaded up on brunello, a fabulous local wine.
After dinner, we all fell asleep watching Sex and the City in Italian.

Day 6
Last Day in Tuscany
For lunch, we went to the little cavern-like eatery in Bagno Vignoni called il Loggiato.
We were served a cheese plate and polenta in melted cheese with tomatoes. (Polenta is a gluten-free girl's revenge!), arugula with shaved pecorino, raw beef sliced thin with melted gorgonzola ... this was a very cheesy meal.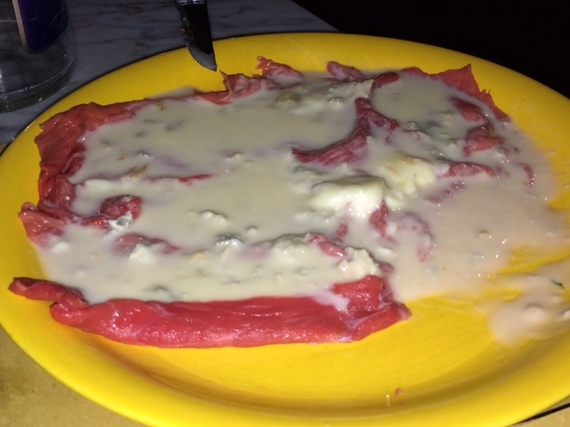 Day 7
At the Vatican

The Vatican Museum holds endless Roman statues, Renaissance tapestries and paintings, but it's all about the Sistine Chapel. Our guide said the ceiling was sculptor Michelangelo's first fresco.
WHAT!?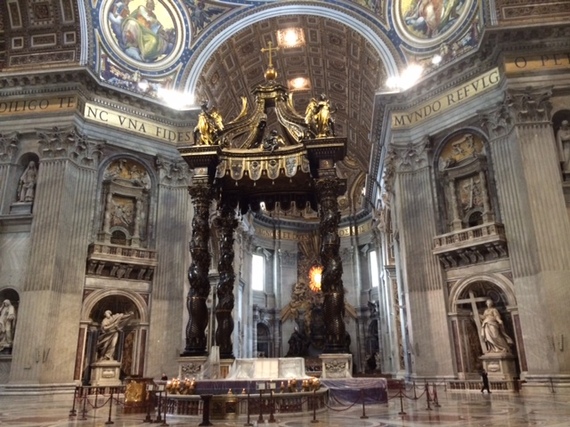 Afterward, at St. Peter's Basilica, we saw Michelangelo's genius again, with the magnificent sculpture The Pieta. No wonder they called him divine.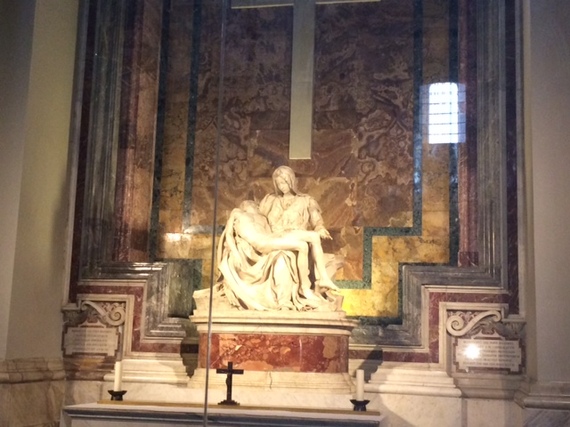 At a café just outside, "Celiac Pizza" was on the menu. So appetizing. "I'll have celiac pizza, please, with a side of diabetic ice cream."

We hopped into a coffee bar, and I saw my favorite Italian saying: "senza glutine." No-gluten cakes! I had two.

That night, Brenda met us in Trastevere at a pizza place called Mama Eats. Fantastic gluten-free pizza with olives, artichokes, tomato, mozzarella and mushrooms. Gluten-free tiramisu and gluten-free ale, too! Thank you, Mama; thank you!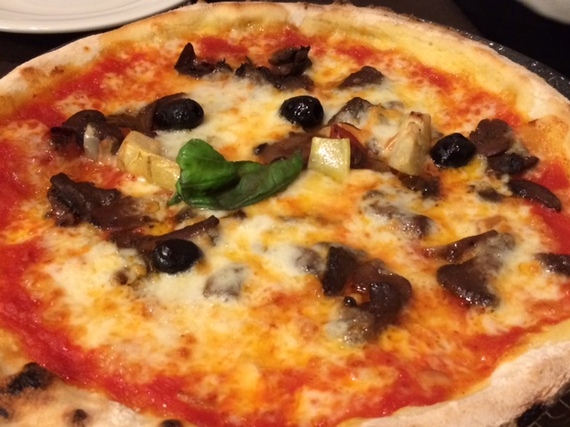 Day 8
Last Day in Rome
We went to touristy Piazza Navona and had a supremely overpriced meal, but a plate of gluten-free penne in butter and huge slabs of porcini mushrooms was too good to pass up.

The highlight of the Piazza Navona was the Sant'Agnese in Agone, dedicated to a 12-year-old named Agnes who was killed by the Romans for refusing the advances of the prefect's son. She demanded to stay a virgin and serve God. Heartbreaking. Her tiny skull was on display in the magnificent church. I wanted to go back in time and kick some Roman butt for her, but of course they would already have fed me to the aforementioned lions.

That night, Maurizio cooked: ricotta and pecorino with berry jam, honey and pear spread, olives, grilled zucchini in garlic and vinegar and parsley, followed by rabbit, hunter-style in rosemary, olives and wine, stuffed zucchini with chopped beef, chicory with lemon and lots of wine. It was so good, I even tried the rabbit.

Day 9
Leaving Rome for Florence
We managed to shlep our huge bags on the train (gotta pack lighter) and snag two primo seats before we were told that our tickets came with specific seats, and these were not it. Some very nice Indonesian tourists helped drag our bags through the moving train.
In Florence, we walked along the Aldo River to the Uffizi gallery. (If you only have time to go to one museum, this is it. The former offices of the Medici are chock-full of all the great Renaissance artists, Botticelli, Giotto, Cimabue, Michelangelo, Leonardo da Vinci and Raffaello.)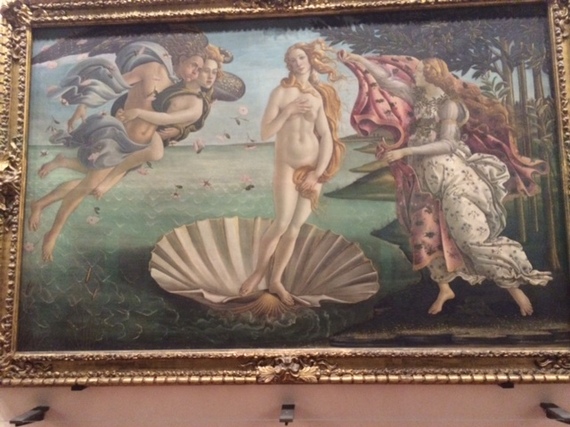 Day 10
Florence
At long last, a buffet breakfast! Stewed fruit, scrambled eggs, smoked meats, baked potatoes, yogurt, cereal ... I accidentally dropped two yogurts and a banana in my bag for later. My mother trained me well.

We went to see the David at The Galleria dell'Accademia, or Accademia Gallery, Michelangelo's masterpiece. He was every bit as spectacular as I'd dreamed he would be.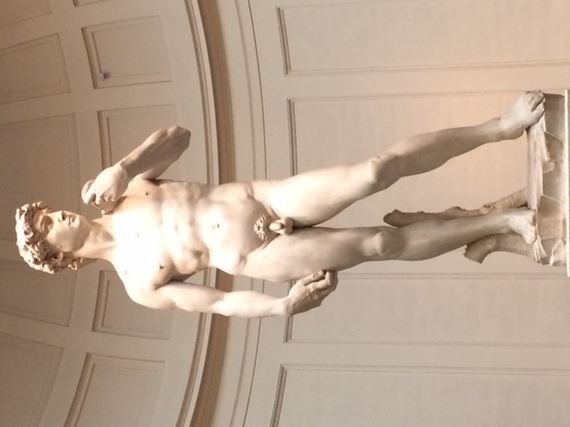 Our fabulous guide told us Michelangelo's boyfriend Thomaso modeled for the statue. He must have been quite a hunk! She said Michelangelo lived to be 90 by not eating meat, going to sleep early and not washing his hair very often ... so no colds, I guess. I took my chances back at our hotel in the first bathtub I'd seen in Italy.

Bidets were magical, too, once I figured out how to use one. Italian plumbing was a mystery. Some sinks had a pedal, some toilets had a panel in back some had two, and some had a chain to pull.
We walked over the Ponte Vecchio Bridge.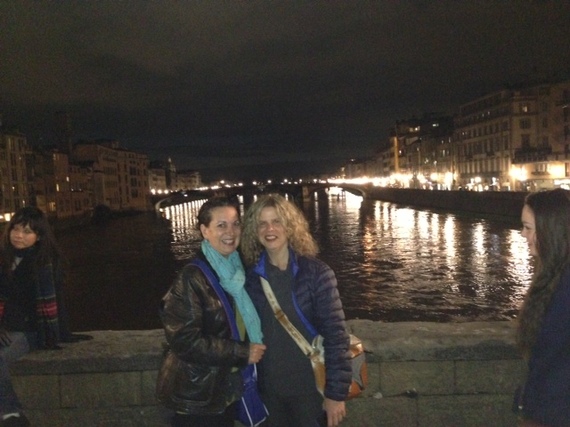 In the center is a fountain for lovers with hundreds of padlocks secured around it. There I met Connie, a friend from grammar school, along with her two beautiful daughters, Val and Suzanne, and her hubby, Steve. We had a great dinner - carafes of house red, duck in balsamic sauce, still more insalata mixta, risotto with asparagus, a starter plate of plump, sundried tomatoes, cheese, and dried boar sausage (there's a lot of wild boar served in Italy). I passed on the smoked horse salad - yech.

After dinner, we had sesame gelato, which tasted like sesame oil and was the color of gunmetal.

Day 11
Venice!
We got to the train early and this time found our correct seats. Easy ride to Venice, then 60 euro for the taxi-boat to our hotel. Lesson one: VENICE IS EXPENSIVE!
Our gorgeous suite overlooking a courtyard cost more then a down payment on a condo, but it was worth it.

Day 12
Venice Awaits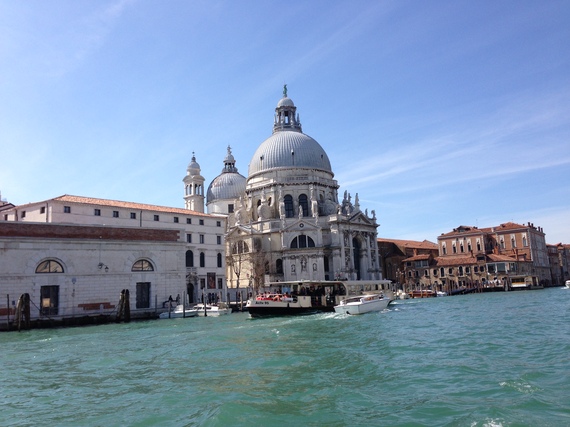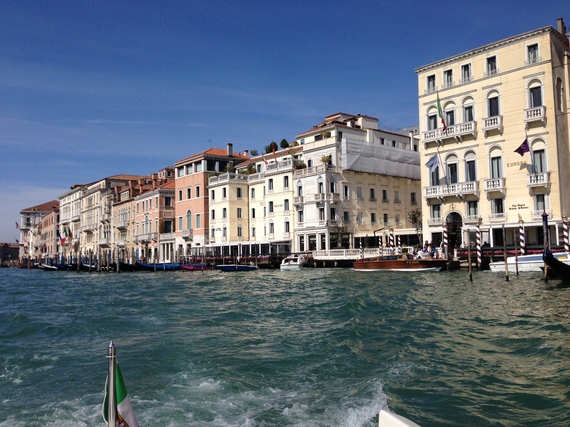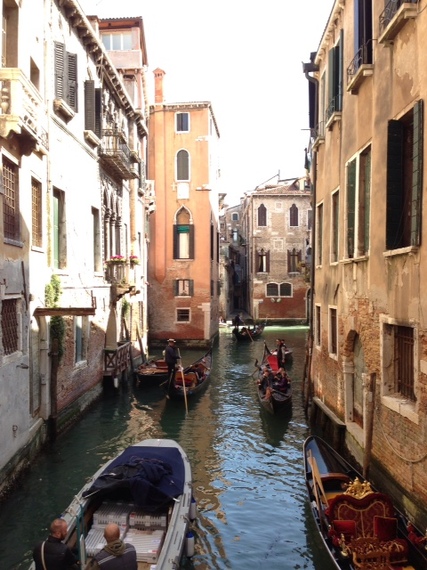 The hotel had a fantastic buffet breakfast - pears, peaches, melon, stewed prunes, all kinds of yogurt, smoked meats, bottles of help-yourself champagne (Party!), fresh juice, mango smoothies, prune juice (they knew I was coming), potatoes, eggs, baked tomatoes, sausage and omelets. ... They even had Chinese dishes, including congee and tea-boiled eggs.

We met Connie and Steve for our walk over the Rialto Bridge to lunch and opted for the much-recommended Trattoria Madonna - great fresh fish, gluten-free pasta and bread, grilled veal, and one of the first places I found in Italy that served simple roast chicken. The waiters were not warm and fuzzy, but you can't have everything.

We took a gondola ride through the haunting and beautiful underside of Venice that you can really only see by water. Later, we met our friends for a tribute to Antonio Vivaldi performed in an ancient church. Just lovely.

That night we walked along the water to Harry's Bar, made famous by Ernest Hemingway. A bit overpriced, but the 16-euro bellinis, which were invented at Harry's, are delicious - made with fresh-squeezed white peach juice and champagne and served in a highball glass with a side of olives. At Harry's some foodies told us about a little restaurant called CoVino, and we made a point to find it.

Day 13
We took a complimentary water taxi to Murano Island on the condition we submit to a tour and sales pitch by a Murano glass company. The glass blowing by the maestro and ornate chandeliers, were well worth seeing. We caught the jam-packed vaporetto to Burano Island, an island of pastel little houses meant to be bright enough for the fisherman to see from the water - little silk shops, fairytale bridges and eateries. We were excited to go to Al Gatto Nero Da Ruggero, but discovered that it and everything else closed early on Sunday. I wondered what it was like to live on Burano, an isolated island that closes down at night. Lonely or peaceful?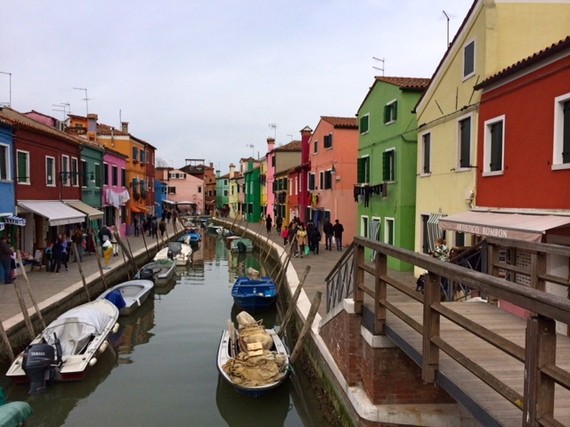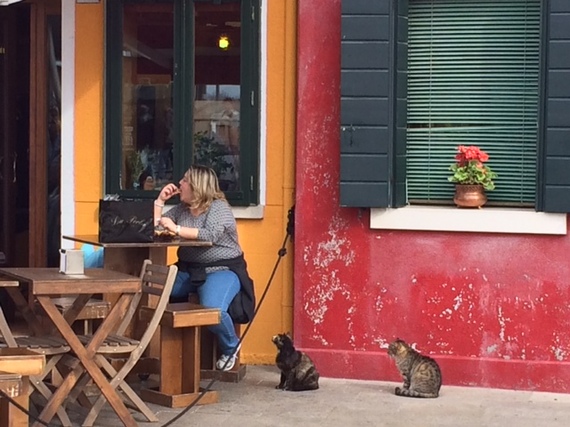 We found CoVino down a small side street. It only had about 12 seats, but we managed to get a reservation for the next night!

Day 14
Last Day in Venice
We walked back over the Rialto to see the market, tried to go to some non-touristy Venetian restaurants, but after passing up squid ink pasta, cuttlefish pasta and tripe, we went back to the Trattoria Madonna. We were too hungry for culinary adventure.
Later at CoVino, we enjoyed a prix fixe three-course dinner for 36 euro.
Lyd had black spaghetti in tomatoes and red pepper broth with salted mullet roe. I had a soft smoked salmon with mascarpone. For the second course, Lyd had baked salt cod with potatoes, capers olives and tomato.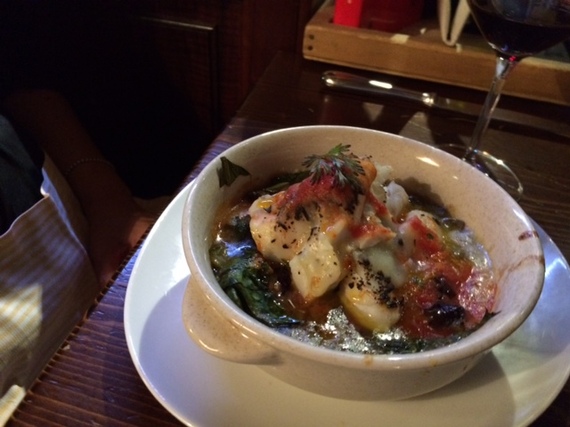 I had guinea fowl in broth, olives, artichokes, and pickled shallots. I mean, how often do you have guinea fowl?
For dessert, my dish was cassata, a sweet ricotta cheese plate with almonds, pistachios, fruit and jam. Lyd had their spin on crème brulee.

We had so much fun with chef Dimitri, who took time to show Lyd how to cook the black spaghetti dish, we gave him our number.

That night was a last chance to sit on the veranda overlooking the canal. Even off-season, the hordes of tourists are hard to tolerate, but in the moments when you can see the eerie beauty of this slowly sinking cluster of islands, it's all well worth it.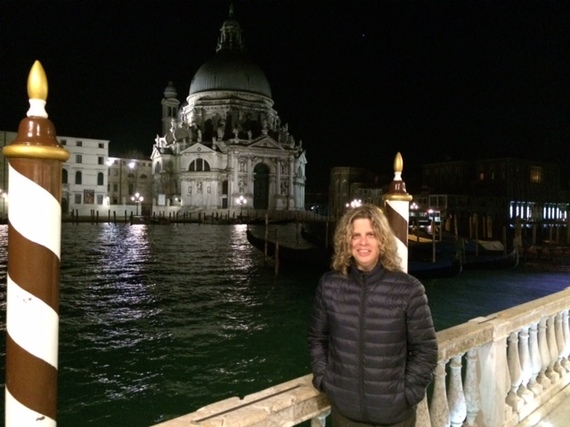 Time to come home.