It's not like I'm an expert on the being 50 thing.

It's only been a few months since I turned the big five-oh!

But I can tell you what I've noticed about being a half-century old that wasn't exactly on my radar 20 years ago.

Food isn't just a NOW thing anymore.

I used to be able to eat whatever the hell I felt like eating, pizza covered in pickled jalapeño peppers with a Michelob light chaser was my favorite, followed by a Snickers bar. Yes, ma'am!

Now I think about everything that goes into my mouth and ask myself questions like:
• How will I feel in an hour?
• Will this pass through me or does it require a prune chaser?
• How many hours in the gym is needed to work this off?

I know from countless trials and errors that red wine gives me the acid reflux of a foghorn from hell!

Ditto on eating anything, ANYTHING after 10:00 p.m.

Damn foghorn!

Gone are the days when I could devour cold leftover pasta at 2:00 a.m. For that matter, gone are the days when I do anything at 2:00 a.m. And I'm allergic to wheat.

I actually think about things like "Am I getting enough sleep?"

No more close-the-bar-down at 4:00 a.m. mornings, watching the sunrise from the bagel joint in the Meat Market. While we're at it, gone is the bagel joint in the Meat Market (not that I can eat bagels anymore). Not hip enough for the new über-chic Meat Market.

Going out to dinner with my girlfriend, then a long walk afterward, that lands us home at 11:30. That's a late night for this party babe!

"I used to dance the night away!" my GF says, followed by, "Can you make us your special cocktail?"

My special cocktail by the way, is one spoonful of Metamucil to an 8-ounce glass of filtered water, stirred not shaken.

I used to close my eyes at night and wake up nine hours later. The only thing I needed to fall asleep was a bed or a floor. Now it's chamomile tea, melatonin, a long hot bath and a prayer to get this babe to wind down.

Problem with that damn tea is that it leads to another gift of being 50, the "I can't sleep through the night without having to pee" thing. When the hell did that start?

Phooey!

You guessed it; that's our next subject: PHOOEY!

PHOOEY!
I can't be bothered to be über-chic.

That's a nice little perk to turning 50 you get to say, "Phooey!!!" A lot!

That pesky filter that used to turn all my nos into yesses... with the horrible sweet voice in my head saying over and over again the mantra "Be nice, be nice, be nice!... has been replaced with PHOOEY!

"Would you like to lend me money that I will never pay back in this lifetime or the next?"

"PHOOEY!"

"Can you lower your price to below your cost, because I'm a well connected hipster and will tell my pals about you?"

"PHOOEY!"

"Can we come and sleep in your living room for a week? We're too cheap to rent a hotel?"

"PHOOEY!"

PHOOEY-itus starts forming in our 40s and begins to blossom in our 50s. But having spent a lot of time with my 88-year-old dad, I have to say it doesn't get its full bloom on until we are in our 80s.

"Would you like some steamed vegetables, Dad?"

"PHOOEY! BRING ME A HOT DOG NOW!"

Something to look forward to.

But PHOOEY works in other ways, too.

Like recently on Halloween when I was sitting at work giving away a boatload of Halloween candy (that I couldn't eat because chocolate gives me acid reflux), I felt a little sleepy.

"Should I go home to take a nap or go to the gym?" I asked my 35-year-old chef.

"Go to the gym!" he screamed, horrified that I even asked.

"PHOOEY!" I screamed to my tired body and trudged to the gym, worked out for 45 minutes and really did feel a lot better.
Back at home, I wanted to crawl into bed and watch Halloween movies rather than go to a late-night dance party. The problem was I was going with my 59-year-old and 52-year-old gal pals, each well into her PHOOEY years.

"PHOOEY!!" they said. "Get your dancing shoes on!"

"PHOOEY!" I said to my aching knees.

I pulled out a Naughty Sexy Cop Halloween outfit from a decade ago that actually still fit, then shlepped out to the party in Long Island City.
Everyone, 25 or 55, was in costume; they were getting down!

"They're playing old school," screamed my gal pals!

Never mind that I was in my 30s when these "old school" songs came out. I boogied on the dance floor, feeling every bit the sexy cop.

OK, yes, I was home in bed at 1:30, but you know, kinda danced the night away.

I went to sleep that night, needing nothing but my bed and woke up feeling just fine.

Proving what I now know: most of all FUN is ageless.

Not to mention a great cure for stress, acid reflux and the blues.

So I'm 50!

It's just a number, and to all those who disagree I say, loudly and proudly, 50 times over, "PHOOEY!!"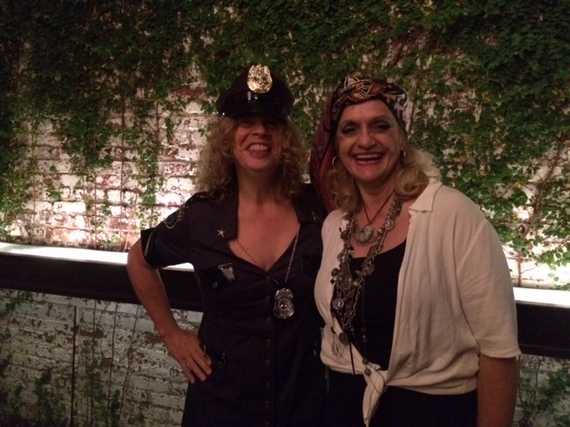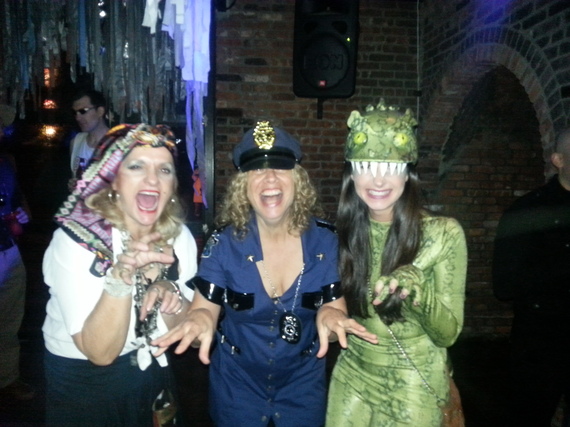 We even let young dinosaur gals into our crew of 50-something and fierce babes!