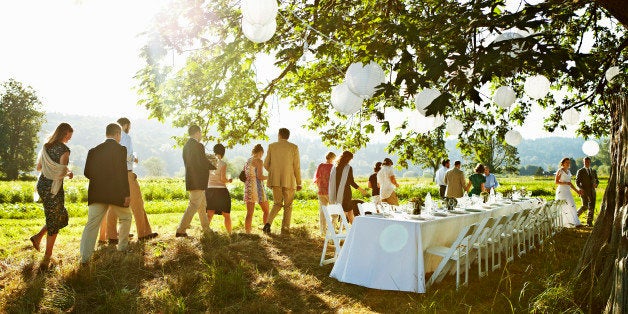 Howdy love birds! Did you get engaged over the holidays?
As a wedding caterer, I am often called, or shall I say grilled, by couples trying to save money on their special day. I feel sometimes like a used-car salesman with a really great Pad Thai recipe.
"My dears, if you book today, not only can you have that sixth hors d'oeuvre for free, but I'll throw in a complimentary foot massage!"
I wind up advising couples what not to do as much as what to do.
So why not share with you too. Hey it's free!
1) Should we save by offering a cash bar?
NO! Oh, there are a lot of reasons not do to this, but mostly, darlings, it's just gross.
If you can't afford a full bar, have beer and wine only, or add two signature drinks. No need to offer every kind of booze a bar has. This is not a bar. It's your wedding.
2) Should I DIY my own flowers?
(That's DO IT YOURSELF for those not in the know.)
NO! I can't count how many brides I've watched over the years ruin their special day by worrying about whether their roses will open or if they'd have time to get into hair and make-up when they were still tying rosemary branches an hour before their guests arrive!
If you are blessed with friends and family who really do have good taste (not like my family who think plastic placemats are high end), dump the job on them. One easy solution is to buy potted flowering plants. Your guests can take them home and start a garden in your honor.
3) Should we bring in our own food?
NO and yes: A lot of couples want to bring in all their favorite grub instead of hiring a caterer. Ok, as a caterer, I admit this is not great for business, but honey, it takes loads of organizing to put together a great wedding! Having a taco truck, a barbecue truck, a Chinese restaurant and a pizza joint pull up and think your wedding will flow like magic? Oy vey! Not gonna happen.
If you do want to go this route, hire an awesome party planner with a great support team to coordinate this mishegash.
4) Should we buy a cheap wedding cake?
Depends: Do not go out and buy one of those cheapo, whipped cream icing, Italian bakery wedding cakes for your July wedding. Ok, I get it. It's like 200 bucks for your cake for 300, but almost no wedding venue has a fridge big enough to fit a three-tier wedding cake, and after six hours of sitting out on the cake table, the chance of this thing turning into a giant pile of yellow Fluffernutter is pretty good.
Why not skip the wedding cake altogether? Anything you can stack is an awesome substitute. I had a groom who adored chocolate chip cookies, so instead of a cake, we built a tower of chocolate chip cookies. The cake cutting ceremony consisted of the bride and groom dipping their cookies into glasses of milk and feeding each other. Adorable!
I've built towers out of doughnuts, Rice Krispy treats, French macaroons and Twinkies.
Can I just take a moment to say, "Thank god Twinkies are back!"
5) Should we let a friend DJ?
Maybe, but If you do decide to save money by having a friend DJ, make sure they are professional. You may be saving thousands by having your cousin spin for you, but if he disappears while he searches for his 10th beer, you'll wish you'd spent the money.
A DJ instead of a wedding band will definitely save you moolah. You can always trim down the cost of your DJ by having some lounge music you recorded play for the cocktail hour and having the DJ kick in after.
6) Should we have a cheap dinner to save cash?
Not really. If you really want to save money on your wedding, don't have a dinner. There's nothing worse than a scaled-way-down, cheapest-option dinner.
Have a great cocktail party instead. Having a passed hors d'oeuvre wedding means no renting plates and forks, lower food cost and lots of fun. After sliders, sushi and mini fish tacos, no one will miss dinner.
7) Should we save by having the wedding in my parent's back yard?
Not if it's money you want to save.
I have met loads of couples that choke at space rental fees and figure they'll save by throwing their wedding reception in Mommy and Daddy's back yard. By the time you rent the tent, the heaters, the fans or the AC's depending on the time of year, the dance floor, the kitchen tent, the Porto-potties and more, that $6,000 space rental fee can start to look pretty darn cheap.
8) Should we have the ceremony and reception in the same place?
Hell yes! Folks spend a fortune renting two venues when they could just have one and not worry about the logistics or expense of carting their guests from ceremony to reception.
9) Should we choose an off-peak date?
Yes, honey!
If you pick any day other than Saturday most wedding venues will cut you a nicer deal. After the economy tanked, Thursday became the new Friday. I catered loads of great Thursday night weddings that came in at rock bottom prices.
Going off-season like January can also get you a deal. I know January is so depressing! Why not cheer everyone up by throwing a fun wedding?!
10) Should we have a shorter wedding reception?
Yesindeedeedooooo!
So many couples try to stretch their wedding forever. Five to six hours is enough. Everyone over the age of 50 will leave the second you cut the cake anyway. Shorter weddings mean less booze, music and staff hours to pay for.
Send them to a favorite bar for an after-hours party. Then the bill is off you if your pals want to drink into oblivion. Plus you don't have to worry about your Aunt Mable swinging from the chandelier.