When Ayla Bell Reynolds was abducted in late December of 2012, she was 20 months old. Her second birthday is in less than a month and it doesn't seem like she will be found safe and sound by then. This case has been one wrought with inconsistency, confusion and conflict between the maternal and paternal families of the missing Maine tot. This case hasn't appeared to have gone cold as it seems that new details have leaked to the public via a blog maintained by Trista Reynolds and her family. However, police in Maine will not confirm or deny these claims as this Gather News article reports.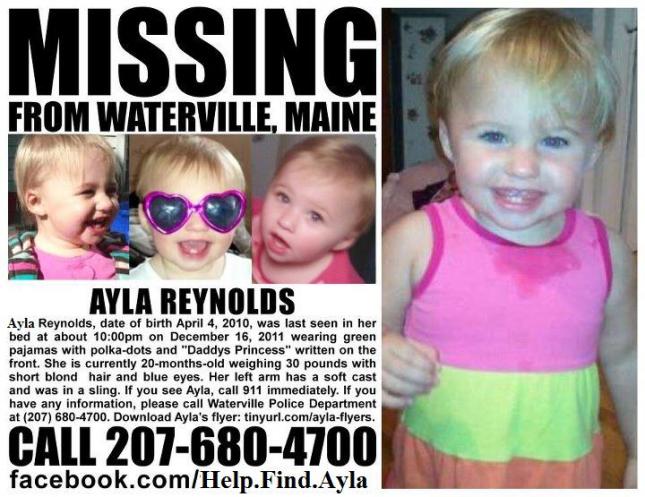 "More than a cupful" was used to describe the amount of blood discovered in the basement of Justin Dipietro. Trista Reynolds claims through her blog that this large amount of blood belonging to Ayla Reynolds was discovered in the basement, but police will not address this topic. Could it be that the amount of blood found in the basement was the result of a fatal injury? It was reported back when the discovery of the blood was announced that it was "more than what a small cut would produce," but officials wouldn't clarify further on it. Perhaps "more than a cupful" is a more accurate description -- and why would Trista Reynolds make such a thing up when she was so trusting of Justin DiPietro for the first few months of this case?
Sometimes in cases like these, the things that are not said are sometimes more noticeable than the things that are. For example, when a writer recently asked Trista Reynolds if drug trafficking could have played a role in Ayla's disappearance, she refused to address the question, but why? Could it be that drug trafficking is a topic that can't be discussed with media for reasons pertaining to the open and ongoing investigation? It is already well known by now that Justin DiPietro's circle is heavily involved in drugs -- even his girlfriend's apartment was raided not too long ago.
The general themes that have been the most apparent in the disappearance of Ayla Reynolds are drugs, violence and lies. The accusations of abuse against Justin DiPietro have been nearly universal, with the suspicion heightened by the fact that Ayla's arm was broken. Did Justin truly fall on her or did something else happen similar to whatever caused so much blood to be let in the basement? This is all speculation but if Trista Reynolds is beginning to feel convinced that something is wrong, then it probably is. This poor woman has been suffering and trying to get the DiPietro clan to be in contact with her. They haven't been. They've also still refused to come forward to tell detectives everything that went on in the home the night Ayla vanished.