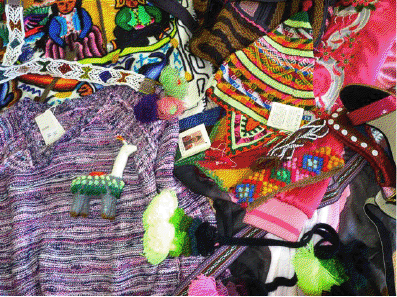 I am a lover of color and print, and this is only part of the masses of textiles I brought back from my trip to Peru. If you were to ask any of my friends, they would tell you that three prints in one outfit is standard for me. In my mind, leopard sits well with floral and plaid. It had been a dream for me to be able to draw inspiration for my own clothing and jewelry designs through adorning my home, office and body with touches of Peru and Bolivia.
As a designer, exploring the world is vital. I suffer from Seasonal Affective Disorder not from the ever-shining California sun, but rather from living in a land of a grey and monochromatic uniform of style. So, in celebration of my father's sixtieth birthday, I was lucky enough to join my parents for part of their five-week journey across Southern America. I traveled with them from La Paz, Bolivia, across to Lima, Peru. We traveled via foot, car, bus, train and plane through mountains, across lakes and above clouds.
Waving goodbye to America and its uniform of un-ironed denim, khaki and grey, I ascended to four thousand feet above sea level, eventually arriving in La Paz, a mysterious city rich in culture and history. The 5:15 a.m. arrival was part of the magic. I felt as though the floor was moving below me due to the altitude; and driving through a valley surrounded by fading apartment lights, I felt as though I was on another planet.
My first memorable sighting was of a lady in a bowler hat outside of my window, carrying her belongings in a large blanket she had slung over her shoulder. I was already gob smacked.
As a designer, I respond to color, print and texture; so I was in heaven. My only roadblock was documenting it all. Bolivian women do not enjoy having their photo taken, as they believe that the act snatches away their soul. Thus, I felt disrespectful and wound up with a multitude of back shots.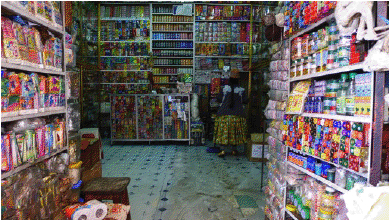 The store (above), was one I found in the Witches' Market just a short, yet steep and breath-taking (literally), walk away from my hotel, Presidente.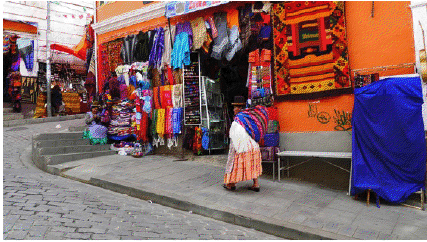 Above is a typical street scene in Bolivia. I was enamored with the bowler hats perched on top of the Bolivian women's heads, lengthening their stout bodies. They wore their long, black hair in braids one would expect to find on a young girl, yet the style could be found on grandmothers as well. Their skirts were made up of layers and layers of fabric tucked underneath an outer layer to inflate the garment. Finally, the women were cuddled either by a blanket laden with children or animals, or filled with the items found on a shopping trip. If a woman was dressed more elegantly, the blanket would be replaced with a beautiful embroidered silk counterpart.
I managed to fill two large bags in the Witches' Market, buying everything from lucky charms, to textile wall hangings, to woolen head masks and coco tea. I was in a designer's textile utopia.
Crossing the border between Bolivia and Peru is an incredibly memorable moment. It is an empty road, quite literally. There is no security. In fact, when you cross, you have to know exactly where the immigration building is to even present your passport. At the immigration building, one man had his back turned to us as he was typing away on his computer. When he finally turned around, he stamped our passports without so much as lifting his head, then turned back to his work.
Between Bolivia and Peru, there is a small stretch of no man's land. It belongs to neither country.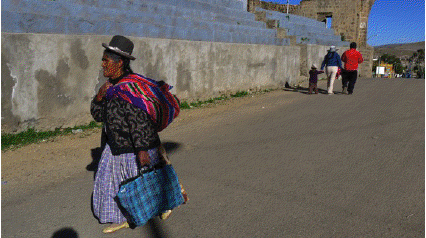 I passed this woman, who was entering Bolivia as we were exiting. I was, and still am so impressed with and inspired by how many prints have been incorporated into one look.
Peru is a much more modern country than Bolivia. The grass has a more vibrant green hue, the fields are more mature and there are more people. There are also far more Peruvians who dress in western attire than traditional native dress. It was interesting to see the modern and traditional colliding on the streets.
We arrived in Puno and settled in to get a good night's sleep, as we needed to wake up early to pay a visit to the Floating Islands.
I was very excited to visit this particular destination. The Floating Islands are a small cluster of islands made entirely of coral reef. In fact, reef is the primary hardware used there. Everything is made of reef: the land, the homes, the boats, the ladders and everything sold as souvenirs.
It is a popular tourist destination, but it was still highly educational and incredibly fun. Our guide, Angel, told us that only a few families still live on the islands, as a means of protecting the land.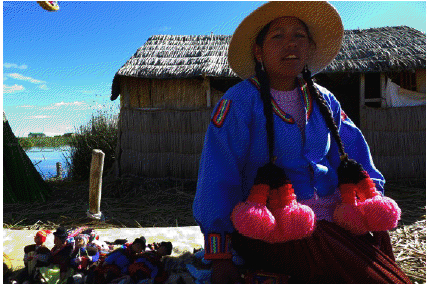 The island women's attire comprised of vibrant colors, and their saturated hair accessories blew me away. I couldn't help but buy some pom poms, embroidery of the island, and a pom pom mobile.
The colors are man-made, and they looked spectacular against the bright blue lake and the sunlight.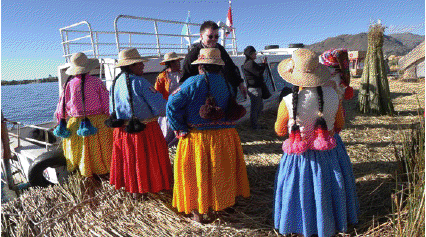 We traveled from the Floating Islands to the Taquile Islands, where locals enjoy panoramic views above Inca terraces of Lake Titicaca, accompanied by alpacas, llamas and tourists.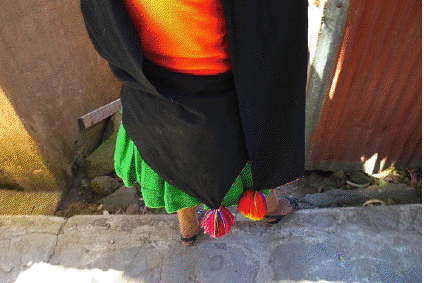 In Peru, the natives love having their photo taken. In fact, they even charge one sole per photograph. One sole converts to approximately 30 cents. To me, it was worth every penny.
To make our way from Puno to Cusco, we traveled by means of the 'Andean Explorer.' It was, without a doubt, the most epic and mesmerizing journey by rail that I have ever taken. Eleven hours felt like only one in this adventure through the Andes. The trip was filled with spectacular views of lakes, farms, rivers, and snow-capped mountains. We traveled through the heart of a market where there is no barrier between the train tracks and the bowls of spices being sold. The train moved slowly through various small towns, and we threw money out of the windows to smiling children holding their hands high in hopes of receiving a few precious coins.
I managed to buy a toy llama from a woman who chased after the train when it stopped to switch tracks. I was nearly in tears as the young and old tug at the brass railings on the back of the train. I nearly overloaded my camera trying to capture the plethora of beautiful images.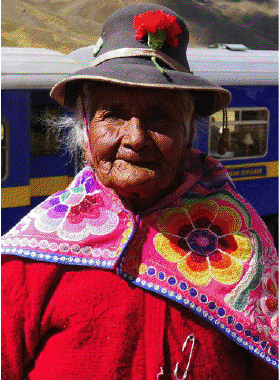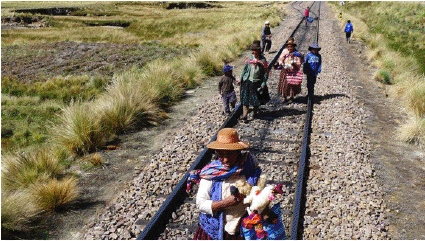 Cusco is the place where visitors acclimatize if they know not to visit La Paz, in Bolivia, first. Cusco is much closer to sea level than La Paz is, so my head was pounding and I was unable to catch my breath for the first two days.
Cusco, on a Sunday, is fantastic. First, for any lover of textiles you must shop at the wonderful Center for Traditional Textiles of Cusco. The organization was established in 1996 to aid in the survival of Peruvian Inca textiles and weaving traditions. Working with the center, Quechua-speaking women and their families in the region of the former inca capital are engaged in skill building, community networking and market developments. In the store, there are many local weavers who are eager to teach curious visitors about the art of textile weaving. You can find more information at www.textilecusco.org.
What was especially intriguing to me was that the garments were sold with a swing tag that featured a photograph of the person who made it. It was, in my eyes, an exciting, rewarding, and very special touch that carried far more value than any large western fashion house: it was a unique, one-of-a-kind fashion-art hybrid.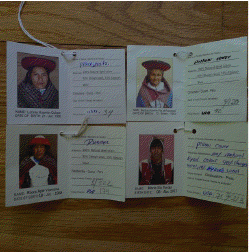 From there, we headed to the Plaza de Armes, a fabulous square full of history and culture. We were lucky enough to stumble upon the locals parading into the cathedral.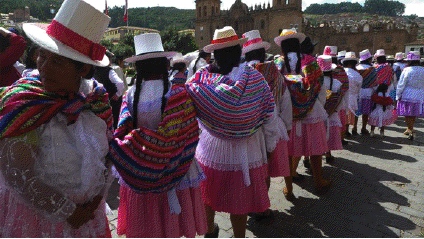 From Cusco, we made our way to Machu Picchu via the Sacred Valley. The area of Ollyentambo is rapidly becoming more saturated with tourist activity, as it rests within the route to Machu Picchu.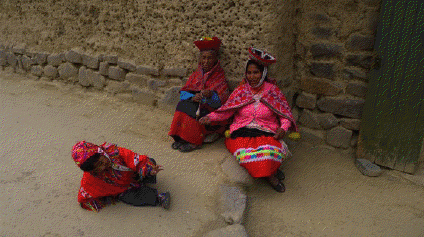 At the ruins in Ollyentambo, this camera-friendly family posed for my photograph. For three people, I paid three sole.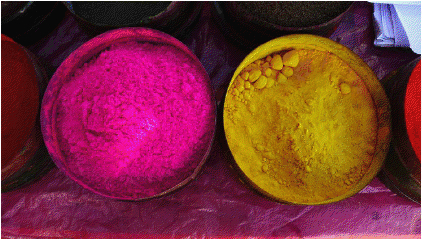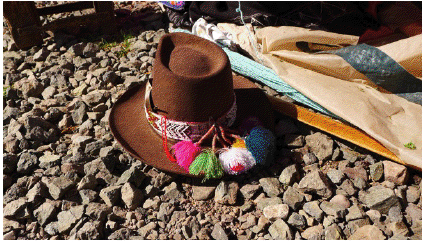 Machu Picchu is one of the most breathtaking and fascinating places in the world. It is easy to understand why the mountains, to the Incans, are gods. Their powerful presence puts all small thoughts out of your mind and you are completely overcome with the sheer beauty of Mother Nature.
The Peruvian people respect three worlds: above, Earth, and below the sea. They believe that we continually return to earth after we die until we achieve perfection and are graduated to the spiritual world above.
In a rapidly changing world where people are quickly caring less and less about our oceans, rainforests and fellow humans, I can't help but wonder if any of us will ever graduate. The people who color their world in beautiful clothing and ornaments, who live simple farmers' lives and never stop smiling, offer a dose of clarity to such a clouded westernized conscience. They view the energizing coca leaves as a gift from God, which they then recycle and use as offerings back to God. All of the medicines in the world can be found in the Amazon, so why are we threatening to destroy it? I can only hope that the lost city of the Incas, with all of its gold, mummies and ghosts stays hidden in the jungle as a gift to mother earth.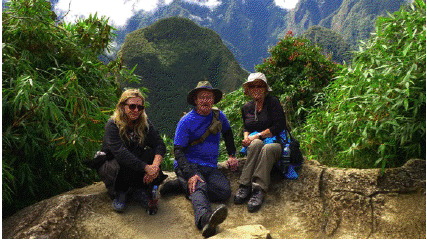 Follow Cher on Twitter @chercoulter and Facebook.