What's better than grazing from a table of appetizers while chatting with friends and watching your favorite baseball team play? I've often said that I'm going to have a party and serve nothing but appetizers. Then, being Italian, I think about my six brothers all asking when the pasta is ready in their very deep, very loud voices, and I change my mind. But let me dream for a moment. It's Memorial Day soon and baseball season is back, and what better reason to have friends over than to enjoy a game together as we all snack on delicious appetizers and have a glass of wine or favorite cocktail? After all, baseball is the quintessential American game, and is like no other.
It breaks your heart. It is designed to break your heart. The game begins in spring, when everything else begins again, and it blossoms in the summer, filling the afternoons and evenings, and then as soon as the chill rains come, it stops and leaves you to face the fall alone.

- A. Bartlett Giamatti
My six brothers all played Little League and then high school and college baseball. Even though we grew up in Scranton, Pennsylvania, we were fervent Yankee fans. Our dad, a great athlete at Fordham University, had been going to Yankee games since Joe DiMaggio was a rookie. At first, I was also a Dodgers' fan. Our mother's father was from Olyphant, a small mining town in Pennsylvania. He was a Brooklyn Dodgers' fan and so I was, too. I loved to hear baseball on the radio as my grandfather listened to the game coming from faraway Ebbets Field. I still love to hear baseball on the radio. Suzyn Waldman and John Sterling calling a Yankee game make me feel like my dad is sitting in the next room even though we lost him nine years ago. And I am comforted by the reassuring sameness of the rules which have changed very little. The addition of the designated hitter in 1973 by the American League is still rejected by the National League.
Baseball is almost the only orderly thing in a very unorderly world. If you get three strikes, even the best lawyer in the world can't get you off.

- Bill Veeck
Although as John Sterling always reminds us, <"Who can predict this game of baseball, Suzyn? You just never know what might happen." And in our quick-time, A.D.D. world where people are on speed overdrive at all times, I relish the long, slow pace of baseball. There is no rushing those nine innings. They are meant to be savored. This makes it the perfect occasion to have a fabulous appetizer party with friends. You'll be able to catch up on life, love affairs, work, recipes, your team, and the game will still be going on! So pull out your favorite finger foods and dips. Here's a special one for you to enjoy this holiday weekend, and any time you get together with friends.
Our good friend, renowned Chef Eric Ripert, owner of three-star Michelin restaurant Le Bernardin in New York, kindly shared some special easy-to-make toaster oven recipes with us on our DishandDine website. This simple goat-cheese appetizer is one of our favorites. Eric Ripert says:
When I have people over to my home, the appetizers and canapés tend to be fairly casual. I set out a variety of homemade spreads, crackers and bread, along with small finger foods that people can snack on with a drink in hand. I also like to serve these goat cheese truffles, dusted in breadcrumbs and herbs, as a sort of twist on the standard cheese plate. A simple warm round of cheese placed on a small piece of toast makes for a wonderful, delicious bite -- perfect with a glass of wine.
Don't miss Chef Eric's show on PBS, Avec Eric. And please visit aveceric.com.
GOAT CHEESE TRUFFLES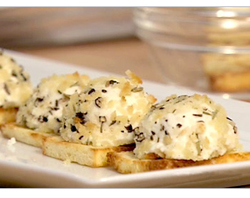 photo AVEC ERIC
Ingredients:

4 ounces goat cheese, slightly chilled
½ cup plain breadcrumbs
2 tablespoons olive oil
1 teaspoon herbes de Provence
2 teaspoons fresh cracked black pepper
1 teaspoon fine sea salt
Preparation:

1. Heat toaster oven to Broil.
2. Slice goat cheese into 8 pieces and roll each piece into a ball, set aside.
3. In a small mixing bowl, combine the breadcrumbs with olive oil, Herbes de Provence, cracked pepper and salt and mix thoroughly.
4. Roll the goat cheese truffles lightly in the seasoned breadcrumb mixture.
5. Place the truffles on a toaster oven tray and drizzle with olive oil.
6. Broil for 2-3 minutes.
Copyright AVEC ERIC 2008
This recipe and many other family favorites are available on DishandDine.com. Stop by and become part of this grass roots global food community!


DishandDine - It's All About Food
http://www.facebook.com/DishandDine
http://www.twitter.com/DishandDine