"If you are lucky enough to have lived in Paris as a young man, then wherever you go for the rest of your life, it stays with you, for all of Paris is a moveable feast." Ernest Hemingway, 1950
I was lucky enough to live in Paris in my twenties. I was a film student at the University of Paris and then worked with the great French filmmaker, Eric Rohmer, one of my professors. Rohmer was one of the founders of the French New Wave and the most original thinker and creative person I've ever known. Very sadly, we lost Rohmer recently at the age of 89. He loved to walk and talk, and walk we did: up and down every street in Paris for a film on architecture.
Every year in April, when I hear the song "April in Paris," especially sung by Louis Armstrong, I think back to those days and I remember why April in Paris is indeed everything it's cracked up to be, and then some. But you couldn't possibly know if you haven't spent a winter living in Paris. Sometime in late fall, the gods roll a murky, dark, lugubrious, depressing, grey cover over the sky that hangs there every day for months. It doesn't rain all the time in Paris. It doesn't get really cold, or snow. But there is no hint of blue sky. No blessed break in the dismal grey cover; no hint of light until suddenly April comes, and these same unseen gods roll away this awful dreary cover and a soft pale blue sky emerges that looks like the entire spectrum of the rainbow has suddenly emerged for the first time, and everyone in Paris is walking about a foot above the sidewalk.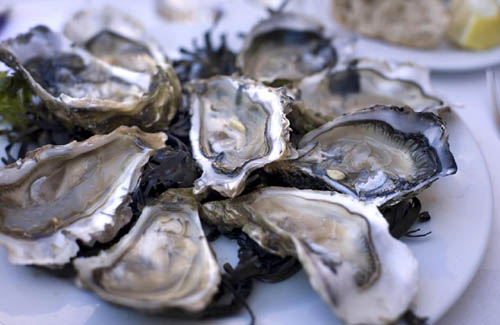 Even the waiters in the cafes who are never nice to anyone are being semi-cheery, and the woman behind the cash register is smiling; and the crepe lady in the corner of Luxembourg Gardens is piling on extra cheese and mustard. Everyone is staying out in the street until all hours, and walking and stopping at the boulangerie for pastry to eat in the street; or delicious stuffed sandwiches on the Rue Mouffetard. And couples sit in the outdoor cafes, even if it's chilly, and order an aperitif, flirt, talk, smoke, kiss, and of course, have oysters. For April is the last month that's safe to eat oysters. According to the French, you can only eat oysters in the months with an R in them, when the oysters are not spawning.
Oyster bars and markets all over town are crammed with devoted fans enjoying their chance to consume their favorite seafood. I remember best eating oysters from tall wooden barrels in a market place. You picked up the large, flat belon oyster from Brittany with its coppery, briny flavor, and ate it straight from the shell. And there were the green-tinged smaller, more delicate fines de claires from the Marennes. On rare occasions, I would be treated to a meal in a grand brasserie where the oysters are served on tiered silver platters with mountains of cracked ice. The flavor was so intense that you rarely added anything although in the brasseries there would be a red wine vinegar and shallot mignonette sauce.
"As I ate the oysters with their strong taste of the sea and their faint metallic taste that the cold white wine washed away, leaving only the sea taste and the succulent texture, and as I drank their cold liquid from each shell and washed it down with the crisp taste of the wine, I lost the empty feeling and began to be happy and to make plans." Hemingway
The only oyster food souvenir that compares for me is an October afternoon at the vineyard of dear friends on the North fork of Long Island eating just harvested oysters outside in the crisp air and sipping their delicious wine on a fall day.
So some year, you really must try to get over to Paris in April. If you can't do that, then go to your favorite seafood restaurant and order a glass of Muscadet or Chablis and some oysters, and ask them to play April in Paris. And I can't end this without sending birthday greetings and thanks for his many decades of splendid work to my dear friend. Eric Rohmer would have been ninety early this month. He was making films up until the end. At 87, Rohmer's last feature film opened the New York Film Festival. Au revoir and adieu.
And here is a recipe a friend gave me when I lived in Paris for the vinegar Mignonette sauce for oysters. It's also on my website DishandDine.com.
Mignonette Sauce for Oysters
Ingredients:
1/2 cup very good quality red or white wine or champagne vinegar
2 Tablespoons finely chopped Shallots
1 Tablespoon cracked black Peppercorns
A dash of Kosher Salt
Preparation:
Combine all ingredients and whisk in a bowl. Let sit for at least a half hour before serving. Keep covered and chilled in the refrigerator. This sauce does go well with other shellfish, too.
This recipe and many other family and travel favorites are available on DishandDine.com. Stop by and become part of this grass roots global food community!
DishandDine - It's All About Food
dishanddine.com
twitter.com/dishanddine
facebook.com/DishandDine