Okay, it's supposed to be springtime, and winter is just not over. What's up, Punxsutawney Phil and Staten Island Chuck? You said winter was going to end in six weeks on Groundhog Day. I just looked up Phil's accuracy rate and it's only 39% since 1887, so I should've known. Well, it's still cold.
So what's good to eat when it's cold outside? Grilled cheese. I have memories of hot tomato soup and a grilled cheese sandwich when we came home from ice skating or sledding when I was a kid. I grew up in Scranton, Pennsylvania, and in those days, there was always tons of snow in the winter. Kind of like this winter everywhere.
Many's the night I've dreamed of cheese - toasted, mostly. - Robert Louis Stevenson
Later when I was a film student living in Paris, I went to Fribourg, Switzerland, for Saint Nicholas Day, December 6th. At a little restaurant on the snowy main street, I discovered raclette. It's a cheese lover's dream: a large wheel of raclette cheese lays suspended on a platter that rotates in front of an open fire The edge closest to the fire heats until it begins to melt. You hold out your plate and they shave the heavenly bubbly cheese onto it. Then your return to your table where you eat the raclette with little boiled potatoes, picked onions, cornichons, and thin slices of air dried beef. That night I had 16 plates. There is probably still a plaque in the restaurant with my name on it. They were very impressed that a 22-year-old American girl could do that. They hadn't met my family. I am only an average eater among my ten brothers and sisters.
I would have to say that cheese, cheese, glorious cheese is one of my very favorite foods. If I had to choose between meat and cheese, I would go with cheese. There are so many varieties for one thing. In France alone, as DeGaulle used to complain, you can find 246 varieties of cheese. Who could govern a nation like that? Soft, hard, runny, smelly, powdery, flaky, creamy, blue, ashen, and covered with leaves, herbs, and all kinds of creative inventions.
And they bought a Pig, and some green Jack-daws,

And a lovely Monkey with lollipop paws,

And forty bottles of Ring-Bo-Ree,

And no end of Stilton Cheese.
Edward Lear
With this lingering winter cold, there is still time to sing the praises of hot cheese in a big pot that you dip bread into: cheese fondue! The very best that I have ever had is the fondue that our good friends the Sterns make every Christmas at their ski house in Vermont for our two families. Barbara says that she got this fabulous recipe from a friend when they were living in London many years ago.
We'd all consume vast quantities of dripping, melting, yummy cheese fondue after a long day outside in the snow with our children. The adults would have a special white wine called fendant that the Swiss say you should drink with fondue. Then we would follow it with the obligatory Chocolate Fondue: strawberries, bananas, apples, and pears dipped in a bubbling dark chocolate brew. Give it a try before the spring comes!
Best Cheese Fondue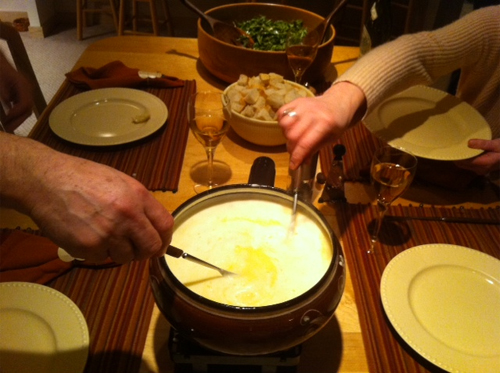 Photo: DishandDine
Description:
Our favorite and only good cheese fondue recipe!
Ingredients:
20 oz. Gruyere cheese grated
20 oz Emmentaler cheese grated
2 and ½ cups of Liebfraumilch white wine
2 jiggers ( about 3 oz.) of Kirsch
2 teaspoons cornstarch (stirred into the Kirsch)
Pepper and Nutmeg
1 and ½ large loaves of French bread cut into 1 inch cubes (leave a bit of crust on each piece)
Preparation:
Rub the fondue pot or saucepan with the peeled clove of garlic.
Put in the white wine and heat, but do not boil
Add about 1/3 of the grated cheese and stir until smooth and creamy, continually adding the rest of the cheese while mixture is simmering. Continue stirring in a figure eight motion until all is in and creamy.
Bring just to the boil and add the Kirsch and cornstarch mixture ( to keep this mixture from lumping, stir a couple spoonfuls of the hot cheese mixture into the cornstarch mixture and then mix all together in the saucepan, stirring constantly.
Bring once more to a boil.
Quickly season with freshly ground pepper and nutmeg.
Serves four very very large eaters or six regular eaters.
This recipe and many other family favorites are available on DishandDine.com. Stop by and become part of this grass roots global food community!
DishandDine - It's All About Food
http://www.dishanddine.com
http://www.facebook.com/DishandDine
http://www.twitter.com/DishandDine