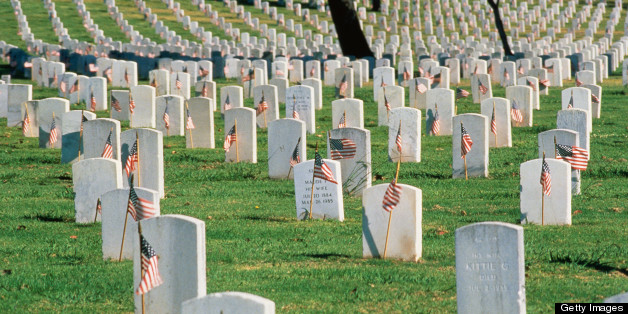 Welcome to Memorial Day Weekend 2013.
To celebrate, many of us will be gathering with friends and family to partake in picnics, camping, beach parties, lakeside activities, backyard barbeques, or whatever recreational holiday we've planned to take advantage of the time off. Thousands will be visiting cemeteries - the reality of Memorial Day is painfully upfront and personal for so many who have lost loved ones. By now, volunteers will have placed an American flag on the graves of our fallen in national cemeteries across our nation.
As we all do our thing -- resting and relaxing, getting ready to officially welcome the 'summer' season -- I hope we spend more than just a moment or two reflecting on the reason this federal holiday exists in the first place. Memorial Day was established to honor the men and women who have perished while serving in the United States Armed Forces.
Originally founded after the Civil War as "Decoration Day" to honor the Union and Confederate soldiers who died in those bloody battles, we have recognized this day as Memorial Day since the 20th century. And the battles are no longer taking place here at home, although we are prepared for that, but now we have men and women stationed all over the globe, putting their lives on the line -- for us.
I always take time to think about our troops over this holiday weekend, because I'm grateful for them. I didn't go into the armed services myself, so I suppose I am doubly grateful because I know others have carried my load. My dad, who just turned 90 a few days ago, has been talking about his own service during WWII. He has a lot of memories of those days -- memories of the guys he served with. The fellows he met in the service bonded fairly quickly. He was Army-Air Force, and was stationed in Egypt, outside of Cairo. He lost many of his buddies during that war.
Frank is a childhood friend that I haven't seen in years, but on this day, I think about him. Frankie fought in Vietnam. He flew helicopters, among other things, and for reasons I cannot fathom, went back there multiple times. He survived, thank God, and raises horses now. We had another neighbor a few doors down however, who died in battle.
My second-cousin came back from Vietnam wounded, but was never the same guy. He was more psychologically damaged than physically hurt, and though he wasn't killed in action, Vietnam still killed him. The trauma and complications of war were just too much for him to reconcile, and he took his own life.
Another one of my cousins has three sons, and all of them signed up as Marines and fought in Iraq and Afghanistan. All three of them went back multiple times, as well. I'm just one person, and these are only a few stories -- examples of how our lives are touched by courage and tragedy by those who serve our country.
Though I would rather not see us send one more American soldier into battle -- I think it's important to remember that regardless of our personal politics, the members of our Armed Services are on the job -- a difficult, often frightening job -- for all the people of the United States of America; Republican, Democrat, Independent, and Undecided -- as well as our allies. And when one of our own dies in the service of our country -- it is a terrible, irreplaceable, irreconcilable loss. To honor their lives and to respect their sacrifice is the very least we can do.
As it is written on the Korean National Monument in Washington D.C., "Freedom Is Not Free." Today, that message is painfully clear.