An immaculate baby blue wall stood as the backdrop of the red carpet at the Beverly Hills Hotel. Anchored in a color representing tranquility, the 6th annual Black Women in Hollywood Awards Luncheon, hosted by Essence on Wednesday afternoon, was anything but calm. Wall-to-wall media stacked and crawled from every crevice. Onlookers whipped out their camera phones and lingered in the lobby. Burly security guards held back squeals. Passion thumping -- the energy was palpable. A sea of warm hugs encircled abundant smiles. It was the reunification of a tight clique. Essence magazine dolled out honors, redefining the meaning of 'ladies who lunch.' Six African-American women, among the industry's most inspiring on- and off-camera, were recognized.
One of the undisputed most powerful women in recent history, Oprah Winfrey was given the Power Award. Closing out the red carpet, she glided gracefully, stopping to greet press and fans as she led a procession of South African girls from her Leadership Academy. "The red carpet! Their first red carpet!" she exclaimed as she grabbed my hand to navigate through the crowd. Dressed in a floral dress, with braids swept up in a ribboned bun, one of the graduates capsulated the pandemonium -- "It's great! It's phenomenal! It's busy though. It's very busy." While legendary actress Alfre Woodard, who was honored with the Vanguard Award, mingled less with the media outside, inside she was candid. Recalling her own, as well as fellow black actresses, initial foray into Hollywood, she was quoted as saying, "We were young and gifted and looking way the hell black... And we still have our original noses!" she affirmed, leaving the audience stirring.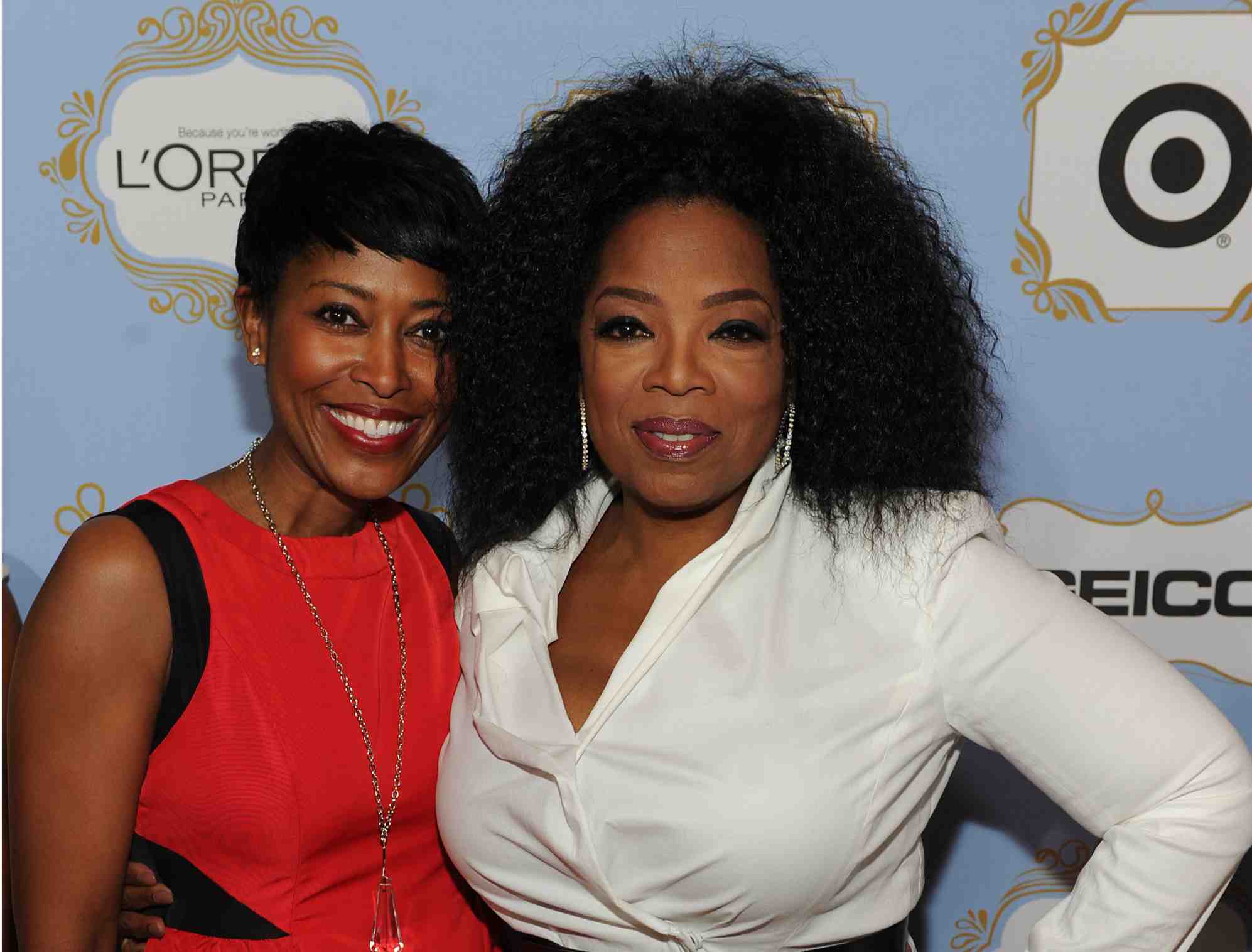 Oprah Winfrey and Laysha Ward, Target's President of Community Relations.
"People always give the most incredible speeches," Tatyana Ali admitted. "Something happens in that room of women, where people just say things. They reveal a lot about themselves that they don't usually reveal. It's like church." Iyanla Vanzant, minister and host of OWN's
Starting Over,
connected the dots on the theme of the luncheon: "The Power of our Presence."
I don't know what's happening in Hollywood, but I know what's happening in the hearts and minds of women of color. We're no longer allowing people to define us and confine us. To stand strong as a demonstration of what's possible, brings honor to our grandmothers who had no voice, who had no name, who had no face, who had no place to be.
Fresh from popping out of the stage during the Beyoncé/Destiny's Child Super Bowl interlude, (try practicing that a zillion times in heels, she chuckled) singer Kelly Rowland echoed Vanzant:
I know when I'm given a vision from God and that vision doesn't go away, that's obviously what I'm supposed to do. Whatever it takes to get there, keeping respect for yourself and your integrity, you get there and not be afraid to walk into it.
Issa Rae, creator of the YouTube sensation "Awkward Black Girl," describes herself as a baby stepping into her purpose:
I think that people are kind of tired of waiting for other people to give them a chance. They're all these gatekeepers in Hollywood. I think with the advent of YouTube and even Vimeo and all of these self-streaming applications, its just no excuse for you to not be putting your content out there.
The D.I.Y. triple threat (writer/producer/director) is now working with TV powerhouse Shonda Rhimes on a series humorously titled
I Hate L.A. Dudes.
She admits that capitalizing on her power came from embracing her niche. "It's still the same universal themes, of men and women dating in Los Angeles, so we'll see more of the same awkwardness. I can't get away from that. That's what I write."
From embracing one's inner nerd to inner sexy -- honoree Gabrielle Union, who was given the Fierce & Fearless Award, says that ascending in any industry ladder is all about perspective. "It's a journey and its an evolution and the first step is admitting that you don't have the answers, admitting that you might have gotten it wrong, and that safe and familiar is rarely what leads you to being fearless or fierce."
In a mainstream film and TV landscape where "you have less than one percent of us that are in our union -- actually working," actress Jill Marie Jones (
Girlfriends
) admits, "it's a tough grind." She credits the forethought of
Girlfriends
show creator and executive producer Mara Brock Akil for introducing her to Hollywood. When speaking of Akil, who was honored with the Visionary Award, she acknowledges,
She changed my life. I always used to say, I was in the 'University of Girlfriends.' That was like my third audition in town. I had nothing on my resume. Mara saw something in me and gave me a shot.
Fellow
Girlfriends
alumna Tracee Ellis Ross agrees that Akil transformed the game: "Mara has a courage and a willingness to tell the truth of a story, the full story, not just the pretty story, in a way that we all identify with. She has a specificity of conviction."
Left to Right: Actresses Yvette Nicole Brown, Niecy Nash, TV host Shaun Robinson, Executive Producer Mara Brock Akil, Actress Jill Marie Jones
It is the blend of conviction, imagination and skill that also shined the light on
Skyfall
actress Naomie Harris, who ignited the newest James Bond film. She was recognized with the Lincoln Shining Award. Nine-year-old Quvenzhane Wallis rounded out
Essence
's awardee circle and is also the youngest Best Actress Oscar nominee in history. Thanking her babysitter after receiving
Essence
's Breakthrough Performance Award for her work in
Beasts of the Southern Wild,
the young actress was bombarded by press on the red carpet. With Hello Kitty earrings dangling from her ears, she confidently clutched her toy puppy handbag. After the Oscars she plans "to eat crawfish whenever I get back home to celebrate" in Louisiana. Anika Noni Rose, best known as the voice of Disney's first black animated princess Tiana -- whose story is ironically set in New Orleans -- took time amongst the commotion to "touch base" with Wallis:
I think that it's important when we have such new and fresh little people for us to hold onto them and allow them to continue to be that. So I just wanted to give her a hug and tell her I was proud of her. I think it's a mean business and it can turn a child inside out. We've seen it many times. Its important for us to hold our hand out and keep them close.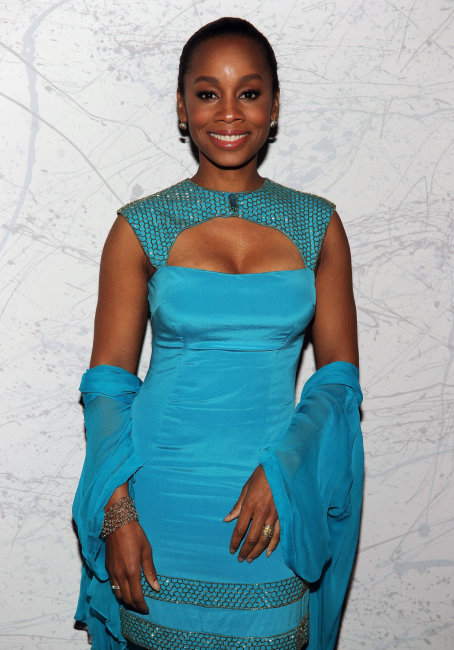 Actress/Singer Anika Noni Rose
PHOTO GALLERY
6th annual Black Women in Hollywood Awards Luncheon