As I sit here thinking about what to write, thoughts start to flood back from that fateful day 12 years ago. My wife looks up from what she is doing to ask me, "Honey, you OK?"
Wiping back a tear, I tell her I am fine. She then walks over, to kiss me on the cheek, gives me a hug and reminds me that part of my recovery will help others.
My path to suicide started on the night of Sept. 12, 2001. After searching for survivors in the Pentagon, and finding none, I returned home to remove my soiled uniform, and place my hard hat, gloves and boots in a box. Tucking the box in the closet, as if the memories would remain trapped inside, I spoke about the events to no one. At that time, I had no idea I was on a path to self-destruction or how much my life would change over the coming year.
Days turned into nights, nights turned into weeks and then weeks into months until a year had passed since 9/11. In retrospect, I was in denial.
On the 9/11 anniversary, as I aimlessly jumped through the headlines of the Washington Post newspaper, my eyes froze upon three words I couldn't ignore: "One Year Later."
My mind took me back to a place and time I never wanted to see again. The article contained a letter written by a son whose mother had died at the Pentagon. I had found her body when I was searching through the wreckage. At that moment, my life entered a downward spiral into hell.
I started drinking more. It was a slow process at first. One beer led to two, and then so on. I stayed awake as long as I could, but often drinking until I passed out. Passing out was the only way I knew how to stop the dreams that vividly replayed over and over.
Coworkers would ask me if I was OK. I would laugh it off and tell them that I was fine or that I had a late night argument with my wife. Luckily for me, one coworker didn't take my word for it and reported it to my chain of command. Which in turn, my supervisor demanded I seek help.
I was scared. Not only am I dealing with my nightmares and stress at home, but now I fear for my military career. For me, going to see a psychologist most certainly meant the end of my career and my security clearance. So my plan was to tell them what they wanted to hear so they could clear me. And then everyone (work and family) would be happy. Except the lies only brought me more stress and it didn't get rid of the guilt that tore me up for not finding any survivors. They gave me medicine to help me sleep and anti-anxiety pills.
Regrettably, I never talked about why I was feeling the way I was. As time passed, I got worse, not better. I tried harder to cover my tracks. I took naps on my lunch break to cover the fact I was still not sleeping at night. I drank earlier in the evening so the smell of alcohol was not detectable in the morning. The evasive actions to save my career cost me my marriage. My wife left me in July 2002.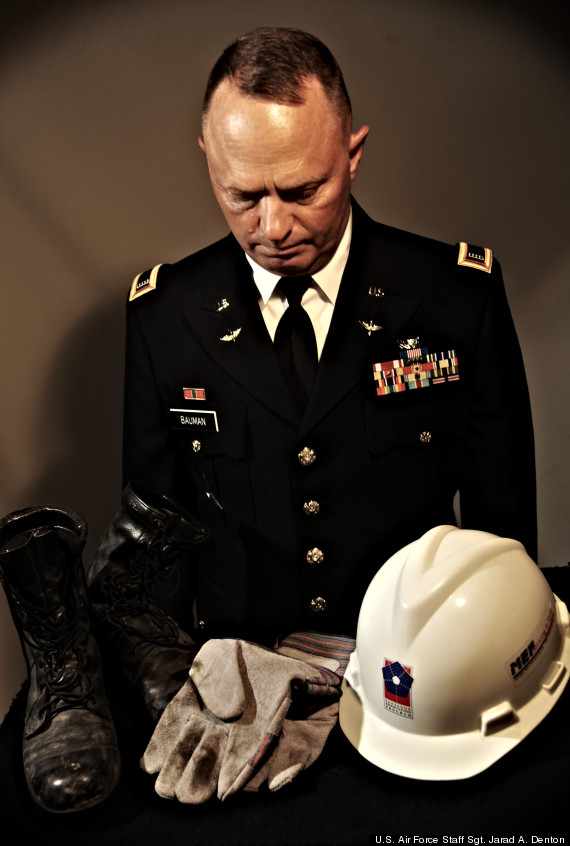 U.S. Army National Guard Chief Warrant Officer 4 Clifford Bauman, while at Langley Air Force Base, Va., Aug. 22, 2013, reflects on the boots, gloves and hat he wore during search and rescue missions at the Pentagon, Washington, D.C., after the Sept. 11, 2001 attacks. After the missions were over, Bauman placed the work gear in a closet and did not touch them again until 12 years later.
I decided in December 2002 to go home for the holidays to get a break from it all. However, little did I know that the events to follow would change my life forever. My family knew something was wrong and they tried to help. They attempted to reverse my depressed moods by urging me to visit or talk about "what was bothering me." It was a constant barrage of questions, phone calls and attempts to make me happy. But all I wanted was to be left alone. They wouldn't understand. They couldn't help me. So I believed. All good intentions, but it just kept piling more and more stress on me.
I was at my brother's house the night of Dec. 22. After he left for work, I sat alone in the dark thinking about my life and guilt overcame me. Could I have done something different? I asked myself over and over and the answer I gave myself was always the same: "Everyone you found was dead. You failed!"
Then I thought about the stress I was causing my family and everyone around me and it was at that point too much to for me. I got up from the couch, grabbed a roll of paper towels, tore a sheet off and scribbled a very simple note on it: "I love you all but the pain of not finding anyone alive is more than I can bear anymore." I then took 20 sleeping pills and lied down on the couch.
The nightmares stopped.
The next thing I remembered were bright lights and my brother standing over me talking to me. My brother, a nurse, tried to call the house on his break and when I did not answer, he rushed home and found me on the couch unresponsive and rushed me to the hospital.
After my three-day stay in a state mental facility and talking with the counselors there, I knew I had to be honest with myself. When I came back home, I reentered counseling but this time I refused to take medication. I felt it only masked my problem. Now I was forced to talk about my feelings of guilt. After a few months the weight on my chest started to lift.
Several huge turning points happened. My son was born in 2004. I met my current wife and rock, Krystal, in 2007 and we married two years later. In 2011, I attended the Comprehensive Soldier Family and Fitness (CSF2) Master Resilience Course at University of Pennsylvania. At the end of the two weeks, I spoke publicly for the first time about my experience.
The overwhelming response of support I received from the Soldiers convinced me that I should continue to share my story. That same year I made a video for the Veterans Administration's "Make the Connection."
Post-traumatic stress disorder never goes away. But one can learn to deal with the triggers. My wife attends counseling to understand the phenomenon of PTSD and to gain more tools to continue to be supportive of me. I strongly believe that both counseling and what I learned from CSF2 helped me become a better husband, father and Soldier.
Counseling does not make you weak. It makes you stronger. Counseling will only work if you are willing to be honest with both the counselor and yourself. Counseling isn't easy, but I believe I am worth it.
This post is part of a special Huffington Post series, "Invisible Casualties," in which we shine a spotlight on suicide-prevention efforts within the military. Every weekday in September, we'll feature a different blog post by someone who is either an expert in the field, who has been affected by a suicide, or who has contemplated suicide. To see all the posts in the series, as well as original reporting, audio and video, click here.
If you or someone you know would like to contribute to our series, send an email toimpactblogs@huffingtonpost.com.
And please, if you or someone you know needs help, call the national crisis line for the military and veterans, 1-800-273-8255, or send a text to 838255