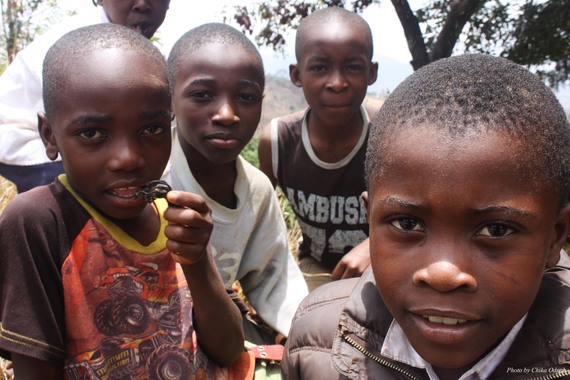 Yasin Issa thinks he is too small for his age. The 13-year-old boy stands less than four feet tall. He wears a thick brown canvas jacket around his petite body and plays with his friends on one of the many hilltops in his neighborhood nestled on the slopes of the Uluguru Mountains in eastern Tanzania.
"We don't eat enough," he says. "We don't take breakfast." He eats only ugali for lunch. The maize-based meal is the staple food throughout East Africa.
Yasin and his friends are among the 42% of Tanzania's national population who are stunted. The World Health Organization cites that low height for age levels are associated with poor socioeconomic conditions and increased risk of frequent and early exposure to adverse conditions, such as illness or inappropriate feeding practices. The WHO makes a distinction between children in the age group of two to three years, for which low height for age may reflect a continuing process of "failing to grow" or "stunting" whereas, older children experiencing low height for weight levels reflect a state of "having failed to grow" or "being stunted."
In the cases of Yasin and his friends, with their thin, frail limbs and short statures, the stunted growth is apparent.
Chronic malnutrition, a prime factor for stunted growth, has been a problem in Tanzania for at least the past four decades, roughly coinciding with the sharp decline of the country's GDP - which is often attributed to the failures of Julius Nyerere's ujamma socialist policies and a costly war with neighboring Uganda - to an average of 1.8% per capita in the 1970s. By 1985, Tanzania was among the poorest countries in the world, with a per capita GDP growth of -2.2% and inflation at nearly 30%. At this time, Tanzania implemented reforms imposed by the World Bank and IMF through structural adjustment programs (SAPS). Historians and economists note that basic food commodities were in short supply and malnutrition had become a major public health concern.
International organizations and governments have established a number of nutrition education programs throughout the east African nation, including the United States, through the USAID's Feed the Future program. Statistics from the USAID reveal that malnutrition underlies at least a third to a half of infant and child deaths in Tanzania and 21 percent of children are underweight.
Tanzania's government has introduced a wave of initiatives to incorporate nutrition into the various agricultural boosting strategies, including Kilimo Kwanza, a 2009 policy embraced by the government to encourage private sector investment in the agricultural sector, which employs nearly 75% of the national work force.
In June 2011, Tanzania signed on to join the global initiative of 43 participating countries, known as the Scaling Up Nutrition (SUN) movement, through the Office of the Prime Minister.
"Malnutrition is responsible for almost half of all the deaths of children under five each year, more than three million deaths annually," according to a 2013 SUN report. More figures report that globally, nearly one in four children under five are stunted--165 million children. Countries participating in the SUN movement collectively constitute 81 million stunted children. Tanzania is one of the 14 SUN countries with a stunting prevalence above 40%. In Tanzania's case, the situation is more severe partly due to a national growth rate of nearly 2.8%. Furthermore, an estimated 75% of the population is concentrated in rural areas.
"We're looking at some really dramatic rural poverty and that leads to malnutrition and stunting," says Mary Hobbs, USAID's Tanzania Director for Natural Resources and Economic Growth.
Further north in the Arusha region where Mount Meru and Mount Kilimanjaro loom in the horizon, the stunting is more pronounced across gender lines, especially among the Maasai, a traditionally pastoral semi-nomadic people of roughly one million in population. According to Sylvia Ceppi, a conservationist working with the Italian NGO, Oikos East Africa, Maasai boys have significantly a lower body mass index than their female counterparts.
"The most critical group is adolescent boys," she says. "Boys here are crippled."
"Maasai tend not to feed the children very well and the children have to take care of themselves at an early age," she explains. The data she has collected over the past three years on the weights and heights of nearly 8,000 boys and girls between the ages of seven and nineteen reveal that factors including chronic exposure to low-calorie diets and inaccessibility to proper foods have contributed to the high stunting rates and the gender differentiations.
The male-female variations of body mass index and malnutrition are also present in the village in the Morogoro region, where Yasin lives. Here, girls appear much taller and physically robust than boys.
A group of primary school girls sitting adjacent to Yasin playfully tease the boys about their size.
"The boys do not eat a balanced diet," says 13-year-old Faidha. "A balanced diet is ugali, vegetables and fruits." The boys laugh, but the message has been communicated. These children understand the need for a diverse diet and regular consumption of nutrients.
Through the proper implementation of on-the-ground efforts such as, the SUN project, Kilimo Kwanza and Feed the Future, in conjunction with the governmental strategy to bring the nation to middle income status by 2020, Tanzania could be in a better position to eradicate stunting and malnutrition once and for all.
Chika Oduah traveled to Tanzania as a 2013 International Reporting Project fellow.