Meredith Davis speaks to American students in China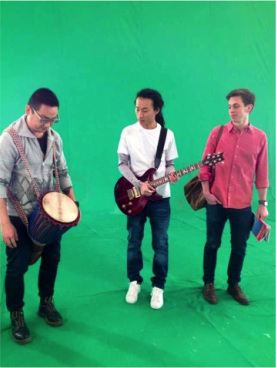 Brendan Ross
Arrival: August 2013
Purpose: Studying Chinese at Inter-University Program for Chinese Language Studies (IUP) at Tsinghua University on a Richard U Light Fellowship
Meredith: As a favor to one of his Chinese teachers, Brendan agreed to participate in the shooting of a commercial for Beijing tourism.

"I was afraid my role in the commercial would be some kind of goofy guy, but everyone was really friendly and they treated me just like I was part of the crew. I also figured it would be a lot of foreigners, but it was really just me and a family-aged group of people - little kids, teenagers, adults and old people, and I was the traveler."
Do you ever feel like the token white person?

"During the shoot? Yes, but I guess it's one of those things that exists as it is, and so you don't necessarily have to embrace it overzealously. But I think it's better to embrace it with an open heart rather than always wondering why this culture is so hard to interact with. If you just embrace the fact that you are a little different and people might be a little curious, it can be really fun."
***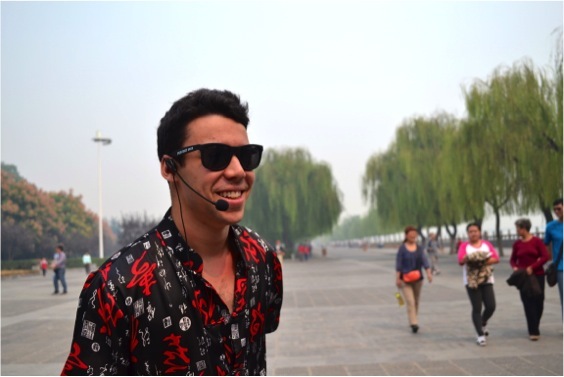 David Solomon
Arrival: August 2011
Purpose: Studying Chinese at IUP
"I thought China could do no wrong when I first got here. It was the future, and it was doing everything in these cool, advanced and sophisticated ways that America was no longer using or that we can't find ways to do anymore. And now, I'm seeing more clearly some of the huge cons that have come with the things they've done with economic development, like the pollution issues, ways that they're mismanaging how they move populations around, and human rights abuses. It's a really complex country. I don't know other countries the way I know China at this point, other than the US, but I have to imagine this is one of the most complex countries in the world right now. And every day I'm sort of learning a little more about it, and I'm like a little more freaked out by it, but also very intrigued by it and I kind of would like to take that overwhelming emotion and try to apply it in a positive way. But I think I now have a more serious approach to China in the sense that I've always had professional goals here but I'm realizing that there are a lot of things that need to change here, and I want to help them figure that out."
***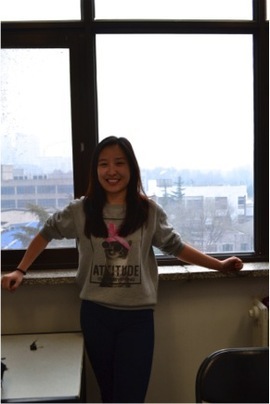 Jing Yang
Born and raised in China, language teacher at IUP
Meredith: One of the things I've learned not to take for granted while in China is a good Chinese teacher who not only gives you insights on his or her own culture, but also understands yours - at least on a superficial level. I have spent a lot of time talking to one of my teachers about Western art, and movies in particular.
How do you compare Western and Chinese movies?
"It's hard to say. I don't know, because our educational backgrounds and ways of thinking are so different, and those in turn influence they way someone creates something. When we were young the education we received wasn't completely free and open-minded, so we weren't really taught to form deep opinions about a specific object or something, and movies that are made by adults today have very particular and similar characteristics. They rarely have original ideas. Although they really want to affect you on an emotional level, there's something missing. But since Western movies don't have the same kinds of restrictions, even small-scale movies or independent movies can really move you. I think this is a huge advantage that Western directors and movies have."
***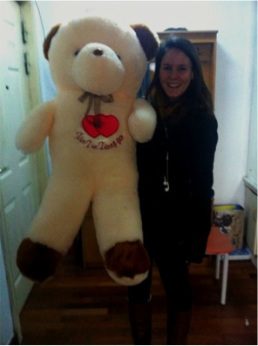 Lucy Fripp
Arrival: September 2013
Purpose: Studying Chinese at IUP and working at an international language school.
What do you think is the hardest thing to try to explain to your parents about your life in China?

"It's the little everyday things that you can kind of laugh to yourself about, and in your head you think 'Oh, if they could see this, they would understand it better.' Little things like taking the subway to work in the morning and wrestling to make your way in, or watching the Century21 real estate workers getting ready for work every morning by doing team dances on the street. Things that you can tell them about your life in China but I don't think they can really appreciate unless they have the whole context of the general setting."
_________
Meredith Davis graduated from Yale University in May 2013, having majored in American Studies. She recently completed a year-long Richard U Light Fellowship for intensive Chinese language studies at IUP and is now working in China. Contact her at meredith.davistavera@gmail.com.
This article also appears in China Hands.