At a meeting that took place in Beijing in January 2015, Chinese President and Chairman of the Central Military Commission Xi Jinping called upon People's Liberation Army (PLA) officers to start "a new phase of military diplomacy." During the meeting, Xi explained the crucial role of PLA foreign relations in China's foreign policy by describing how "diplomacy through military exchanges" promotes China's overall diplomatic work to the international community, and stressing that such exchanges play a significant role in maintaining China's national security. Yet while Xi called for this "new phase" earlier this year, China's emphasis on greater PLA foreign relations has already been clearly evidenced by the PLA's greater willingness to participate in joint exercises and training sessions with foreign militaries over the last few years.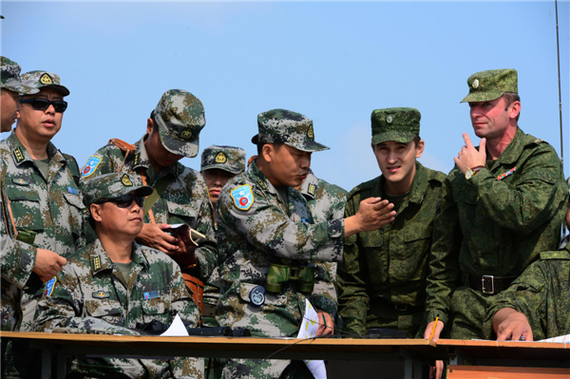 The PLA has increased its number of exercises with foreign militaries significantly over the past 3 years.
The effects of this emphasis are first noticeable when comparing the number of bilateral and multilateral military exchanges during former Chinese president Hu Jintao's rule and that of current president Xi Jinping. Under Hu, the annual number of exercises hovered around zero or one exercise per year until 2006, grew to five exercises in 2007, dropped to two exercises in 2008, and eventually reached nine exercises at the end of his rule in 2012.
Yet the increased emphasis on PLA foreign relations is especially evident in 2014, when the number of PLA joint exercises with foreign militaries grew from seven in 2013 to sixteen in 2014.
During a press conference at the end of 2014, Defense Ministry spokesman Yang Yujun described how the PLA conducted more military exercises with other countries, and how such exercises enhanced the PLA's capabilities to carry out diverse missions. While Yang explained how the PLA's missions' focuses "expanded from non-traditional security to traditional security", he stressed that they also "boosted mutual trust [and] deepened cooperation" between countries, and "demonstrated [the PLA's] fine image on the international stage."
Last year, most of the PLA's joint exercises focused on humanitarian aid and disaster response (HA/DR) and military operations other than war (MOOTW). This includes unprecedented PLA Army and Air Force efforts in searching for the missing Malaysian airliner (MH370). Most of the HA/DR exercises were performed multilaterally or bilaterally with ASEAN member states, Russia, and New Zealand.
The PLA also took part in other joint exercises for the first time. In addition to China participating in the Rim of the Pacific (RIMPAC) exercise after being an observer for several years, China sent its first PLA Army infantry unit to a United Nations peacekeeping operation and deployed medical troops to aid West Africa in fighting Ebola.

In 2014, approximately sixty-five percent of China's exercises were with countries in Asia, with a majority of those being Association of Southeast Asian Nations (ASEAN) member states. China also exercises with European militaries and works closely with members of the Shanghai Cooperation Organization (SCO), especially Russia. This is seen in the annual "Peace Mission" Joint Counter-terrorism Exercises the PLA conducts with the other SCO members. On the other hand, China has no record of participating in military exercises with Japan.
The PLA's increasing willingness to participate in joint exercises with other nations allows the PLA to showcase the new capabilities that have resulted from its modernization and helps the PLA maintain its security interests in the region and around the world. Given Xi's exhortation for greater PLA foreign relations to realize the "Chinese Dream" that includes making China "a stronger nation with a strong military", we can expect to see the PLA continue participating in bilateral and multilateral joint exercises with foreign militaries in the future.
_________
Alexis Dale-Huang is a research intern at the Center for the Study of Chinese Military Affairs, part of National Defense University's Institute for National Strategic Studies, and an undergraduate student at the University of Southern California. The views expressed are those of the author and do not necessarily reflect those of the National Defense University, the Department of Defense or the United States Government.
This article also appears in China Hands.