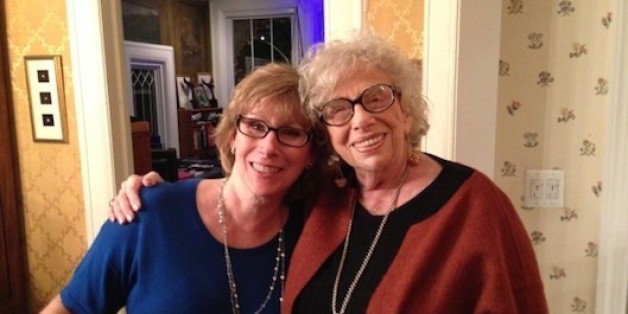 Have you seen the Esurance commercials with Beatrice, the "offline over-sharer?" To save time, Beatrice tells her friends she's posting her photos to her wall -- literally. When her friend tries to tell her that's not how it's done, she proudly proclaims "I unfriend you."
That's my mom. No really, that's my mom -- IRL. And I'll let you in on a little secret. She's actually quite tech-savvy in real life. She's been using an iPad since V.2 came out in 2011. She Skypes with relatives in Montreal, though she can't get rid of the awful profile picture she posted. She gave up reading the newspaper in favor of a tablet version, and drives my very patient husband crazy with her relentless back and forth in Words With Friends.
How does she do it? Aside from amazing tech support (me) she's curious; she loves to learn and is eager to keep up with the changing times. I posted an article from CES about someday texting your refrigerator and she emailed to ask me if hers could do that. Sorry, Mom, not yet. But when it can, I will teach you how. Just like you've taught me, by your example, to never give up on living your dream. And I promise to never unfriend you.
In honor of Mother's Day and all the amazing moms out there, here are some words of wisdom from my mom, Jeri Smith -- a.k.a. Beatrice.
Did you always want to be an actress?
I always wanted to act. I worked for very important celebrities and TV comedians. I worked for Jonathan Winters and Jack Carter and Your Show of Shows. In those days it was all live television. Whenever they needed someone, they threw me in.
So why now when you're, as you say, in the autumn of your life?
Lately, now that I'm really not actively working -- I got very bored and felt like there's something I'm supposed to do in this world. I wanted to have a last hurrah before I met my maker.
One day I said that's enough, I'm going to do something! I picked up the phone and called an agent I had worked with back in the day. I said I wanted to go back to work, and he sent me on an audition.
I booked New York Lotto, the first audition. He was impressed, so he sent me for another one... Esurance.
I auditioned and got the Esurance one but it was in California and that was kind of scary. So, I said my older daughter was my manager and they paid for both of us to fly there first-class!
Why do you think this resonates with people?
I have taken some acting lessons here in the city while I was working as a movie extra. But whenever I would go to an audition -- I never acted. I was always me, that's who comes through.
You live in NYC among the celebs. Do people recognize you?
(Rolls eyes) Constantly, it got to the point where it was annoying because when I have to get into a cab or do something people would stop and say "Wait a minute, I just want to tell my daughter I met you." The bus drivers say "Hello, Beatrice." I've really become the Queen of the Upper East Side.
And when they ask for acting advice. I tell them that they should go by Backstage and start doing extra work and maybe somebody will notice them.
Are you as tech-challenged as Beatrice?
Well, honestly the commercial was a takeoff on Facebook you know... my daughter had to explain the joke to me because I didn't get it. I wasn't so tech-savvy about Facebook. I tried it, but I didn't like it and went right off of it.
I know a little more about computers and I really enjoy using the iPad. I feel more secure as a senior with my iPad because I can look up my meds and see their side effects and email with my doctor.
I also play Scrabble on my iPad. I used to play with more people, now I play with two; my son-in-law and my granddaughter. I read books on my iPad and I watch TV shows. I used to buy the newspaper every day but now I read it on my iPad.
What about your friends, do they use technology?
They don't even have an iPad! Some of them don't even have a computer and I resent that. I have nothing to talk to them about; it's boring to call them.
And you're a binge-TV watcher, right?
I watched all of Breaking Bad on Netflix on my iPad.
What kind of cell phone do you have?
I bought an Android, but I had trouble with it. Now I have a flip phone but it's the latest and I can do videos on it. I don't text because my fingers are not working so great frankly, that's a problem for a lot of people my age. The devices weren't made for an arthritic hand.
Beatrice represents an old woman who doesn't get technology. Some people are offended by that. What do you think?
Seniors are afraid of technology. I live near a senior center and there are several who are now teaching people how to use iPads. I volunteered at the senior center and I was teaching computers for a long time.
I have a neighbor who wants to be closer to her grandchildren and doesn't know how. I tell her to learn the iPad but she says "I'd rather pick up the phone."
What Mother's Day advice do you have for people, whether they understand tech or not?
If you have a yen to do something, do it now. We are seniors, aging, if you have the courage to pick up the phone and talk your way into it, have faith that you can do it. I did it.
Lessons from my 80+ year old mother who taught me no matter how old you are; follow your dreams.

This post first appeared on Chip Chick and was written by Andrea Smith, a.k.a. Beatrice's real daughter.