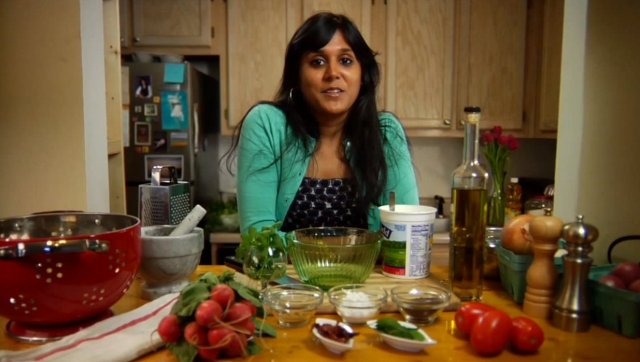 Raita is an Indian yogurt dish that can be made with many different types of vegetables - cucumber, tomato, potato, spinach, but radish is one I come back to over and over again. I never would have thought to put radish in this dish if not for my mother giving me the idea.
In this video, I'm demonstrating her radish yogurt raita recipe, which is made in a South Indian style. It calls for coconut and also tempered spices of black mustard seeds, curry leaves and red chili that you pour over the yogurt at the end. The dish is cooling and is nicely balanced by spicy and sweet flavors.
Radish is one of those vegetables that you buy in a bunch and rarely use all at once, so I'm always looking for new ways to incorporate it into dishes. This recipe is one of my staples for when I have some extra ones lying around. You can eat the raita in a variety of ways - as a side to a curry and roti, mixed in with rice, or just by itself.
This video originally appeared on The ABCD's of Cooking and was shot by Alana Lowe and Paul Helzer of Cooking by Heart.