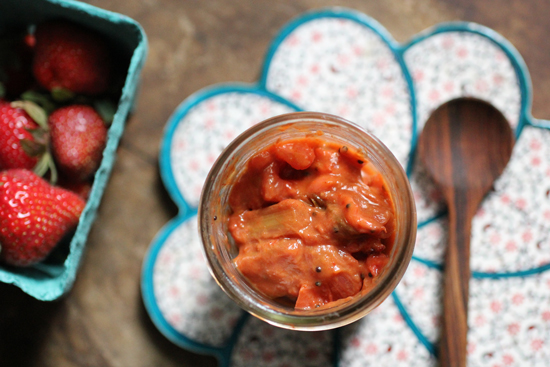 'Tis the season for "what to do with my rhubarb?" Since my farm share has started, I've been receiving a pound of the stuff a week, wondering what to make with this oh-so-sour fruit/vegetable. Of course, there is always the possibility of the famous sweet and tart strawberry rhubarb pie... but for those of us who don't have such a sweet tooth and actually revel more in the savory, other options must be explored. I got the idea last week actually when my parents were in town to make a spicy Indian-style pickle out of my rhubarb.
My mother had brought a very old South Indian cookbook that her mother had sent to her from Bangalore when she had first moved to the U.S. in the '60s. The book is titled Kalpa Latha and was written by Vedamma even before the introduction of the metric system. Kalpa Latha translates roughly into a "Wish Tree." I was really taken by the book's foreword that my mother translated to me from Kannada. The author had a wish to write this book for almost two decades and finally got down to it when life slowed down a bit for her because she wanted there to be a record of these traditional recipes from Karnataka (South Indian state where Bangalore is located) to help young women home cooks.
In Vedamma's book, there was a variety of sour fruits and vegetables, like gooseberries, green mango, lemons and limes, that were used in traditional South Indian pickles and it struck me that rhubarb could definitely be a good candidate for this type of preparation too.
This week by luck, I got a pint of strawberries in the farm share so thought I'd include a few to make the pickle sweet and sour, going for a flavor reminiscent of a traditional sweet and sour lemon pickle. You can really taste a hint of the strawberry in this pickle, which is unique.
Inspired by South Indian style pickle, I made this recipe with fenugreek seeds, black mustard seeds, turmeric, hing (asafetida), green chilis, red chili powder and lemon. My own additions were the strawberries and some brown sugar. It's a quick pickle that you can make right on the stove.
Beware though: this recipe is not for the faint of heart. It's made to give a jolt of hot, tangy sourness (sounds good right??) to whatever you are eating and is not to be eaten on its own. And not to worry, you can always vary the amount of chili to suit your taste.
This pickle goes really well mixed into rice and sambar, smeared on a sandwich with cheese, on the side with eggs or mixed into Asian noodles. My favorite way is to mix it with some plain rice and yogurt.
Rhubarb Strawberry Indian Pickle
Ingredients
1 pound rhubarb (8 stalks), ends trimmed and cut into 1 inch pieces
5 strawberries, sliced
3 tablespoons oil (canola, vegetable or sunflower)
2 large pinches hing (asafetida)
1 teaspoon black mustard seeds
1 teaspoon fenugreek seeds
1 tablespoon ginger, grated
1 Indian/Thai green chili, split down the middle (can sub in half a jalapeño)
1/3 teaspoon turmeric
1 1/2 tablespoon red chili powder (moderate for your own taste)
1 tablespoon jaggery or brown sugar (depending on how sweet your strawberries are you may want to add more)
1 tablespoon lemon juice
1/2 teaspoon salt
Method
Heat oil in a pan under medium heat. Add hing (asafetida) and black mustard seeds. Shake the pan up. When the mustard seeds start to pop, lower the heat and add the fenugreek seed for a second (you don't want to burn these guys because they get bitter). Add in the green chili and ginger and give a good stir.
Throw in the rhubarb, turmeric and chili powder. Stir well and let cook for about 5 minutes. You want the rhubarb to become softer but not lose its shape. Next mix in the cut strawberries, jaggery, lemon juice and salt. Cook for a couple minutes or until the strawberries start to cook down and the mixture is a bit saucy from them.
Cool the pickle and transfer to a clean, dry glass jar. The pickle will keep for about a month in the fridge.
This recipe originally appeared on The ABCD's of Cooking with additional photos.