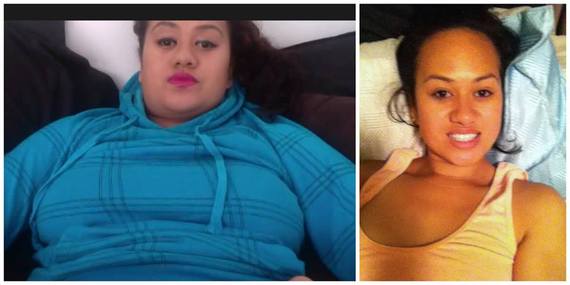 Caz before and during the 365 day challenge. Source: Supplied
It's been 300 days since Caz Anderson sunk her teeth into a burger, slurped on noodles or created a string of cheese as she pulled pizza away from her bite.
Caz is a 23-year-old university student on a mission. She is going 365 days without takeaways and only has 65 days to go before successfully completing the challenge.
Most university students would crumple at the thought of no takeaways during their poorest and most social phase in their life. And let's be honest, students aren't usually known for their culinary skills.
This was not an easy decision for Caz who often turned to the convenient greasy goods to help get through studying commerce, arts and law.
However, as a teenager Caz weighed 120 kgs. She was bullied during her first years at university, and despite loosing an impressive 50 kilos, the bullying didn't stop.
"These people would taunt me in real life and on the internet. It got to the point when I was at the gym trying to get healthy, they'd steal my clothes & beauty products," Caz says.
"I decided I couldn't control how horrible these people were treating me, but I could focusing on being a better person physically and in general."
That's when she decided to take drastic action and quit takeaways.
Caz had already lost a lot of weight and she wanted to inspire and motivate others about the benefits of being healthy. Her decision was also influenced by the desire to be happier, more confident, and to save money.
"I gave up takeaways because I saw how most of my money was spent on it and I'd become lazy and stopped making my meals.
"It's also quite drastic, so I knew people would pay attention. That way I could encourage others that if I can do it for a year, they can do it on a less drastic level."
And that she has done with the help of social media. Caz has more than 12,000 people following her journey on Facebook, Instagram and YouTube where she posts humorous updates, cooking tips, motivational quotes and healthy recipes. Unlike other weight loss or healthy lifestyle pages, Caz' is not a business.
"My page isn't just about weight loss and how you look, it's more on health and thinking positively. I hardly wear make up anymore, because I'm much more confident in my own skin and I like people to get to know me before they judge my appearance.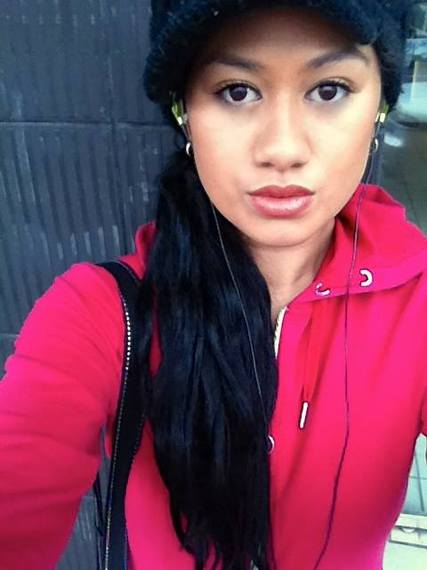 Caz Anderson at day 86. Source: Supplied
"I was very clear from the beginning this page is not for business and its main focus is about encouraging others through acting what I preach -- that's health and exercise."
During this journey, Caz has tried different eating plans including the popular high fat / low carb diet but has settled on being a vegetarian. Surprisingly, she says it hasn't been difficult eating healthy, but there have been a few challenges.
"I compare my meals with others and I will watch chicks like a hawk who are eating junk food," she laughs. "But people are also quite judgmental about healthy eating. No one flinches an eye when you drink alcohol, eat McDonald's and smoke. But when you eat kumara, vegetables and protein shakes people disapprove."
Exercise is also important to Caz, but her regime is not as strict as what people may think.
On an average week, you will find her doing resistance weight training and running at the gym twice a week, then on the other days she will tackle a few 5-kilometer runs. Her main goal is to make sure she moves every day.
So with only 65 days left, will Caz celebrate by reuniting with that long lost burger, or those noodles?
Maybe.
"Takeaway don't appeal to me anymore, but I might. That'd be a great video to film for my channel. After the years up, I'm thinking of a new challenge to do for another year. Or perhaps I'll turn it into two years, who knows."
Chloe Johnson is the co-founder of Paper Trail.co.nz, a news and views website that's all about adding value to people's day. Follow her on Facebook and Twitter