With Memorial Day this weekend, many of us will be firing up their grills for the first time this summer. Although grilling in some ways can be easier to clean up afterwards than kitchen cooking, a grill involves special care. Regardless if you have a gas or charcoal grill, here are three tips that will keep your grill looking clean throughout the summer. (Plus a bonus tip!)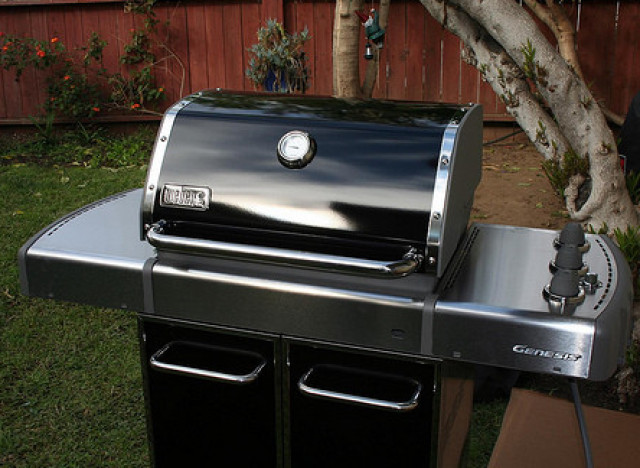 Flickr photo by KidMoxie
Regularly empty the drip pan. At the bottom of your grill, there is a pan which collects the grease and drippings from meat cooked on the grate. Too much grease accumulation can cause a fire (or at the very least, flame flare-ups), which is never fun to deal with. The best time to clean the pan out is about a half hour after cooking, as the grease is still warm enough to easily dispose of. If it solidifies, you can just scrape it out with a knife.
To prevent food from sticking to the grill surface, try wiping it down with olive oil from time to time. (Common sense precaution: Do this when the grill has cooled down.) The olive oil coats the metal on the grill, making it harder for food to stick to. You'll notice that this makes scraping your grill much easier.
Also, make sure you clean the ceramic briquettes in your grill from time to time. Let them soak in warm soapy water, allowing the burnt grease to dislodge. After giving them a good scrubbing and rinsing, you can set them out on top of the grill to dry in the sun.
Bonus tip: Got a dirty grill grate? Simply use a wadded-up piece of aluminum foil to scrub it down. The foil will easily remove rust, debris and even traces of grease.