A lot of people use music memorabilia as statement decorations, like autographed posters, instruments and records or even stage worn garments and costumes. I proudly have a drumhead signed by members of the hardcore metal band Hatebreed on display next to a snare drum signed by Metallica's Lars Ulrich on display at my place. But the winner of this eBay auction will have the most amazing piece of rock and roll memorabilia ever: Guns N Roses' clothes dryer.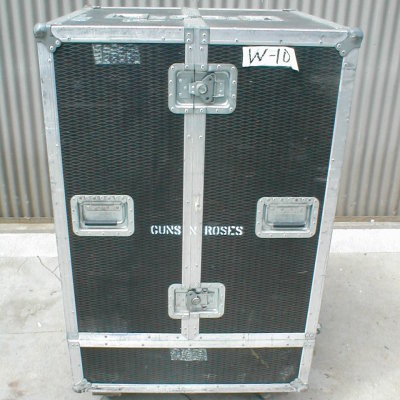 Image via eBay
The lucky bidder will not only be getting not only a Kenmore Ultra Fabric Care Electric Dryer. They will also be receiving a sturdy tour case, so you can bring this household appliance when you go out on the road. Currently going for $132.50, it's a good price for a working, pre-owned dryer, but the shipping might not make it the most cost efficient option. But if you live in the Los Angeles area, you can pick it up directly.
To me the really interesting thing about this is that the road case probably is worth more than the dryer itself. And the possibilities are endless. Just imagine decorating the whole laundry room with other GNR paraphernalia and calling it Paradise City. You know, where the shirts are clean and pants are pretty.
Maybe there will be enough of a demand for this that they could start a line of Guns N Roses-themed household appliances. We live in a world where KISS sells caskets, so anything is possible...