Egg cartons are useful for more than just keeping your breakfast safe. Due to their lightweight but sturdy nature, you can use them for a bunch of different projects around the house. Here are some of our favorite ways to repurpose egg cartons. As always, share your favorite uses in the comments.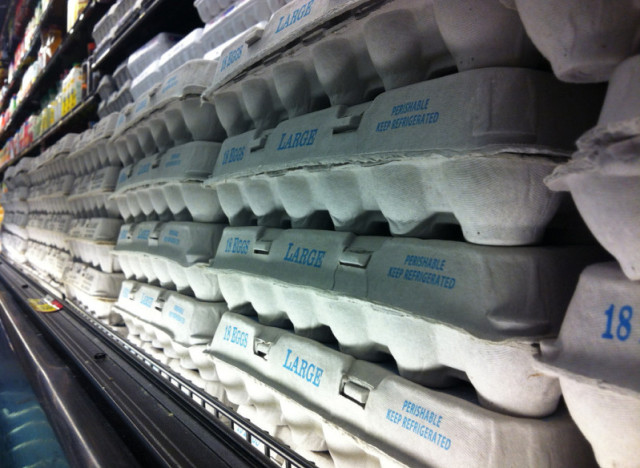 Flickr photo by akeg
SOUND INSULATION
If you have a wannabe musician or podcaster around the house, you can use egg cartons as sound insulation so the whole family doesn't have to hear their latest project. You can make soundproofing panels by hot gluing the cartons to foam core boards to help make a noise baffle. It's a super inexpensive alternative to buying professional soundproofing equipment.
SEED STARTER
Spring is underway and you can use egg cartons for germinating seedlings. Just plant a seed in each egg compartment with a little bit of dirt. This is great for indoor gardening. Also, cartons provide a great place to hold bulbs during the off season.
ICE CUBE TRAY
It's almost summer barbeque season and you can never have too many ice cubes for your party. The Styrofoam egg trays make great ice cube trays, as the ice doesn't stick. Just make sure you thoroughly wash out the tray before making ice in it. (Or, to be on the safer side, use this ice for cooling cans and bottles.)
STORAGE ORGANIZERS
Instead of spending money on those small plastic organizer trays, use egg cartons. They're great for categorizing tiny things, like earrings, beads and hardware. I even use it to keep my GI Joe weapons organized. (I know, I'm a huge geek, but it works.)
SHIPPING CASE
Are you shipping something fragile? If the item is small enough, consider putting it in an egg crate. Wrap the item first in bubble wrap and then place inside your standard packing peanuts-filled box. The item should get to its destination in one piece!
Be sure to check out more clever ways to use household items in our slideshow below.
PHOTO GALLERY
5 New Uses For Everything