I didn't realize that getting my dad a GPS for his birthday would affect my parents' household ecosystem. Suddenly there were a few boxes of outdated, maps that were rendered useless.They could be taken to be recycled, but what is the fun in that? This collection of maps inspired me to ask around for a few good repurposing ideas. Here's what I found.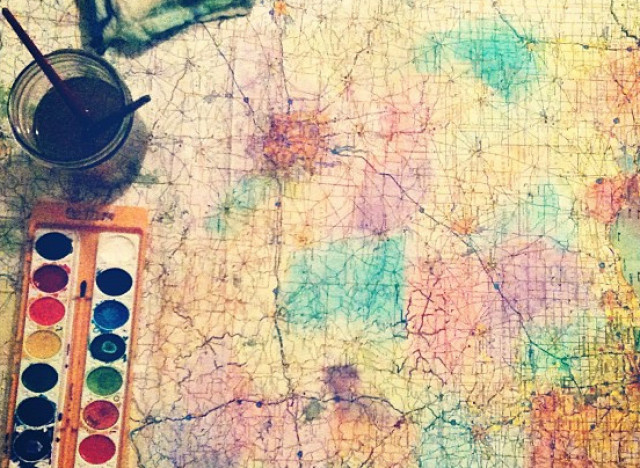 Flickr photo by Nico Paix
Wrapping Paper
Maps make a really unique and funky wrapping paper. The best part is that because maps are so highly detailed, they make it extremely difficult for prying eyes to get a glimpse of what is inside.
Instant Art
Framing a map (or even a portion of a map) makes a great inexpensive accent piece. Vintage maps, or even outdated global maps, always look great. The key is to find a map that is significant to you, whether its one of your favorite vacation or travel destinations, or of your home town.
Decoupage
Some old maps, a jar of decoupage medium (like ModPodge) and some boring furniture can turn into a really fun art project. You can use the maps to cover furniture, whether it be a coffee table, a dresser or even a chair with the maps to make a unique and one of a kind piece for your television or rec room.
Coasters
You can make some pretty sweet looking decorative coasters by adding some old maps to some boring coasters you have lying around. CasaSugar has put together some great instructions just involving a little bit of ModPodge (or glue) that anyone can put together.
DIY Purse
WikiHow shares how you can make a pocketbook using old maps. It's really simple and a great activity that anyone can make. If you adjust the size of the pattern to make it a little bit larger, you can also make a messenger bag.
For more great uses for everyday items, check out our previous installments of "5 Uses For..." in our slideshow below!
PHOTO GALLERY
5 New Uses For Everything