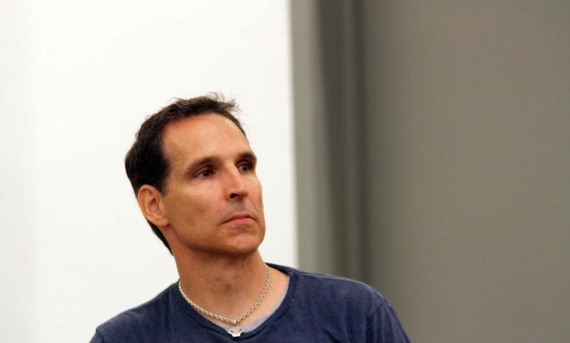 Image courtesy Flickr user Gage Skidmore
Attending the 2014 American International Toy Fair was business as usual for comics legend and head of his namesake toy company Todd McFarlane.
Whether showing products to prospective buyers or signing autographs for his longtime fans, McFarlane was in quite demand. But it wasn't always this way.
In 1994, McFarlane Toys made their first appearance at the Toy Fair as one of the smaller vendors, occupying a non-descript 6' by 6' booth.
That year he knew he had arrived in the toy world as he watched a major toy retailer coming his way, discussing with an assistant that McFarlane was the person and the company they were looking for.
"We had the good fortune to start out with that," McFarlane said about his early success. To this day, he still acknowledges how important that encounter was to his company's success.
"This is how we began the process; you take the breaks when you can get them," he said.
Fast forward twenty years and the McFarlane Toys booth has grown into a mini pavilion, showing the various sports and entertainment lines his company specializes in.
The display cases are filled with new product, ranging from action figures depicting the characters of the best-selling Assassin's Creed and Halo video games series to high-end resin statues of the iconic WWE wrestler the Undertaker and McFarlane's own nightmarish comic book character Spawn.
But the toy maker is going in a new direction--marketing the Rabbids Invasion line of kids' toys.
Rabbids Invasion is based on Ubisoft's wildly successful Raving Rabbids video game series that shows the exploits of an alien invasion of irreverent rabbit-like creatures. After reaching iconic status in France (boasting a 96% public awareness ranking), the property's animated series on cable network Nickelodeon has exploded on the American market.
To capitalize on the growing visibility, McFarlane acquired the Rabbids Invasion license. "I can't wait for it to get big; I have to go get it now and get it in it's infancy," he said.
The Rabbids Invasion product line is completely different from anything McFarlane Toys has done before. Instead of being marketed at an adult or collector audience, it's aimed at children. The products range includes various sized figures of the alien rabbits, as well as plush. McFarlane's favorite part of the line is the Rabbids Plunger Sound Blaster, a handheld plastic plunger weapon that makes all sorts of noises, ranging from crude bodily functions to chaotic noises.
"I'll know it's a success when I get moms asking to take the sound off of it," laughed McFarlane.
McFarlane Toys' first product line was based on McFarlane's comic book series "Spawn" which chronicled the exploits of a supernaturally powered anti-hero. At the height of the character's popularity, it was one of the bestselling comic book series ever and was the basis of not only a film in 1997 but also of a critically acclaimed television series on HBO.
The Spawn action figures soon became popular, as the quality of the product and the intricate detail made them stand out in the crowded toy aisles. It is also happens to be McFarlane's favorite toy project.
"I'm biased but definitely Spawn," he said, pointing to a display case with Spawn action figures. "It started the company; all this followed."
By 1998 McFarlane acquired the licenses to several other properties, including the rock and roll band KISS and the television series "The X-Files".
"The company went after different brands and I spread my risk. I didn't put all my eggs in one basket," he said. "Mom was right."
McFarlane Toys further diversified its product line by acquiring the rights to Major League Baseball, National Basketball Association, National Football League and National Hockey League during the early 1990s. The ensuing product became popular, both critically and commercially.
"When the last economic downturn happened, the big companies abandoned sports [toy lines]," McFarlane said. "We picked up the sports lines and caught them before they hit the ground."
McFarlane's Sports Picks toys have won awards in the industry for their accurate depiction of professional athletes, from LeBron James to Joe Namath. McFarlane admits that the secret to these products isn't really that much of a secret; they just use highly detailed photographs to make sure they accurately capture every detail, something the previous companies did not do.
And to McFarlane, having a smart business plan is just as important as the high quality of his products. In the twenty years the company has been in business, they have adjusted to an ever changing business climate.
"Economics dictate the art," McFarlane said. When the company started, it worked to find a balance of supplying mass retailers, small comic/collectible stores and mid-sized retailers. In the company's earlier years, it was easier for them to get their products out. But as the mid-sized stores have vanished, the company has had to find new product lines that stand out in a marketplace that is both crowded and shrinking.
A case in point is the toy line based on the hit AMC television series "The Walking Dead." Historically speaking, it's been hard to get mass retailers to carry products aimed at a "mature" audience. In theory it should be difficult to market a line of action figures that depict the survivors of a zombie apocalypse. But McFarlane Toys figured it out.
"It's one of the biggest things in cable history; I just got it Mom-friendly," he said. The company was able to take a fairly grizzly property and make it mainstream-appropriate, even pharmacies like Walgreens carry the product line.
It's been eleven months since McFarlane Toys has secured the license for Rabbids Invasion. At the Toy Fair, McFarlane is more than happy discussing the Rabbids. But at the same time, he is looking for what will be the next big property for his company.
"You've got to acknowledge the world around you," he said.