Rio de Janeiro - There is an unexpected and hopeful meeting taking place here at the Rio+20 Earth Summit. It isn't at Rio Centro, the formal negotiation meeting place, but at Tiradentes Palace, the Legislative Assembly of Rio de Janeiro and the original national government building in Brazil. Hundreds of delegates from nearly 100 countries are meeting here for the first ever World Summit of Legislators.
The Summit is not only a serious piece of global governance and collaboration in action, but a timely one: much discussion at Rio+20 has been focused on the poor performance of, and low expectations for, governments when it comes to making progress on sustainable development.
The level of criticism of governments across stakeholders is remarkable: in recent polls by GlobeScan and SustainAbility on the performance of institutions in the transition to sustainable development, both experts and the global public give governments the lowest ratings.
One response to poor governmental performance now comes from The World Summit of Legislators, which has three objectives:
Establishment of a mechanism to monitor the performance of governments in implementing any commitments made here at Rio+20;
Creation of a platform to advance and share best legislative practices in the area of sustainable development; and
Valuation of natural capital and the integration of this form of capital into national economic frameworks.
The Summit discussions have been wide ranging and global in nature, with a Bangladeshi official discussed the strategic importance of integrated thinking around climate change adaption while a Canadian parliamentarian urged legislators around the world to put a price on carbon.
Minister Isabella Teixeira, the Minister for Environment for Brazil gave a plenary speech where she outlined the progress made in her country since the last Earth Summit twenty years ago - 28 million people lifted out of poverty, a consolidation of democracy and inclusion, strong forest protection and a unique energy mix. She extolled the importance of doing much more within Brazil and also internationally.
Most powerfully, Rt. Hon. John Gummer, President of GLOBE International, the organization that is convening the World Summit of Legislators, announced that the world's newest nation - South Sudan - had a number of delegates here in Rio.
While government leadership in sustainable development has been in short supply, I take particular inspiration from these South Sudanese officials committed to addressing biodiversity, climate change and natural capital even in the face of extremely challenging circumstances. If they are able to see the connections between economic, social and environmental well-being, there is hope that other government officials can drive the change we need to create the future we want.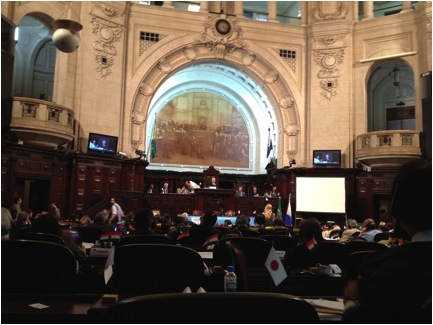 Photo of Tiradentes Palace, Rio de Janeiro