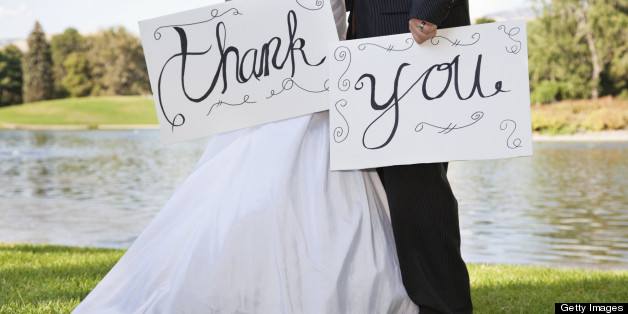 Your wedding party has been with you through thick and thin. They've also rented tuxes, bought dresses, traveled and arranged pre-wedding parties in honor of your big day. To thank them appropriately, it's customary to present gifts as a token of gratitude for their efforts. To help prep you for this process, here's a list of list of dos and don'ts to take into consideration.
Be Unique
Ever been in a wedding party? If so, you probably already know the gift routine. The usual suspects of beer steins, necklaces and watches are great, but your friends probably already have plenty of these items. If you want to really knock their socks off, consider something out of the box. Sites like Etsy Weddings and Pinterest can be great resources to find unique options. Local vintage shops are also great outlets to track down one-of-a-kind gifts.
Don't Wait Until the Last Minute
Try as we may, last-minute shopping always results in a stressful experience. That stress is multiplied by 10 when you're also trying to put the finishing touches on planning your wedding. I recommend completing your wedding party gift shopping no later than a month before the wedding. Doing so can prevent having to pay extra shipping or rush charges for purchases made with online specialty shops. Also keep in mind that some personalized gifts require extra time to produce and ship.
Be Fair
Sure, your future brother-in-law may only be included out of etiquette. However, that doesn't mean you can treat him any differently when it comes to gift giving. An equal amount should be spent on each member of your wedding party. A good rule of thumb is to spend between $40 and $45 on each person. Note that this amount applies to the best man, maid of honor, groomsmen and bridesmaids.
Don't Forget Anyone
In addition to your wedding party, there's also a series of ancillary positions that have required friends and family members to dedicate time and money to being part of your big day. This list includes the usher(s), flower girl, ring bearer, reader, greeter, gift table attendant, candle lighters and parents of the bride and groom. Without them, your wedding wouldn't be complete. You should thank them accordingly.
Give a Thoughtful Thank You
Who doesn't love receiving a gift? The answer is, obviously, no one. However, a heartfelt "thank you" will often go a little further than a material object. One of the coolest things to see at a reception or rehearsal dinner is the bride and groom taking a few moments to publically introduce and thank each wedding party member as they hand out gifts. This thank you is not only for their contribution to the wedding, but also to their lives as a whole. Sure, you may end up in tears, but that's what weddings are for. If the schedule doesn't allow for this, include a handwritten note with each gift that states just how much it meant to have your friends and family by your side on the big day.
Don't Give Gifts After the Fact
You've got one shot at this. It's understandable to be swamped during the final months of planning a wedding, but don't forget to purchase gifts! Handing your maid of honor a gift two weeks after the wedding will make her feel like an afterthought.