Like diets and hairstyles, desserts are prey to the whims of fashion. There are a few evergreen favorites—like ice cream, chocolate cake, and apples in a crust of some sort—but some eclectic options come and go. We still eat (and crave) them, but we won't necessarily find them on the menu at our favorite little bistro.
Valentine's Day is a great excuse to browse through the iconic desserts of decades past and produce a vintage sweet for your sweetheart (and your sweet tooth). A little rummaging through the recipes turned up the following selections, as good today as they were in their celebrated prime.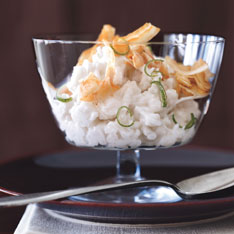 1950s: Rice Pudding
Really, this dish could stand in for the whole first half of the 20th century—and then some. The creamy, comforting combination of rice, cream, raisins, and cinnamon is hard to beat, but Bon Appetít mounts a serious challenge with their href="http://www.bonappetit.com/dishes/rice-pudding/index/index_20080418" target="_blank">Southeast Asian-inspired update (with jasmine rice and coconut milk standing in for the dairy). Plus, it's in the Bon Appetít Top 100, a constantly updated list of the magazine's best recipes to cook.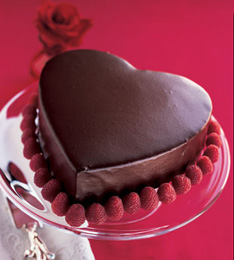 1960s: Chocolate Mousse
The 1960s were the heyday of the "Continental Restaurant" (according to Calvin Trillin, since everything they served started off frozen, the "continent" was probably Antarctica). After three martinis and an order of Tournedos Rossini (or Shrimp Scampi), you'd order chocolate mousse. Those days have gone the way of Rudi Gernreich minidresses and the New Frontier but the dessert is still a keeper. This chocolate mousse recipe is an update (as the filling in a chocolate cake) makes things more interesting for today's more demanding palate.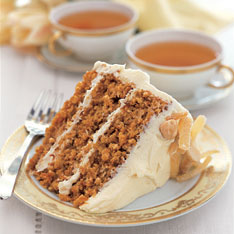 1970s: Carrot Cake
The "Back to the land" movement swept food circles in the 1970s, sowing the seeds for organic farming, veganism, and locavorism decades later. Meanwhile, for the rest of us it meant shredded carrots in a cake. Well, it seemed excitingly "natural" to us at the time, even if it was slathered with cream cheese icing. In this new carrot cake recipe for the Me-Decade classic, macadamia nuts, crystallized ginger, and coconut join the traditional canned pineapple (and carrots) for a topical kick. Another Bon Appetít Top 100.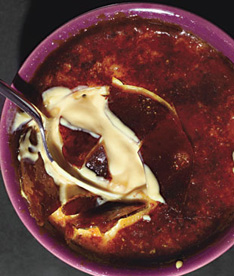 1980s: Crème Brûlée
Few things evoke the go-go "Reagan Era" quite as indelibly as this indulgent baked custard and its brittle, essential sugar crust. It's been done every way to Sunday since then, so when I was assigned this coffee-caramel version as part of Bon Appetít's Project Recipe, I was skeptical. Bridget and I tried it out, and I was shocked at the deep, rich flavor. It's fantastic. Memories of Ed Meese are strictly optional.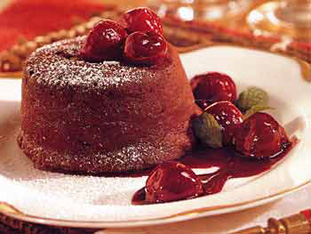 1990s: Molten Chocolate Cake
There's nothing like kid food masquerading as sophistication, which is why the molten chocolate cake (or fallen chocolate cake, or lava cake) has been such a persistent hit since chef Jean-Georges Vongerichten and others first turned it out in the mid-90s. It's like Easybake Oven product for grownups.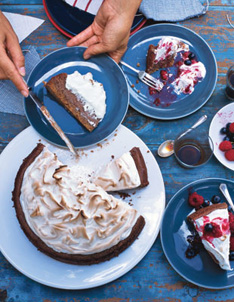 2000s: Deconstructed Comfort Classics: S'mores
The decade that's almost over (and for which we still don't have a generally accepted name—the naughties, anyone?) found us reaching for comfort in our sweets again, this time in the shape of humble, homemade treats given an artisanal spin. Who would have thought you could order s'mores anywhere outside a summer camp? Still, this s'mores cheesecake recipe takes the best of that trend and plunks it smack into another comfort classic. Hell on the hips, but oh-so-tasty on the tongue. (The runner up for this decade? Cupcakes—but too much has been said of that trend. Still, try BA's citrus vanilla cupcakes, lemon-raspberry cupcakes, or blueberry hill cupcakes.)
Have I missed something? What's your favorite iconic dessert?

More on bonappetit.com: